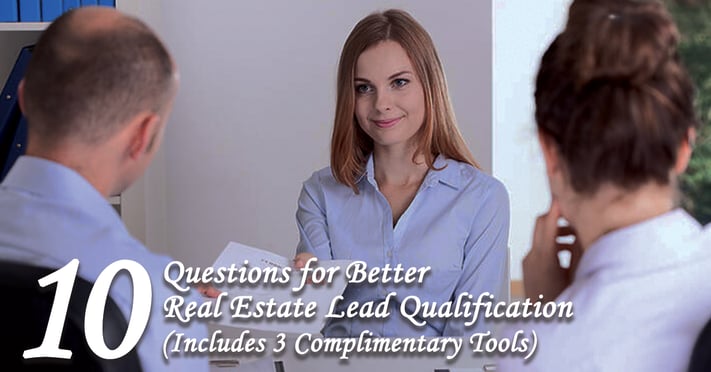 Not all real estate leads are created equally. Most agents have found this out the hard way. Some spend countless hours on a prospect only to find that the buyer or seller isn't ready to move forward. You can reduce the amount of time spent on dead-end leads by first asking a few qualifying questions.
Buyer lead qualifiers
Seller lead qualifiers
Here are some of our favorite buyer lead qualifiers:
1. Are you working with another agent or broker?
Some buyers might be working with multiple agents because they think they will have access to more homes. Knowing whether your lead is working with someone else as well can help you determine whether you lead is cold, hot or somewhere in the middle.
2. How long have you been looking for a home?
If the answer is awhile, the buyer's motivation may be low or perhaps their expectations for pricing in their desired neighborhood are too high. Further questions will help you get to the reasoning which will ultimately help you understand their motivation level.
3. Have you been pre-qualified for a mortgage? If so, how much?
Pre-qualifying helps you better understand the buyer's financial situation and determines whether they can buy a home in their specified price range.
4. How willing would you be to buy right now if we found the right home?
If the answer isn't "completely!" you are likely dealing with a lead who is still in the initial stages of their search and may be a warm lead in the future, they just aren't quite there yet.
5. Do you currently rent or own?
First time home buyer leads are typically handled differently than clients who are on their third or fourth home search. Understanding this will help you determine the best way to work with the lead.
If you want to learn more about qualifying buyer leads online, download this free buyer lead quiz and share it with your leads on Facebook, your website or even through email campaigns!
And some of our favorite seller lead qualifiers:
1. How soon do you need to move?
Clearly if the answer is "right away!" you know you are dealing with a very qualified and motivated seller. If the lead is in no rush, this is a sign that it might take a bit longer to get that seller moving down the path to a sold sign.
2. Is the property in your name? A spouse's/relative's name?
As you know, working with a seller that has the property in his/her name is preferable to those who are owned by several family members or outside parties etc. This doesn't mean you should disqualify leads that don't actually have their name in the title, but it's an indicator that things may get caught up when it comes to legality or everyone agreeing that it's time to sell, not to mention getting an agreement on the listing price.
3. Are you working with another agent or broker?
We commonly see seller leads working with multiple agents to get insider information. They either use this information to go the FSBO route or they go with the first agent who brings them an offer.
4. Is there a mortgage on the property?
Ideally a prime seller either has the house paid off or at least owes less on the mortgage than the property value of the home.
5. What would happen if your home doesn't sell in the next 3 months?
Again, this determines motivation level. If this causes panic, you are dealing with a seller who is going to do what it takes to get their home sold, and those are the best kind of sellers!
Want to qualify your seller leads online? Use our free seller lead quiz!
By asking a few of these questions, you will save yourself time and energy on the long run. While you should rarely forget about a lead, using these qualifiers will help you determine their intent and where they are in the buying/selling process.