In 2017, Katie Francis wrote to the producers of the Jimmy Fallon Show and asked if she could sell him her record-breaking 101,106th box of Girl Scout cookies. She was brought on and Fallon exchanged his $5 for a box of Samoas and a warm, "Thank you so much for your support." Fallon let her keep the $1 change and to her surprise, gave her a $15,000 check made out to the Girl Scouts. While the average Girl Scout sells between 150 to 200 boxes of cookies a year, Katie averages 17,256 boxes - her record-breaking single-season total was 22,200 in 2015. Katie may not be a real estate agent but like most Girl Scouts, she implements a few best practices that you should adopt in your real estate business.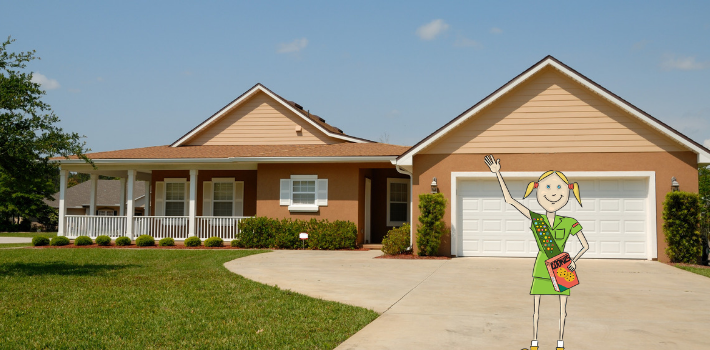 In this article, we will dive into the world of Girl Scout cookies and adapt their best practices by having good business sense, finding creative ways to reach your customers or leads, and being persistent.
1. Girl Scout Lesson #1: Have good business sense
Girl Scouts, such as Katie Francis, are taught to have good business sense. From a business perspective, each Girl Scout is a franchise that runs like an independent business. According to a CNBC article, their troop leaders teach them to, "set goals, break them down into objectives to accomplish, create a budget, and put a plan together to succeed."
For real estate agents, this means setting S.M.A.R.T. goals, breaking down those goals using the 1-3-5 method, budgeting like a pro, and creating a business plan. When you set goals but come up short, you force yourself to try new strategies. Just like Girl Scouts, real estate agents work their sphere of influence until it's dry but get intimidated when they must create their own opportunities. They're forced to overcome their mental barriers to reach their goals. They step outside of their comfort zone to ask every stranger they come across to buy cookies.
2. Girl Scout Lesson #2: Find creative ways to reach your customers
In a Mashable article published in 2014, Danielle and her mom tried a new strategy. Instead of setting up their booth in front of a Safeway, they set up in front of a medical marijuana dispensary. Within two-hour, she sold 117 boxes of cookies – almost 40 more than her Safeway location. According to a 2018 New York Times article, a Girl Scout tried the same strategy as Danielle's and sold 300 boxes in 6 hours.
Where do your customers go and how can you reach them? This applies to both online and offline strategies when it comes to real estate. If your prospects are easier to reach online, leverage Facebook, Instagram, and other social media channels. You can be more effective at reaching prospects by joining local Facebook groups or by participating in online local forums. If your prospects are offline, join a local social club or find a community that fosters similar values as yours.
3. Girl Scout Lesson #3: Be persistent
According to the Girl Scouts of the USA CEO, Sylvia Acevedo, troop leaders teach Girl Scouts to, "Never walk away from a sale until you hear no three times." With this tactic, it's no wonder Girl Scouts sell 200 million boxes of cookies and generate over $800 million each year.
Resilience towards failure is an important part of sales because it helps with persistence and personal development. When you don't take "no" for an answer, you're keeping the door open for a "yes" in the future. When a lead doesn't answer their phone when you call, you might interpret that as a passive "no" and give up. If they pick up and say they don't need your service, be persistent. Call them in a week or a month, and if they still say no, try calling again a month later. You might catch them on a good day! Persistence means you earn the "yes." The lead will appreciate your resilience and that will make your relationship stronger. Have you ever asked a married couple that's been together for 40 years how they met? Their love story usually begins with, "He wouldn't take no for an answer." Why? Because they proved themselves worthy and earned the "yes."
Selling Girl Scout cookies isn't just about selling cookies, it's an entrepreneurial and personal development opportunity. It's a chance for young, aspiring girls to learn and develop their character into successful women. These creative girls offer fresh perspectives on selling best practices and growing their business. They have a lot to teach real estate agents at a young age. When it comes to real estate, be like a Girl Scout: Have good business sense, find creative ways to reach your customers, and be persistent with your sales tactics.
---