With the fall equinox occurring yesterday, the "off season" is finally upon us. During this time, agents are more likely to put in less effort and productivity begins to drop. In order to keep agents on course to hitting their annual GCI goal, brokers need to implement strategies to motivate and keep them focused on their goals. A great tool for keeping agents motivated is through incentive contests. These contests are powerful because they set an atmosphere of friendly competition while adding extra perks for accomplishing a designated goal such as closing deals, scheduling appointments, getting a listing, or opened escrow within a specified time frame.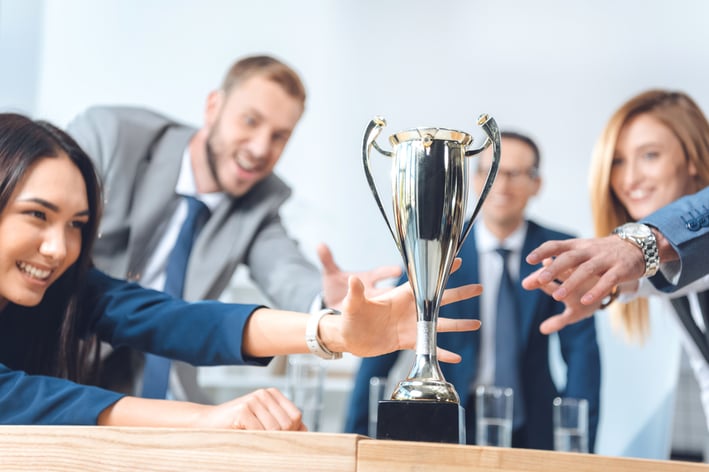 In this article, I will share three incentive contest that you can implement to motivate your agents and keep them focused on their goals.
1. Yankee Swap Contest
Yankee Swap, also known as White Elephant or Dirty Santa, is a fun game usually played during winter holidays.
How to Execute Yankee Swap:
For this example, the broker sets up Yankee Swap for five agents in order to hit their monthly closed deals goal.
Setting Up Yankee Swap:
The broker purchases 5 incentive gifts – one of them being a major prize (More than $100) and the remaining being minor prizes (Less than $100).
The broker wraps each present.
The broker picks a goal to hit - such as closed deals.
Yankee Swap Rules:
When an agent closes a deal, they get to select and open a gift.
The next agent that closes a deal can either take the opened gift or open a new gift.
If an agent's gift gets taken, they get to open a new gift or take one from another agent.
Continue until all gifts have been opened or until the end of the contest.
A gift can only be taken three times. A gift cannot be taken once it has been taken three times.
The final closed deal has the option to open a new gift or steal any of the other gifts - including one that has been taken 3 times.
Use your discretion to determine if agents can earn more than one gift or if everyone gets a gift at the end of the event.
2. Trick or Treat Contest
Just in time for Halloween, the Trick or Treat incentive contest rewards three agents each day. In this contest, agents that hit the daily goal set by the broker earns the opportunity to select one of three mystery prizes – as if they're going trick or treating.
How to Execute Trick or Treat:
For this example, the broker designates one week for the contest and purchases three prizes for each day of the contest - 15 prizes total.
Setting Up Trick or Treat
The broker sets up three boxes and hides one prize in each of them. The prizes should vary in value – for example, a small prize that's worth $50, a medium prize that's worth $50 -100, and a large prize that's worth $100 or more.
Trick or Treat Rules:
When an agent hits the goal for the day, they get to choose a box and keep the prize in the that box.
Winners cannot exchange their prize.
Winners cannot win more than one prize.
Contest and prizes reset daily.
3. Scrabble Battle Contest
Like poker, this contest requires agents to hit a goal multiple times, such as getting a listing.
How to Execute Scrabble Battle:
For this example, the broker designates two weeks for the contest and the grand prize is a $200 gift.
Setting Up Scrabble Battle
Obtain the letter tiles from Scrabble or make your own.

Letter tiles are distributed as follows: A-9, B-2, C-2, D-4, E-12, F-2, G-3, H-2, I-9, J-1, K-1, L-4, M-2, N-6, O-8, P-2, Q-1, R-6, S-4, T-6, U-4, V-2, W-2, X-1, Y-2, Z-1 and Blanks-2.
Letter tile scoring are distributed as follows: (1 point)-A, E, I, O, U, L, N, S, T, R; (2 points)-D, G; (3 points)-B, C, M, P; (4 points)-F, H, V, W, Y; (5 points)-K; (8 points)- J, X; (10 points)-Q, Z.
Scrabble Battle Rules:
When an agent acquires a listing, they draw a letter tile that they collect throughout the contest.
After the contest, the agent that can correctly spell the word with the highest value (Add the value of each tile in their word) wins!
Now that you know at least three incentive contests to motivate your agents, try them out! Feel free to put your own twist on the contest you choose and really make it your own. Strengthen the bonds between agents, create an atmosphere of friendly competition, and hit your goals with these ideas.
---
Looking for new ways to generate, nurture, and convert new leads?

Request a FREE DEMO to see how Z57 can help you generate new listing leads.