Finding new buyer and seller leads in your market can feel like an odd adventure. Like Alice searching for the White Rabbit in Wonderland, you're not quite sure who to talk to, what to talk about, and the whole situation seems rather...unusual. There is potential everywhere and if Alice had a plan, she would've caught the White Rabbit – but she never does. But you're not Alice and although Alice's endless search for the White Rabbit symbolizes the quest for knowledge, yours is a quest for buyer and seller leads.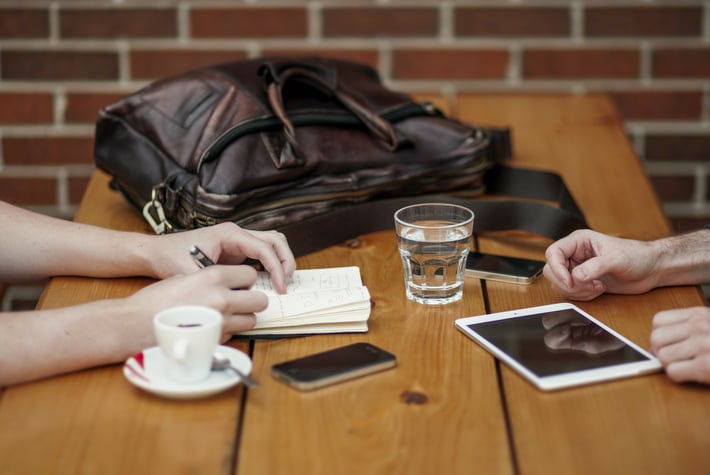 In this article, I will show you how to spark conversations with consumers in your market, gather their contact information, and drive them to your website.
Besides generating leads, the benefits of this strategy including building your confidence by practicing starting conversations, meeting new people, increase website search result rankings, and sharpen your writing and communication skills.
1. The Goal
The goal of this strategy is to gather contact information and drive traffic to your website. You will start a, "Person of the Day" blog that will consist of the summaries from people you meet and asked your 3 questions to (we'll get into your questions later).
2. The Ice Breakers
The first step to this strategy is to come up with 3 questions that you will ask consumers in your market. These questions can pertain to your hobbies or interests such as cars or dogs. If you don't want to pick your hobby or interest, you can choose your city as a default topic. Below are 3 sets of examples of the 3 questions you can ask:
Example for Car of the Day:
How long have you owned your car for?
What do you like most about your car?
If this is not your dream car, what is?
Example for Dog of the Day:
What breed is your dog?
What do you love most about your dog?
Where's your dog's favorite place to go in the city?
Example for Person of the Day (Since I'm in San Diego, my title would be San Diegan of the Day):
How long have you lived in [Your city] for?
What do you like most about living in [Your city]?
Why did you move here if you're from out of town?
These questions are flexible but will help you structure and get the conversation going. Don't let the conversation be solely about your 3 questions, let the conversation flow! You can even share your answers to the question – try to make it feel natural. As the conversation unravels, take additional notes that will help you with your write up. Then, use your notes and answers from the questions to write a summary of the person. It's not enough to just write the summary, tell the summary as a story.
3. Example of a Conversation:
Let's pretend an agent asked me the San Diegan of the Day questions. My answers are:
12 years – since 2007
The food, the people, and the weather
I moved here from Los Angeles to earn my bachelor's degree at San Diego State University
Here's how the conversation could go:
Agent: Hello my name is Linda, what's your name?
Brian: My name is Brian
Agent: Nice to meet you, Brian. I'm doing a project called, "The San Diegan of the Day" and I would like you to be tomorrow's San Diegan of the Day! Would you mind answering 3 easy questions for me?
Brian: Sure
Agent: Thank you! My first question is, "How long have you lived in San Diego for?
Brian: Oh, about 12 years
Agent: Wow, that's a long time. It's hard to move away, isn't it?
Brian: It IS hard, I've tried a few times but ended up back here
Agent: Since it's so hard to move, what do you like most about living here?
Brian: I love the food! It seems like there's a new, delicious restaurant opening every week! It's hard to keep up.
Agent: There are so many! My favorite restaurant is the Cottage in La Jolla, what's yours?
Brian: That's such a tough question, I'd have to go with Madison on Park.
Agent: That place is really good. Is there anything else that you like about San Diego?
Brian: Of course, the weather, and most of my college friends are still here.
Agent: Where did you try moving to, but didn't?
Brian: Back home to Los Angeles.
Agent: Is that where you're from?
Brian: Yep! I moved here from Los Angeles to go to school at San Diego State University
Agent: No way! I went there too. Go Aztecs! What did you study?
Brian: I studied marketing and minored in film and media studies, you?
Agent: I was a finance major and graduated in 1998. I still get season tickets to their basketball games
Brian: That awesome, hopefully they're good this year!
Agent: Right? Me too
The conversation can go as long as you or the person you're interviewing want. After it's over, ask the person for their phone number or email address, or both so you can send them the summary after you publish it on your website. Notice how the agent in the conversation never brings up the fact that they're an agent. Why? Because once the person visits your website to read their summary of the Person of the Day, they'll discover it on their own. When they do, they will be more responsive to more conversations than if you tried to sell them from the get-go. If the conversation is really good, you can also ask them for their social media profiles so you can follow them online.
Repeat this process, collect those contact numbers, and generate those leads! Eventually, you'll find someone that is ready or is thinking about buying or selling!
---
Want more leads?

Request a FREE DEMO to see how Z57 can help you generate new listing leads.