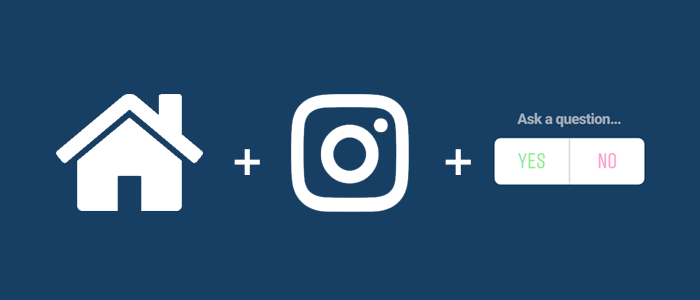 In this article, I will list examples of real estate poll ideas for Instagram Stories that you can post to your Instagram account. You can share these posts with your own photos or download and use our photos that we created for you.
According to an Instagram-press.com article, "Over 100 million Instagrammers watch or share a live story every day." As live videos or Stories become more popular and favored on Instagram, real estate agents will learn how to adapt and adopt the feature into their social media strategies. Instagram Stories offer fun decorative and interactive tools called, "stickers" that can be added to your Instagram Stories to add some "extra flare" to them. They're a fun and easy way to increase engagement on your stories, start conversations, and gather information about your fans.
A. Real Estate Poll Ideas for Exterior Posts
[Roses/Lavender] Which landscaping flowers do you prefer?
[Aspen/Pine] Which landscaping trees do you prefer?
[Rosemary/Mint] Which landscaping plants do you prefer?
[Red/Wood] Which door color do you prefer?
[Personalized/Traditional] Which mailbox do you prefer?

[White Brick/White Paint] Which exterior walls

do you prefer?
[Colonial/Craftsman] Which american style exterior do you prefer?
B. Poll Questions for Interior Posts
[Wood/Glass] Which cabinets do you prefer?
[1 Section/2 Sections] Which style of kitchen sink do you prefer?
[Gas/Electric] Which type of stove do you prefer?
C. Local Poll Ideas for the Area
______ has the best sandwich in [your city]
______ has the best pizza in [your city]
______ is the best nursery to buy plants in [your city]
______ is the best date restaurant night in [your city]
D. Real Estate Related Poll Questions
[Establish your budget/Find perfect home] Should you ____ before you get pre-approved
[Living Room/Backyard] What's your favorite part of your home?
[Money/Time] What's stopping you from buying a new home?
[Work/Lifestyle] Where would you rather live near?
E. Poll Questions For Open Houses or The Walkthroughs
[Over/Under] Homes are selling for an average of $300K+ in [Your City]
[Over/Under] The square footage of this home is 2000k
[Over/Under] I will sell this home before next month
[Over/Under] The listing price of this home is [Cost of Home]
[Over/Under] This house is 50 years old
[Over/Under] This house is $400k
[True/False] This house has a pool
[True/False] This house has a 3-car garage
[Bathroom/Kitchen] This home's best feature is the bathroom or kitchen

F. Name This House Poll Question
One trends that I noticed on Instagram is that people love giving objects names. This is also apparent in real estate or improvement shows like Fixer Upper. The hosts, Chip and Joanna, give each house a fun name. It would be fun if you added this idea too your posting ideas too. Below are some examples of homes that they've named on the show:
[3 Little Pigs House/The Prairie House]
[The Barndominium/The Big Country House]
[The Cozy Cabin/The Lowkey Lodge]
[Mini Mansion/Gnome Home]
After your post is live, you can review results from each participant, message them, and start a conversation about their decision. As you post more polls, you'll get an understand of which type of poll questions generate the most engagement. You should adjust your postings to match the feedback you receive and try to get more engagement each week. You can get more in depth stats with Instagram Insights - available to business accounts.
G. Real Estate Poll Posting Instructions
Download the Real Estate Poll Ideas for Instagram file
Save it to your phone
Navigate to Instagram
Click on your Stories
Upload the image (Ex: A.1 Which Landscaping flowers do you prefer)
Pick the Poll Stick from the Sticker Menu
Type the question (Ex: Which landscaping flowers do you prefer?)
Input Option A and Option B. (Ex: Roses/Lavender)
Share with your friends
View results
---
Download 18 Instagram Poll Posts for Real Estate: