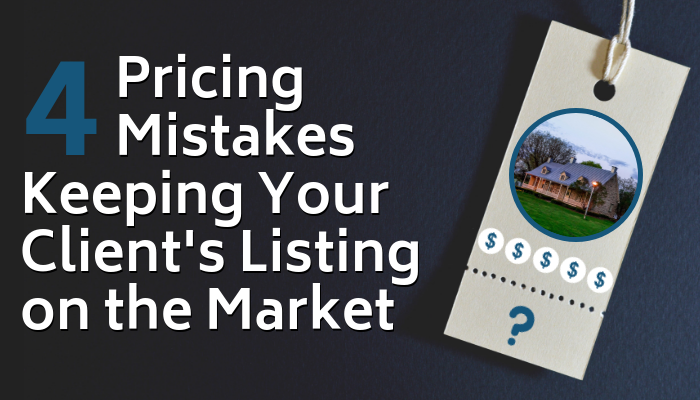 Starting off on the right foot can set the tone for the rest of the journey. In terms of home selling, that means pricing your client's home at the optimal price. A listing might not receive any offers if it is priced too high or it could have a low return if priced too low. Finding the sweet spot will not only give your client more money in their pocket but it will also create a better experience by expediting the selling process. To provide adequate information about pricing mistakes, we've reviewed dozens of real estate cases to establish 4 pricing mistakes sellers make while listing their home.
Common Pricing Mistakes To Avoid While Selling A Home
During this article, we will review 4 ways to accurately set the listing price. Try not to make these common pricing mistakes while selling your client's home:
1. Opting Out of Staging
One mistake agents make while pricing their client's home is showing an empty home. According to a recent study, every $100 invested in staging, the potential return is $400. Sellers should consider staging in order to provide the best buyer experience. Staging can increase the value of the home while decreasing time on the market, since staging can help buyers visualize themselves living in the home. By not considering staging or not factoring in the cost of staging into the asking price, you are ensuring your seller does not receive the best offer for their home. Do not make this mistake!
2. Pricing Based on Incorrect Data
The first step to determining the price of a home is to check recently sold homes in the area. Often, sellers will check the prices of homes in an area and misconstrue offers for listings as recently sold homes or use out dated information. This error leads to over pricing, causing listings to stay on the market longer. Since public data is limited, sellers need an agent to get the most accurate and up-to-date estimates on home values. With comprehensive data, sellers can accurately price their homes based on actual information, instead of using Zillow's obscure estimates.
3. Failing to Negotiate Price
Failure to budge on price can certainly hinder your client's selling process. If the initial price is too high, the listing could stay on the market for an extended amount of time. Your seller might get impatient waiting, causing them to look for a new agent. This may not feel like your fault, but it is. You are the agent and you need to communicate the importance of negotiating. If necessary, you may need to back track to determine if your client accurately priced their home in the first place. If they didn't, they might have to reprice their home because it was inaccurately priced in the first place.
4. Lacking

Trust

Since consumers have access to a ton of information, advice, and D.I.Y. tutorials online, they've become more knowledgeable and skeptical. Once they read a few articles, they think they know what's best for them, making it easier to write off advice from an agent. Since you are the expert, share your knowledge and guidance to establish credibility, trust, and professionalism. If they trust and respect your word, they will be more likely to take your advice, do business with you, and refer you to their friends.

If you want the best for your client, do not make the four mistakes listed above! Remember, in order to set the best price, consider staging expenses, base pricing on accurate information, stay open minded about negotiating, and establish trust with your client so they consider your advice. If you do, you can increase the chances of selling your client's home quickly and at a great price!
---
Are you interested in generating more seller leads? Book an appointment with one of our consultant to discuss your current marketing strategies and optimize your business: