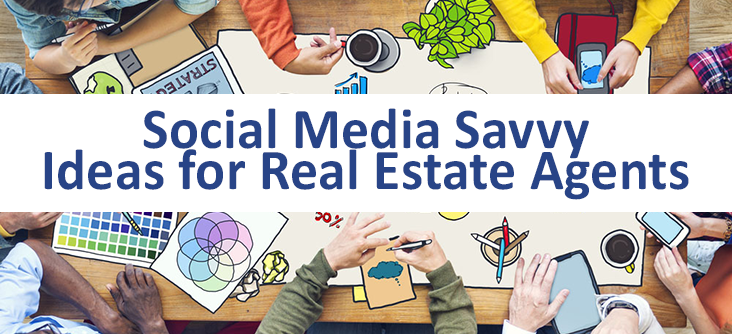 Being a real estate agent today has many perks that didn't exist in decades past. While many remember what it was like to sell real estate before the explosion of the Internet, younger agents may not even be able to visualize what that would look like. The good news is that social media is here to stay and can make your job a whole lot easier. From selling existing listings to generating new leads, being a tech savvy agent will help contribute to your success.
Here are 4 ways to be a social media savvy real estate agent
1. Manage Your Facebook Presence
Even if you aren't on Facebook personally most of your leads are, and they are looking for you (or they'll find a similar agent in your absence). According to NAR study, 94% of millennials and 84% of baby boomers used many different online sites to find their future homes. Facebook is one of the top ways for home buyers and sellers to research and find their agent (in addition to their website).
There are many benefits to managing your Facebook presence including reaching your target audience easily, landing more referral leads, and building your sphere of influence.
Your best lead generation strategy is to build the relationships you have and to nurture all the new relationships you forge. This is easy to do with social media.
2. Tweet and Promote Listings on Facebook
The more eyes you get on your listings the better, agreed? Fortunately, the variety of social media platforms out there allow you to do just that. Be sure to not rely on just one, but several, platforms to promote your listings. Twitter is great for getting the basic listing info out there and catching the attention of possible buyers. Facebook allows a very visual presentation of your listing and if you've got those great home pics, this is the spot to showcase them! Instagram can be used as well. Which leads to the next point.
Instagram is one of the easiest platforms to use it gets a lot of traffic! Unlike Facebook, your entire story is being told with photos (or video). So make sure that whatever you are sharing says something about you as a real estate agent, or creates a story about the property that you are promoting.
3. Embrace Video Technology
You don't have to be an actor to get in front of the camera anymore. With handheld devices for recording (a.k.a. cell phones) all you need is a quick look in the mirror, and a few minutes to share your story on video. For real estate agents, now is the time to embrace video. More and more agents are relying on video messaging for initial follow-up and it's working! Think of your level of interest with a plain old text message versus one containing a video. Of course, you would click the video version first.
4. Turn Facebook Likes into Leads
As you've likely discovered already, it's not enough just to have leads only "like" your page, you've got to find another way to nurture them. This comes down to being clever in your strategy. Whenever you post to Facebook, the key motives should be to increase engagement and push traffic to your website. The crucial factor here is that you MUST have lead capture forms on your content. Once a lead heads to your site to find out more about a listing you are promoting on Facebook, be sure you can get the lead's contact information so that you can begin nurturing them with additional content and follow up directly.
Here at Z57, helping agents manage their social media presence, and providing an IDX website that allows them to capture lead information for their social traffic is just part of what we do. If you are interested in using social media to nurture existing leads and capture new ones, request a demo today and find out how we can help you grow your business and increase your bottom line.