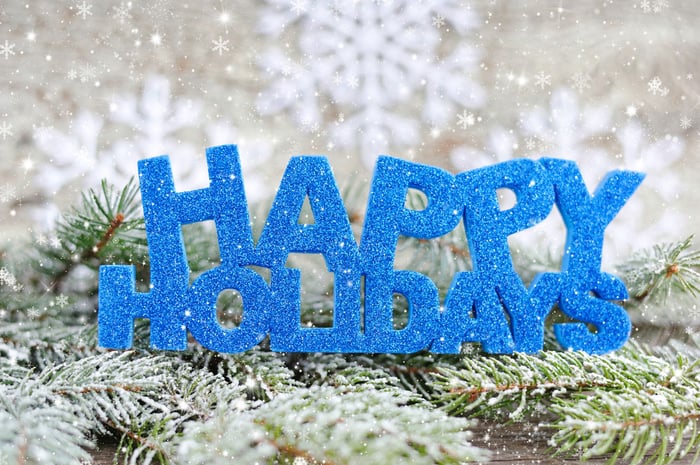 Merry Christmas, Happy Hanukkuh, Happy Kwanzaa, Happy Holidays! We know it is a little early to be celebrating, but we wanted to gift you a few presents to help you with your Real Estate Business. It's free, so you'll definitely make more than you invested in it. Click that "Read More" button to find the downloads!
Below we have compiled five of our most popular downloads of the year for real estate agents to utilize in their business. We are always open to new downloadable suggestions, so please feel free to drop us a line with any ideas. Let's cut to the chase, and get on with the countdown!
1. Holiday Infographic
Here is a simple infographic that is perfect for this time of year. The goal of social media marketing is not to get new leads, but to nurture current leads and past clients. In order to incubate your sphere of influence on social media, you will need content! Well, here is a great piece of content that you can share to your Facebook page right away.
2. Real Estate Business Plan
With 2018 right around the corner, you need a strategy in place to acheive your goals. We make it easy for you with this business plan guide. The best way to manifest your goals is to write them down and keep yourself accountable. This will help you with that!
3. Real Estate Newsletter Template
Aside from social media, email marketing has not decreased in effectiveness...you still need to send effective emails. We have created a template for your real estate newsletters that you send out. Save some time doing it yourself, or some money hiring a graphic designer. With this template, you just need to plug in your branding and save as an image file. Voila! You have a branded piece of email marketing to send out.
4. Meet the Millennials eBook
It has now become a fact that millennials are the largest demographic of homebuyers today. In order to cater to this generation, it is advantageous to know the little nuances that make them tick. What do millennials look for in real estate agents? This guide will be your cheat sheet to millennial marketing.
5. Green Home Infographic
Millennials love their green living! If anything, it will also help save some money by helping decrease the water and electricity bill. Just like our holiday infographic, this green home infographic can be shared to your social media accounts for optimal nurturing of your network!
We also have a BONUS freebie available for you. Click on the green button below, and sign up for our social autoposter tool. This will let you get some rest and relaxation over the holidays. Spend time with your family, and let some of our automation do the work for you!
---
Click below to sign up for your free Social Auto-Poster trial!