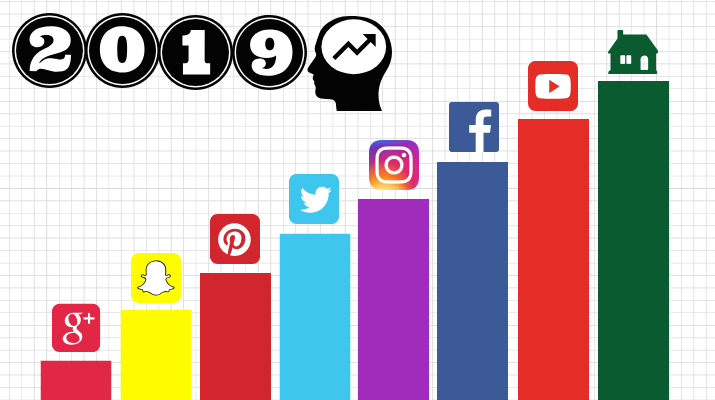 In this article, we will predict 5 major social media trends that will impact the real estate industry in 2019. The 5 social media trends include: the evolution of live videos, the surge of Instagram users, the rise of real estate apps, the popularization of digital open houses and the age of Facebook Groups.
As 2019 begins, we predict the 5 social media trends that will impact you as a real estate agent. Last year, the major trends included an increase in video content, live stream videos, chatbots, mobile-friendly adaption and more. This year will have emerging technologies and new improvements, which means new strategies to reach and nurture your real estate leads.
1. The Evolution of Live Videos
Facebook and Instagram Stories - Social media stories aren't exactly new, but they were becoming more popular towards the end of 2018 and will continue to do so throughout 2019. According to TechCrunch.com, "300M users interact with Instagram Stories daily, while 150M users interact with Facebook Stories daily and 191M daily users with Snapchat." Stories have become so popular that they've changed the way users view videos while on mobile since horizontal has been the preferred method for years. In 2019, you will see vertical videos dominate real estate social media content.
What does this mean for you? Stories are an easy way to feature listings and personal branding, which includes a "swipe-up to view" option that can easily migrate a lead to your listings page or website. You can add each listing as a Featured Story or your video elevator pitch. Do you have any video testimonials? What about answers to FAQs? If you do, Featured Stories is the perfect tool to show off your content in 2019.
2. The Surge of Instagram Users
2018 was a rough year for tech companies like Google, Twitter and especially Facebook. After the discovery that user data was sold to Cambridge Analytica as well as the data breach in December, Facebook has been scrutinized the most of the 3. As users distance themselves from Facebook, they will migrate to alternatives social media platforms such as Instagram; Facebook's little brother. Since September 2017, Instagram has gained over 200M monthly active users, hitting the 1B mark in June 2018. With the establishment of Stories and IGTV, Instagram will thrive for real estate agents in 2019.
What does this mean for you? Simply use Instagram and its features to nurture your leads, promote listings and strengthen your branding. You can post to the news feed, post to the Stories feed or do a video though IGTV. Utilize Instagram messenger to start a conversation with a prospect and move the conversation to a phone call, text or email after establishing trust with them. Upgrade to a business account so you can view insights about your account such as your audience's demographic, reach, impressions, and more.
3. The Rise of Real Estate Apps
Need to sell a home? There's an app for that! Opendoor is a mobile app that allows home sellers to receive an offer on their phone within minutes. It doesn't involve a listing or an open house, they cut out the real estate agent all together and purchase the home directly from the homeowner with a 6.5% average service charge. Other companies that are similar to Opendoor include Knock.com and Ribbon.
What does this mean for you? Just like an FSBO, you need to find these people and take care of them. These companies cannot provide the personalized service that home buyers and sellers crave. Like FSBO, discover their pain points. Perhaps the prospect doesn't have enough time to gather and sign all the paperwork or they want to move to their new home after they sell their old home; maybe they don't even know how to get started. Take advantage of this group because they are ready to do business but need your expertise and guidance.
4. The Popularization of Digital Open Houses
3-D, virtual and augmented reality (VR/AR) - If you're really looking to stand out from other real estate agents, the next generation of virtual tours will immerse the home buyer in the home without having to leave their couch. With 3-D, home buyers can see the entire home as a 3-D model online; with VR, home buyers can walk through a virtual copy of a home; and with AR, home buyers can add virtual furniture, change the colors of walls and perform other home improvements tasks on their smart devices.
What does this mean for you? If it's in your budget, it wouldn't hurt to look into your 3-D, VR and AR options. Keep in mind that even though you might think a digital open house is awesome, your leads might not see the same value that you see. If your target market doesn't see the value or if the effects are small enough that it doesn't make a difference, you might consider a different option to showcase a listing.
5. The Age of Facebook Groups
Facebook Groups - These aren't new, but they will become popular this year. As Facebook's news feed becomes saturated, it becomes difficult to keep up on your friends and community. Facebook Groups allows a user to invite people to a group where they can discuss topics, share ideas, ask questions and look for help. It's like regular Facebook but local to your market!
What does this mean for you? If you want to be known as a neighborhood expert, create a Facebook Group and invite members of your community or neighborhood. Encourage members to ask questions, posts local news, share local experiences and invite friends to join. Your job will be to answer those questions, contribute to community news and share your experience with your local market. One day, one of your members is going to need a real estate agent. Since you've helped them in the past and kept top-of-mind through the Group, they'll think of you first.
There will be a lot of social media changes in 2019. If you want to thrive, you must learn to adapt to these changes and evolve. To stand out in 2019, leverage Stories on Facebook and Instagram while shooting vertically, utilize Instagram more often to take advantage of their growing audience, beware of real estate apps users but know how to convert them into leads, consider using 3-D, virtual or augmented reality if your Sphere of Influence prefers it and finally, use Facebook Groups to build a community that shares information and experiences in your local market.
---
Need some help posting content to Facebook?
Let us handle your postings for 30-Days with the Z57 Social Auto-Poster Free Trial!