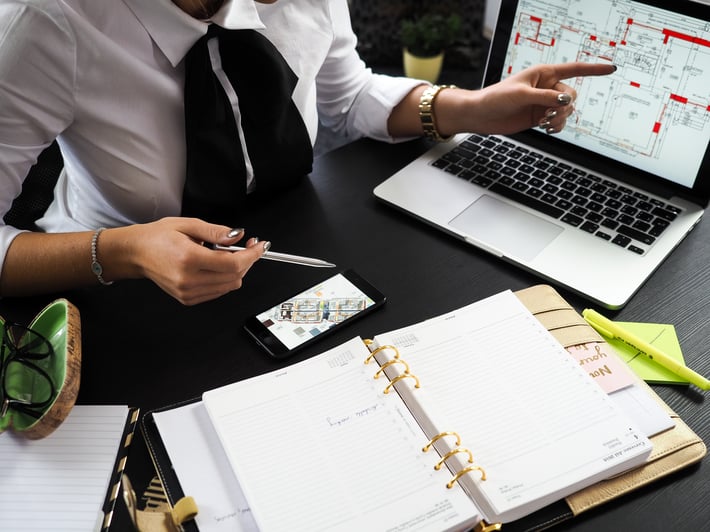 In this article, I will list 10 tips that generate motivated real estate leads.
Generating new leads is always top of mind, but have you tried a multitude of ways to accomplish this? If you are relying on one or two lead generation avenues, you could be missing out on valuable prospects. Some of these lead generation tips may feel a bit our of your wheelhouse at first, but by branching out and exploring new opportunities, you've got nothing to lose and much more to gain!
Try these 10 tips for increasing your buyers and seller lead generation:
1. Door Knocking
This staple of the real estate industry is still effective in our digital age. Today's consumers are drawn to building relationships, not simply being sold something.
If you choose the more traditional approach, choose your target neighborhood, dress the part (will depend on the typical dress of your area) and grab your leave-behind marketing tools. Don't be afraid of rejection! Sure, some people may not welcome you in with open arms, but it just takes one to boost your business! Remember you don't have to door knock to network in person. Try meeting new prospects through open houses or community events.
2. Facebook
Facebook is the ideal platform for grabbing new leads and engaging and converting existing followers into clients. In addition to driving engagement, you should also drive leads to your website to access your content. The more the lead interacts with you, the more likely they will be to choose you when they are ready to select an agent.
Posting your own content will boost engagement while using paid advertising is the best way to generate new leads. Which leads to the next tip…
3. PPC Facebook Marketing
While organic traffic will come your way naturally as you promote your website on Facebook, you can help speed up the traffic with paid advertising. Facebook advertising has come a long way and is one of the best ways to get instant traffic to your website or likes on your business page. Their highly targeted platform allows you to segment your audience so that you can focus in on those who are most likely to convert.
4. Automate lead nurturing with PropertyPulse
Managing all your leads can be challenging but with our platform, PropertyPulse, the process is streamlined. Having a total CRM to house your leads makes nurturing these prospects much easier. Additionally, the PropertyPulse platform includes lead capture on your website so that you can drive traffic through Facebook to your website.
5. Connect IDX to Facebook
Another PropetyPulse feature is the Facebook IDX option. Your Facebook page connects with your local MLS so that your listings can be searched via social media.
Need More Leads? Start Your 30-Day Free Trial of the Social Auto Poster >>>
6. Lead capture form on your website
Driving traffic to your website it great, but your efforts could be wasted if you don't have a process in place for capturing contact information. When you enable a lead capture form, you then have a way to contact your leads, nurture them and ultimately convert them into clients.
Once you've tried these 6 methods for capturing new leads, choose the ones that work well for you. Capturing new leads is one of the most important things you can do for your business and ramping up your process can yield powerful results.
7. Referrals
Agents love referrals because they're a reliable source for new leads. In most cases, a referral is a friend, family member, or acquaintance of a past client or a member in your network. According to NAR, 41% of buyers and 63% of sellers used a referral. Referrals are generated through strong relationships and frequent communication – via phone, text, email, or through social media. Although the best part about referrals is that they're free, you should reward those who refer your service. Want so referral lead generating ideas?
8. Local Google Searches
When it comes to Google, every real estate agent wants to be on the front page of the search engine results list (SERL). They try to make their way there by implementing search engine optimization (SEO) strategies, spending countless hours adding keywords, captions, meta tags and descriptions to their website pages as well as other tactics, but yield zero results!
With so many real estate agents competing for the front page of Google in each market, it can be time consuming for you to out rank the competition. To appear at the top of Google's SERL for local search, register your business with Google!
9. Open Houses
If you hear real estate agent say, "Open houses are obsolete," there's a good chance they're doing it wrong. When executed correctly, open houses are a great way to generate new buyer and sellers leads, while getting to know members of your community. With most of real estate, you get what you put in and the same applies with open houses. If you want a successful open house, you'll have to put in the time and work – but it will be worth it in the long run. Learn more about generating leads through open houses.
10. Strategic Blogging
Finding new buyer and seller leads in your market can feel like an odd adventure. Like Alice searching for the White Rabbit in Wonderland, you're not quite sure who to talk to, what to talk about, and the whole situation seems rather...unusual. There is potential everywhere and if Alice had a plan, she would've caught the White Rabbit – but she never does. But you're not Alice and although Alice's endless search for the White Rabbit symbolizes the quest for knowledge, yours is a quest for buyer and seller leads.
Besides generating leads, the benefits of this strategy including building your confidence by practicing starting conversations, meeting new people, increase website search result rankings, and sharpen your writing and communication skills. Learn more about farming leads in your local market.
11. Website Pages - About Me
If you analyze the data on your website, there's a good chance your About Me page is one of the top 5 most visited pages on your website. I've visited so many poorly constructed About Me pages that I felt compelled to write a blog article about it. If your About Me page receives views but no clicks, form fills, or any other engagement - it's time to revamp and optimize it for conversions. If your About Me page is a real fixer-upper, check out this article.
(Original Writer: Emily Murray Aug 24, 2017, Updated by Brian Lim on Aug 15, 2019)
---
Ready to supercharge your lead generation?
Sign up for a FREE Consultation of Z57's lead generation system today!