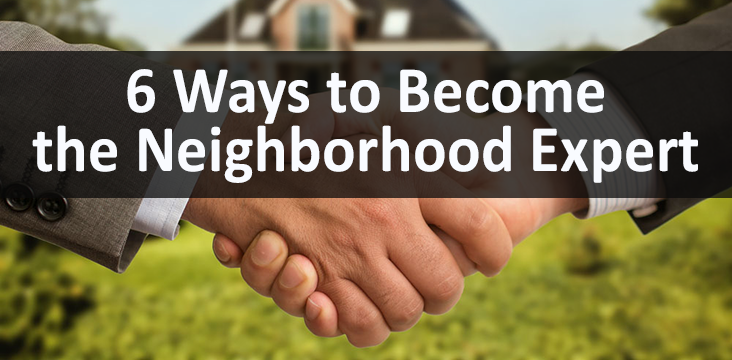 If it's not yet, one of your top goals should be to become the neighborhood expert in your real estate farming area. Why? You want to be on the tip of everyone's tongue when someone asks for a real estate agent recommendation in the area.
So how do you go about this? It's actually easier than you think.
Try these 6 tips for becoming the neighborhood real estate expert in your favorite market.
1. Check Out Every Home As it Goes up For Sale
Set up an automatic alert to tell you when any new listing comes up in your neighborhood. Become familiar with what these properties are listing and selling for and take photos. Share these photos on your social media channels or with any potential buyers you think might be a good fit. If you hop on this right away, you will get ahead of the competition.
2. Attend and Host Neighborhood Events
Get involved with the community. Not only will you learn more and have fun, but it's a great way to network. Try sponsoring a local little league team or hosting a charity event.
3. Forge Relationships with Builders
Having the inside scoop on new construction will help you out immensely. Take the time to get to know your local builders, find out what they are working on, and what upcoming projects they have. Knowing who is building and where is a great way to get ahead and stay in the loop.
4. Always do Open Houses
Be sure to always have an open house for your listings. The more open houses, the more neighbors and possible new leads you will meet.
5. Share Neighborhood Info on Facebook
Building your sphere of influence on Facebook is always important. When you want to dive into a local market, start sharing hyper-relevant content. Share stats on the community and local events coming up. Schedule time in your day to make sure you are on top of everything happening in your neighborhood.
6. Put in More Face Time Than Other Agents
When it comes down to it, your online presence is only part of the equation. Putting in good ol' fashion face time will also help build community recognition and help you network.
What are your go-to tricks for becoming the neighborhood expert in your market? If you are looking to build your online presence, we can help! Schedule your free marketing consultation today!