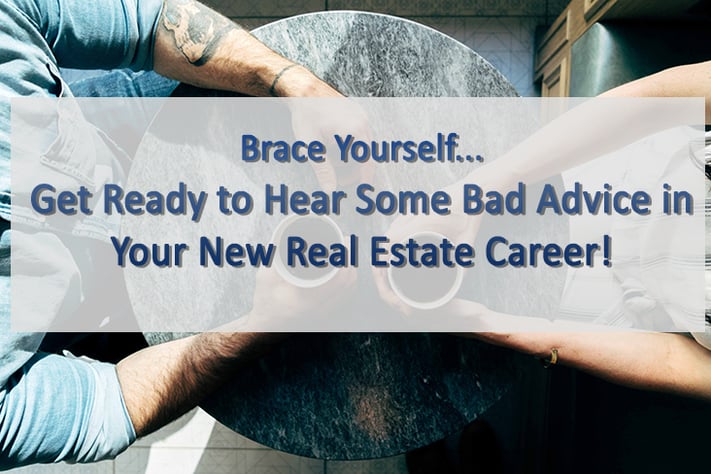 When you start a new career in real estate, it's an exciting time to be a sponge. You will want to absorb all that you see and all that's happening around you. This doesn't mean that you will always get great advice, however. Like any industry, there will always be those individuals who think they are doing you a favor by "showing you the ropes," but, in reality, their advice is a bit off target.
The good news is that you get to decide what you take with you in your career and what you leave behind. Here are 7 pieces of bad advice that you might come across when you first start out as a real estate agent. Dodge these well-meaning (but still wrong) pieces of advice and you will be better off!
Here are 7 pieces of bad advice you will likely receive in your new career as a real estate agent!
1. "Keep only business hours, switch your phone off on the weekends and after hours."
While this may sound like advice you wish and hope were true, when you become a real estate agent, you need to understand that your personal and professional life will now be blended into one. This means the phone will ring at 8pm, you will be woken up at 5:30am on a Sunday, and that you will ultimately be in front of your computer outside the general business hours of 9 to 5.
Turning off your phone in the evening or on the weekend might sound good in theory, but if this becomes a habit, your business (and your reputation as an agent) will surely suffer.
2. "If a client asks you to do something that isn't in your job description as an agent, tell them you aren't going to do it."
As a real estate agent, you will hear some strange requests. "Can you walk my dog while I show the potential clients my house?" "Can you make sure to clean my toilet before the open house?" Your gut reaction may be to spout off something like, "none of this is part of my job as your agent," but your job as an agent is to keep your client happy and ultimately do what it takes to get them in a home (or sell their existing home) ASAP. While this doesn't mean you need to clean their home for them, it might require hiring a cleaner to come prior to your open house, or explaining that it's best for their bottom line if you show the house yourself.
3. "Everything's online nowadays, don't waste time on face-to-face meetings with leads and clients when you can communicate online."
Never underestimate the power of a face-to-face meeting! No matter how many technological advancements come along, meeting someone and talking to them face-to-face will have a much greater impact then reading an email, text, or even speaking on the phone.
4. "Print marketing is totally dead, you should only rely on digital ads, email, and other online advertising."
Sure, print is no longer the only option when it comes to marketing but that doesn't mean it should be abandoned altogether. In addition to managing your social media presence and IDX website (something we can help you with), you can also find new leads by using standard printed materials including door hangers, post cards, and other mailers.
Many agents find that by using a variety of marketing materials, they can get in front of more people in their farm area.
RELATED: Get lead generation tools and access our educational resources for FREE here!
5. "Once you get your license, you are set to go! (no, you need to keep learning etc.)"
Getting your license is a huge step, but there are many others to follow! In fact, you will need to continue educating yourself throughout your career. This means staying up-to-date with the latest market trends, technology, and social media trends (just to name a few).
6. "Avoid confrontation at all costs, it's just not worth it."
Take this advice with a grain of salt. While you certainly don't want to be labeled as a confrontational agent, you shouldn't shy away from confrontation. Let's face it, your clients are going through a large life change and you are in the driver's seat, more or less. They won't always be happy with what's happening, even if it's out of your control.
Don't avoid phone calls, texts, or any communication from an upset client. Answer the phone with confidence and reassure your clients that all is well. You will find that by facing the issue directly, not only will your clients be relieved, but your stress level will decrease as well.
7. "Don't deal with less-than-ideal buyers or sellers."
While lead qualification is part of what you do, there will always be those leads that aren't ideal BUT with time, effort, and nurturing they will convert. Deciding if a lead is worth your effort right away is dicey since sometimes even the best-looking prospects don't end up working out.
The good news, however, in addition to these bits of bad advice, you will also receive great advice as well. Be open to the ideas of your peers and never stop learning. It's an exciting time in your career so work hard, have fun, and let those leads roll on in!
Looking to generate leads and manage your brand's online presence? We've got you covered! Call us today for a free marketing consultation and we will discuss how to help you start your business off right!