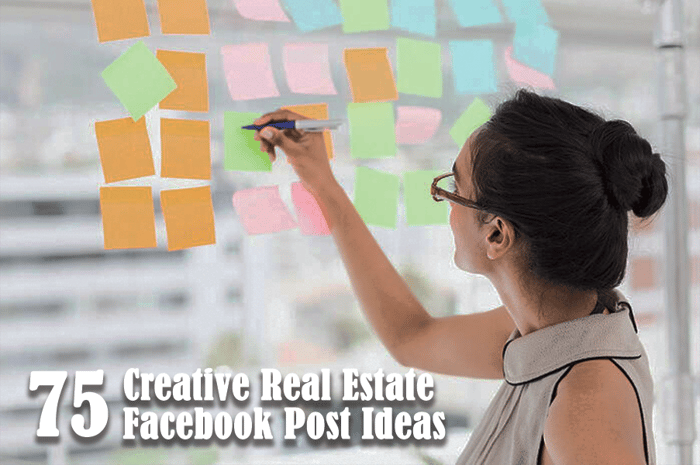 In this article, we will share 75 creative real estate post ideas for Facebook:

75 Facebook Post Ideas to Increase Engagement
Brainstorming ideas for your Facebook content calendar can be a daunting task, especially without inherit creativity. Heck, it would be fun if you had the time too right? We've received a ton of feedback from our clients and their two biggest struggles with Facebook posts were creativity and time. So, to help get the creative juices flowing and to help you save time, we've created a list of 75 creative Facebook post ideas to help you increase engagement, initiate conversations, enhance branding, and generate leads.
By following the 80/20 Rule of Content, 80% of your posts should be non-business/non-promotion/non-sales related while 20% should be business related. Below are post ideas that fall under the 80% portion of the Rule of Content
1. Shout Outs
Perfect for networking, congratulating, and recognition, shout out posts give you the opportunity to tag someone.
Give a shout out to a business that gave you beyond exceptional service
Give a shout out to a coworker for a sale
Give a shout out to a lender who did a good job
Give a shout out to everyone who has supported you
Give a shout out to a police officer that you see frequently
Give a shout out to your university or college
PropertyPulse engagement posts typically have Holiday's covered. However, PropertyPulse likes to stay neutral on religious holidays. Be sure to login and check your posting schedule to see what is coming up that month and revise to meet your personal reference!
Valentine's Day – Whether you love people, your pets or your home, be sure to spend time with the things you love!
Superbowl
First Friday of March National Salesperson Day!
Women's Day
Daylight Savings Beginning Reminder
Daylight Savings Ending
Tax Day!
Mother's Day
Father's Day
4th of July
Halloween
Daylight Savings Reminder
Thanksgiving – Name 5 things you're thankful for
Black Friday
Cyber Monday
Small Biz Saturday
Memorial Day
Veterans Day
Happy Holidays! (Christmas)
How will you celebrate the new year?
Breast Cancer Awareness Month
3. Business Recognition Facebook Posts
Helps drive traffic to people in your network. If they gain a client through your business recognition posts, they will be more likely to reciprocate and recommend you to their customers.
Who is your trusted and reliable mechanic?
Who is your dentist?
Who does your taxes? CPA?
Recommended physician
Who is your barber/stylist?
Pest Control
Baby sitter (Daycare)
Landscaper
Contractor
Pool cleaner
Electrician
Pet groomer
Movers
4. About You
Celebrate your accomplishments on your real estate Facebook page! Share your struggles! Consumers love a good story especially those with ups and downs. Readers will get to know you as you post about yourself, creating a relationship with you. The effect is that people will feel like your friend when they meet you for the first time.
Which of your homes that you sold that year is your favorite and why?
What are FAQ questions your clients ask you?
What are FAQ your buyers ask you?
What are FAQ your sellers ask you?
Throwback Thursdays (TBT) to your biggest sale

Throwback Thursdays (TBT)

to when you got your license
Tell a funny story, "you wont believe what happening at this showing!"
Do you support or donate to a good cause?
5. Local Posts
Show your expertise of the local area by posting recommendations of places of interest.
Fun fact about your city
Fun historical fact about your city
Tourism video of your city
City tour video
Landmark in your city
Architecture style in your city
Your city council
6. Local Activities
A more up-to-date of showing off your expertise of the local area, recommending activities and other events will have your audience coming back for more information. The more they visit your page, the more likely they are to do business with you.
What is the best kept secret in your city?
Where is a good place to have a birthday party? Kids, Young Adults, Adults
Where is your favorite place to hang out?
Routine | Example: Do you go to church? Which church do you go to?
Places to shop
Local public art
Where is a good place to purchase furniture?
Where is a good place to purchase appliances?
After school programs (ie: AYSO, Little League, Girl Scouts, Brownies, Boy Scouts)
Weekend getaways close to home
Other places to visit
When/where are the farmers markets?
7. Miscellaneous Creative Facebook Post Ideas
Share a real estate blog
Girl Scout Cookies go on sale
Neighborhood Apps (ie: NextDoor)
Post about a community event going on in your area
Recommend an adult club (ie: book club, wine club, outdoor club, golf club)
Promote an animal shelter
What is your favorite show on HGTV? We LOVE Fixer Upper
Behind the scenes
With these Facebook post ideas, you will have the guidance to create engaging posts. You can always recycle these posts by tweaking and posting them again; consolidate and re-purpose them into blog posts or pages for your website, or personalize them more so they speak to a niche audience!

---
Are you looking for more engagement on Facebook?
Book an appointment with a marketing consultant to see how we can help you :