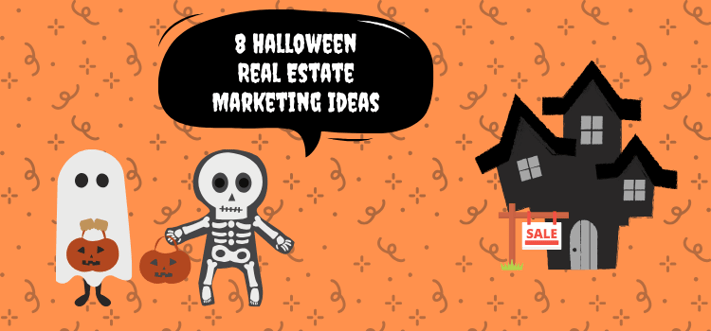 In the marketing world, every holiday is another chance to connect and engage with leads and clients. With a little creativity, and some Halloween spirit, these 8 spooky-themed marketing ideas will make a huge hit.
1. Halloween Pop-By Gift
Pop-by gifts are the perfect way to check-in and remind your leads that you are their best resource in the real estate industry. This doesn't mean you can't have fun with your marketing though! Create a small giveaway bag with a pumpkin scented candle and some candies, or perhaps a pumpkin with your business card or contact information attached.
2. Spooky Door Hangers
Door hangers are also an effective way to keep your business top of mind. Create some Trick-or-Treat themed door hangers and canvas your local neighborhood. These low-cost print materials are much more noticeable than a postcard or other direct mail marketing material that can get lost in the shuffle of bills and junk mail.
3. Marketing Email Campaign
Whether you have an upcoming Open House to promote, a blog to send, or simply want to wish your leads and clients a Happy Halloween, now is the time for a spooky themed email marketing campaign. From the image to the content you write, have fun with it!
Want more engagement on Halloween? Download and share these Halloween Real Estate Posts on Social Media:

4. Trick or Treat Bags with Business Cards
No matter your age, we all love Trick or Treating! Create Trick-or-Treat bags to keep in our office when leads and clients stop by. Add a glow stick for extra spooky safety.
5. Encourage Costume Photo Sharing on Your Facebook Page
Social media is one of the best ways to increase your engagement with leads, and Halloween is an ideal time to bump up that engagement. People love to share photos of their costumes! Start off by sharing your own on your Facebook business page and encourage all your leads and clients to share their photos on your page as well.
6. Trick or Treat Halloween Costume Contest
Staying in tonight? If you decide to pass out candy to trick or treaters, take photos and post them to Instagram! Let participants know that they can win a price (more candy!). Announce the winner, along with runner up costumes on social media.
7. Going Out Halloween Costume Contest
Purchase mini or large candy bars and attach a note it to. Include "awards" such as: scariest costume, cutest costume, coolest costume, your favorite costume and more! Hand them out to other children or adults, while you are out parting or while you trick or treating.
8. Most Haunted House Contest
At the end of the day, you're a real estate agent and houses are top of mind with you. Go around your neighborhood and judge each house. Pick the top 3 and give them an award. Take a picture of the 3 homes and write a short summary for each one so you can post a blog article on your website.
Updated October 2018 with referral links for related blogs
Updated October 2019 with new ideas, brevity, and structure by Brian Lim
---
Want more engagement on Halloween? Download and share these Halloween Real Estate Posts on Social Media: