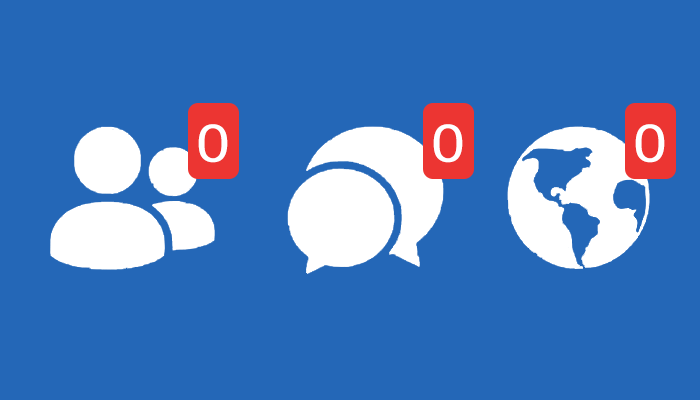 We all love marketing…when it's successful. The second we stop seeing results, it's tough to fight the urge to throw in the towel. Unfortunately in real estate, marketing isn't optional it's a necessity. Fortunately, if you aren't generating real estate leads through Facebook, you're probably making one (or more) of the following common mistakes. Why is that fortunate? Because your mistakes are easy to fix!
We're not only going to help you see the error of your ways, but steer you toward a more successful Facebook lead generation campaign.
1. You don't have any lead capture forms on your content
Creating content without a lead capture form is where many agents go wrong. Yes, great content is important for lead generation, but why give it away for free? Keep in mind that the end goal of your lead generation efforts is to gather that all important contact information so that you can reach out, nurture the relationship and ultimately convert a lead to a satisfied customer.
All this begins with the lead capture form.
This is one feature of our product, PropertyPulse, that helps agents consistently generate new leads.
Try your 30-day trial of PropertyPulse today!
2. Your content isn't engaging/shareable
In life outside the Internet, think about people you know who constantly have the attention of others. From sharing funny stories to educating them on a new trend, these people are engaging! This is what you should aspire to replicate for your online presence. No one gravitates toward the person who tells the same old story all the time and shuts people out from really getting to know and like them.
How do you accomplish this?
Be conversational in your tone and come across as a real person rather than a business. Studies have shown that visual content is shared most often on Facebook. Infographics, memes and client success photos are ideal ways to do this.
Not sure where to start? We've created 10 Facebook posts for you to try out!Generate more traffic to your Facebook page and website with these 10 Facebook posts.
3. You don't have any call-to-action on your page
Imagine rounding up all your prospects, getting them in one room and then not telling them why you brought them there or what to do next. Mass chaos would ensue! Minimize this same confusion online by telling your leads the action you want them to take. It might mean asking them to fill out a form to get more information or sending you an email to see newly listed homes in the area.
Whatever your message, keep it strong and consider the end goal once again – capture that lead contact info! Ideally, the most effective lead generating CTAs bring the visitor to your website and then require a lead generation form submission.
4. Your fans and followers aren't being directed to your website
As a follow-up from our last point, if your FB fans and followers aren't landing on your site, it's unlikely there will be a conversion. In addition to lead capture forms, blogs posts are a great way to get eyes on your website. With lead generation in mind, use calls-to action that encourage readers to subscribe to your blog. Now you've got their email address and their permission to send them your great content.
Use your Facebook persona to build trust and the foundation of your relationship with leads and then start bringing them to your website so they can learn more about you and ultimately form fill and do business with you.
5. You aren't providing value
To build yourself as an industry expert, you must bring value to the table. A few great way to do this via Facebook include:
Always responding to comments and questions
Providing content that answers common buyer/seller concerns and questions
Posting many different types of content
Sharing your blog posts and encourage followers to subscribe for helpful insider industry tips
Lead generation is only as complicated as you make it. In all you do, keep your end goal in the front of your mind – you want to generate leads and to do this, you must first earn trust and secondly capture your lead's contact information. Whenever you interact on Facebook, take a moment to ask yourself the following questions:
"Am I providing value?"
"Am I nurturing a relationship?"
"Do I have a call-to-action?"
"Do I have a way to capture lead information?"
With these directives in mind, you'll save time by cutting out the clutter and solely focusing on your lead generation goals.
6. You Don't Have Reviews
With so many available real estate agents, reviews can be the deciding factor when a real estate prospect looks for an agent to hire. Reviews give prospects a snapshot in the what it would be like to experience an agent. They also give insight into past experience and how the agent managed clients with special or unique situations.
7. You're Lacking Social Clout
Social clout is like social authority and derives from the amount of engagement, the amount of content you've posted, and followers you have. The more followers, the more clout. Real estate prospects should be weary of agents that buy followers - FYI, you should not buy Facebook followers, ever!
8. You Don't Have an Online Community
Real estate Facebook groups are an amazing tool to help farm your neighborhood and connect with your network on a more intimate level. Your goal is to build an online community with local members, serve those members by sharing valuable information, and position yourself as the neighborhood expert. You can share your local expertise, like recommendations, personal stories, neighborhood news, community events, and more. As your real estate Facebook group grows, it will evolve into one of your primary tools for generating referral leads.
Learn more about Facebook Groups >>>
9. You're Not Following Up With Comments or Messages
As an agent, your clients and leads value simple communication channels and a quick response - Facebook allows you to do both. Facebook users can message you directly, and you can access the message and follow up anywhere and anytime. The quicker your reply, the more likely they will hire you as their agent.
Editor's Note: This post was originally published in June 2017 by Emily Murray and has been updated in August 2019 by Brian Lim for accuracy and comprehension.
---
Ready to start generating Facebook leads? Download our 10 free engaging posts now!