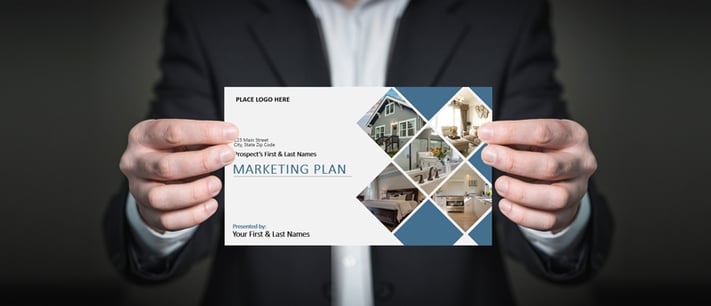 In this article we will review 9 tips that agents can apply to their listing presentation:
Nothing beats the feeling of scheduling a listing appointment. Well, except for the feeling of nailing the presentation and landing a new listing. A listing presentation is your opportunity to really connect with potential clients, prove that you are results driven, and explain why you are the best agent for the job. To get to that point, there's you'll need a mix of mental and physical preparedness.
1. Do Your Research
Just as you would for any job interview, you need to research your client and local market prior to your appointment. With consumers doing self-research, it's not enough to know the bare minimum. You are the neighborhood expert. If you don't more than your lead, you won't earn their business. Know your numbers, know your forecasts, and know the problems that could happen along with their solutions. Since facts can be verified almost instantly, do not lie - be honest!
2. Visualize a "Yes" First
There's a lot to be said about mindset when you walk into the listing presentation. While there are some areas of life where you want to be humble, this isn't one of them. You know you are qualified so step into the room with confidence. Take five minutes prior to your meeting to visualize your presentation and the handshake confirming you won the listing at the end.
3. Tell a Story
Storytelling is a powerful tool at the forefront of marketing. It helps you connect with consumers eliciting emotions and by allowing them to visualize the information you're sharing – making your story more memorable and effective. The character in your story is the seller - the plot is your selling strategy and their stress-free happiness as they transition from their current home. Instead of saying, "I will sell your home." Tell a story of how you will sell it. For example, let them know that your network is predominantly young families and tell a story of how the buyer could raise their happy family, "Can you picture your baby peacefully sleeping in this nursery as you and your wife peer in through the hallway to check on him? I can and he looks like a happy baby."
Learn more about storytelling in real estate >>>
4. Provide Examples of What's Worked for You
Sellers won't take you at your word that you can rock their listing, they need to see results. Be sure you have examples of your past marketing in addition to fresh innovative ideas for their listing. Begin your example with first saying how it turned out. You sold the listing in X amount of time for X amount. Then work backwards and explain how many offers you had, how many people visited the listing, how you staged the listing, professional photography sessions, etc.
5. Provide Examples of Past Clients with Relevant Special Needs or Situations
No two real estate clients or transitions are the same, each is subjective. However, there are commonalities among them. When these commonalities become less common and more unique, it's in your best interest to show how you've managed a similar situation in the past. For example, if your client is a veteran, tell them a story of how you helped a veteran sell their home in the past. If your client loves animals more than people and has a lot of pets, tell them a story about how you helped a past client clean and move their pets during the real estate process.
6. Leverage Technology
While many agents still incorporate actual printed listing presentations, a digital version can help you stand out. After all, a seller is going to want to work with an agent who is tech savvy. If possible, supply an iPad or other digital tablet and pass them out to your audience.
7. Use This Customizable Listing Presentation Template
This professionally designed listing presentation template will wow your leads into prospects. It can be up to 20-pages long and includes instructions to help you prepare the PowerPoint document. You can choose between 5 different cover pages, 2 past client templates, 2 recent sales temples, and more! It also includes script outline tidbits to help you guide the conversation.
Download the Listing Presentation Template >>>
8. Give them Homework
A listing presentation should also include homework for the seller. Homework should entail tasks that will get their home closer to closing. Typically, homework includes deciding their preferred day for listing photographs, deciding their preferred day/time for open houses, and more. These tasks, along with additional tasks, can be found in the listing presentation template.
9. Follow Up After Your Presentation
Now that you nailed the presentation, you can't forget to show your continued interest and enthusiasm, so don't forget the importance of the follow-up. Don't be afraid to follow-up the same day. Wait a few hours and send an email.
Editor's Note: This post was originally published in April 2018 by Emily Murray and has been updated in August 2019 by Brian Lim for accuracy and comprehension.
---