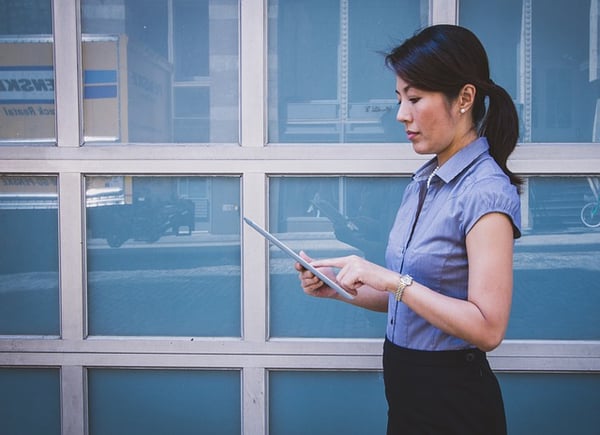 Starting any new career can be daunting. There's a lot to learn for new real estate agents but the key to success comes down to confidence. By taking the time to build a solid foundation, you'll learn that the rest of the pieces will seamlessly fall into place. From building long-term online relationships to listing presentations, there's a level of success and positive energy that stems from feeling knowledgeable and self-assured.
Here are 11 tips for building confidence as a new real estate agent
1. Remain Positive and Energetic
When you're in and out of appointments or juggling priorities, keeping your energy level elevated can be a challenge. Exhibiting high energy is crucial because it communicates enthusiasm and passion. Real estate prospects are drawn agents who are enthusiastic about their work versus an agent who treats them like just another paycheck. Why? Because it means you love what you do and you will go the extra mile when needed.
2. Find a Mentor
Learning from a seasoned real estate agent is one of the best ways to boost your confidence, skills, and knowledge. If you work for a brokerage, forge a working relationship with the top producer in your office. It generally takes years to learn the ins and outs that propel agents through their daily successes, so learning from the success and failures will save you time. If it's possible to do a co-listing, take advantage of the opportunity. The wealth of knowledge you will gain will be worth every moment of work.
3. Never Stop Learning
Staying up to date with your local market and trends will help you feel more confident in will discussing real estate. Your education should expand beyond your initial real estate courses and the exam. The good news is, you can identify a wealth of resources available to you in your area with a little research. From blogs like this one to local networking groups, seminars, and conferences, the real estate industry has countless opportunities waiting to help you grow and learn. You just need to be accepting of them.
4. Learn All You Can About Your Market
Consider what it means to truly be your neighborhood expert and embody this. If you farm a large city, this can be overwhelming at first. You will be more confident when it comes to selling or finding a property for your clients by boosting your knowledge of the area. A pro-tip for getting to know your market is the map out your current contact list. Doing so give you an idea of your territory and the proximity to important locations such as parks, freeways, businesses, schools, and more. Most importantly, you can recommend one of your contacts if your buyer wants to learn more about a certain neighborhood or school.
5. Designate Answers for Common Questions
Anticipating your potential client's questions and concerns will not only help you answer them comprehensively, but it will show that you're proactive when addressing issues. Additionally, it keeps you in control, helps you guide the conversation, and demonstrates your expertise. So ask yourself, what are common questions and concerns that you can proactively address?
6. Be Patient
Perhaps the biggest frustration for new agents is the molasses rate of building your market knowledge and confidence. Setting the groundwork for success and designing a plan to achieve will help you alleviate some of this uncertainty and boost confidence level.
7. Have a Clear Marketing Plan
As you've no doubt learned, today's consumers are online. Therefore, your marketing plan must be tailored to match their wants, needs, search patterns, and consumer behaviors. Be prepared by having a social media, email, and follow-up plan in place so there isn't any doubt on your next step.
8. Prepare for the Worst
Having to attend a meeting with a stain on my shirt is a top 5 confidence deterrent. That's why I keep an extra white button up shirt in my car at all times. Being prepared means foreseeing common problems or accidents and having a fix ready to minimize their effects. To be more prepared than a Scout, pack yourself an emergency car kit.
9. Practice, Practice, Practice
They say Beyoncé rehearses for eight months to prepare for a two hour performance. When we practice, we develop muscle memory, sharpen our brain's ability to recall information, and discover new ways to perfect our existing strategies. If you don't practice, it will show. Your potential new client will notice as your words fumble and they will lose confidence in you. Don't practice on game day. Practice when there isn't anything of value at stake.
10. Add Fuel to Your Tank
More often than not, people are worse when they're hungry - just like in those Snickers commercials. A lack of fuel will hinder your energy, decrease your ability to think, increase irritability, and cause more negative effects. Don't walk into an appointment on an empty stomach. Keep a box of power bars or an emergency snack bag in your car (Honestly, this is this a life pro-tip in general). As a bonus, you can also offer your clients some if they're hungry.
11. Celebrating Small Wins
Even the smallest accomplishment brings you closer to your goal, so celebrate it. Even if it's as small as generating a new lead or getting more email opens - embrace the positive energy and use that momentum to accomplish your next goal. You can't accomplish the big goals without finishing the small ones first. Celebrate your small wins, treat yourself with something small, and appreciate the small things about real estate and in life.
Confidence comes down to preparation, developing your skill, and knowing your market inside and out. Taking the time to lay the solid foundation of your career will set you up for confidence an success in all you do.
Editor's Note: This post was originally published in June 2018 by Emily Murray and has been updated in October 2019 by Brian Lim for accuracy, brevity, comprehension.
---
Not sure what your email follow up cadence should look like for new leads? Take a look at our free email script template.