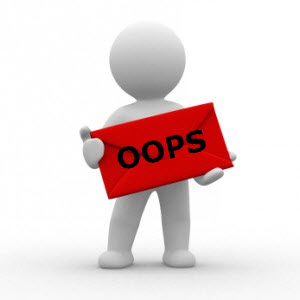 Email is one of the most prominent forms of communication used today. Email allows you to communicate with clients and coworkers at the touch of your fingertips, without having to worry about getting your schedules to align for in person or phone discussion. As a busy real estate agent, email also allows you to market yourself and your business to current clients and potential clients at a low cost. Great, right? Well it would be a great way to market yourself if you knew what mistakes to avoid.

Here are 6 of the most common email marketing mistakes made by seasoned and rookie real estate agents alike:
Misleading Subject Lines
Make sure the content of your email matches the subject line. There is nothing worse than opening an email for one reason, and seeing that the email has nothing to do with the offer in the subject line - the typical bait and switch. The point of your email is not to get people to just open your emails, but you want them to engage with you and your emails… misleading subject lines are a HUGE email marketing mistake and often can lead to being marked as spam.
Poor Spelling and Grammar
There's this awesome tool called Spell Check. Have you ever heard of it? Do you use it? Well, you should start. Spell Check helps catch some of your silly typos when you are moving too quickly, or just don't know how to spell a word to begin with. Spell Check also picks up on grammatical errors in your writing. Please remember that while this tool is very helpful, it is not 100% accurate so you are still going to have to proof read your email to make sure that your spelling and grammar are accurate. When in doubt, have a few people review your email so that you can be sure you aren't making this email marketing mistake.
Missing or Incorrect Personalization
I can't express this enough - if you are not personalizing your emails, this is a huge marketing mistake. Not only is personalization a good way to get your recipients attention, but it makes them feel like you care because you are addressing them. That being said, make sure that your personalization is correct. You wouldn't want to send an email to Nancy with John's personalization on it, would you? ROOKIE MISTAKE! Take a few extra seconds to make sure that your personalization is correct.
Too Much Information
We have all gotten those emails that are about a page longer than they need to be. Now let me ask you this - How much of those emails do you actually read? I certainly don't read all of them and I'm sure the majority of people are the same way. If your email isn't short, sweet, and to the point, it won't be read. Provide just enough information to peak your reader's interest, but not too much to deter them from reading your emails.
No Call to Action
What is the purpose of the email? If your email doesn't have a purpose, then don't send it. Is your email to inform people about a new listing in your farming area? Your call to action should be something along the lines of "Click here to see my new listing." Is there a new blog on your real estate website? "Check out my new blog!" No matter what the purpose of your email, provide a call to action that helps the recipient achieve your purpose. Without a call to action, they are just reading an email. You should be using your emails to help drive your readers to your website, and if you aren't, that's an email marketing mistake.
Dead Links
Providing links in your emails is such an easy task, but often can turn into quite an email marketing mistake. How could something so easy turn into a mistake? Often times people don't check to make sure that their links actually work. Please don't be one of those agents that proves a dead link in their email.
Getting started with email marketing is easy. The trouble is, while it is easy, careless mistakes can be made. Consider these tips next time you are writing an email and make sure that you are not one of the agents that are making these careless email marketing mistakes.
---
Is your current marketing strategy failing to product valuable leads? Z57 can help!