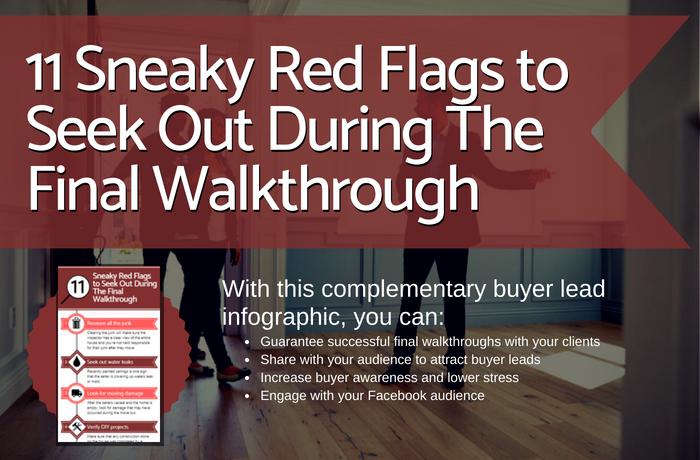 Picture this, you've been working with a client for 6-8 months. They just signed the contract and they've officially purchased their new home. While moving in, they discover water damage in the ceiling caused by a leak from the bathroom above. Extremely annoyed, they call you immediately.
A lot can go wrong before and during the final walkthrough: pipes can burst, appliances can break, plugs can short-circuit, among a million other problems. As a good agent, you'll want to catch these problems because once the contract is signed, those problems become your client's. If the final walkthrough goes poorly, it's likely you'll receive a bad review and tarnish your reputation around town. Ease your home buyer's stress by sharing this infographic with your buyer leads to guarantee their final walkthrough is successful and you receive a good review:
11 Sneaky Problems to Seek out During The Final Walkthrough
1. Remove all the junk

To ensure that the inspection goes as smoothly as possible, make sure all the owner's junk is removed. You may discover cracks or other foundation problems that can cost a significant amount to repair. Clearing the junk will make sure the inspector has a clear view of the entire house and you're not held responsible for their junk after they move.
2. Watch out for water leaks



Recently painted ceilings is one sign that the seller is covering up waters leak or mold. Beware of these cover ups because they are usually the effect of a larger issue. If the ceilings have been recently painted, confirm that there isn't a bathroom above it and that there are no leaking pipes that run above it.
Check under the sinks or any other place that could have water leaks! Keep an eye out for stains or new paint.
3. Look for damage during moving
After the sellers vacate and the home is empty, look for damage that may have occurred during the move out. Keep an eye out for scuffs, scratches, and chips on walls, floors, door frames, ceilings, and driveway. Also make sure that all the holes on the walls have been filled with Spackle.
4. Verify DIY projects
You can check out your town planning board and verify if there are construction permits for the house. DIY projects that were not permitted can cause a lot of issues for your client down the line, especially if they are looking to resell. Make sure that any construction done on the house was completed by a professional.
5. Confirm the hot water works
If the hot water doesn't work, there can be an issue with the water heater. There's nothing worse than moving into a new home with a broken water heater and no hot water. Make sure this doesn't happen to your client by checking for hot water.
6. Look for different sheen
Different sheen means a portion of the paint is a different tone the rest. For example, if the ceiling is white but there's a slightly lighter white area in the corner. This can be caused by several reasons, but it most likely means a tree fell through the roof. The main point, is that the sellers could be covering up damage with paint.
7. Search for Smells
If the house smells like the seller is covering a scent with an air freshener, they might be covering up mold or cigarette smoke. Recommend that your client bring a nonsmoking, female friend with them to help sniff out abnormalities.
8. Evaluate the attic
Check out the attic, make sure there aren't any issues with the insulation. This can occur from poor construction or a mice/rat problem!
9. Locate tiny elongated pellets
Usually occurring near windowsills and in doorways, tiny elongated pellets are a sign of termites. Another sign of a termite infestation is when the wood appears blistered. This is caused when termites eat too close to the surface of the wood.
10. Inspect the parameter
Look around the house, the ground should slope away from the building. If it doesn't, the house could be prone to flooding.
11. Test drive all the appliances
If your client is purchasing a home with appliances, make sure they work properly. Run the dishwasher, the A/C unit, washer and dryer, and other appliances to confirm that everything runs the way it should be.
Pro-Tip:
Take a picture of everything and question everything! If you miss anything, there's nothing your client can do, and they will be responsible for fixing everything.
With these real estate tips, you'll have the knowledge to seek out and identify problems that arise during the final walkthrough of a home. Leave a great last impression, increasing your odds of receiving a good review or better yet, a referral.
---