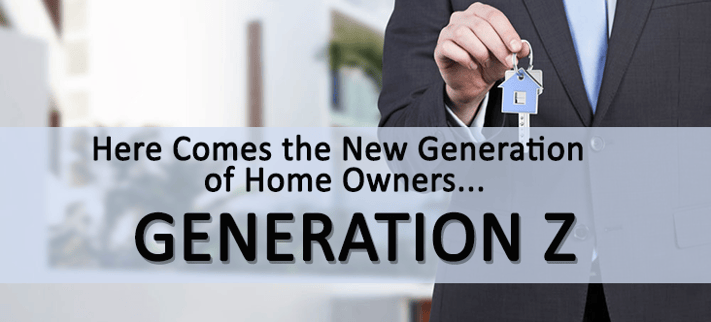 If the term "Millennial" has been driving you crazy over the last few years, the good news is that you'll soon be hearing a new term in the housing market – Generation Z. So, who exactly falls into the Generation Z (or Gen Z for short) category? Typically, anyone born in the late 1990s to early 2000s. Currently, they account for 21% of the U.S. population. While it may make some of us wonder where the time has gone (myself included), this new generation will soon be entering the housing market! Yes, they've reached a median age of 22!
Generation Z Values Home Ownership
The American Dream
According to a report published by Zillow the end of last year, more than half of these Gen Z-ers are confident they will own a home one day. In this study, they came in at a 2% higher rate of confidence in this goal than Millennials (57% vs 55%). While many are not yet in the income bracket to be able to afford a home, this optimism means good things for the future of real estate. In fact, it's being said that Gen Zs feel strongly that when it comes to the "American Dream," home ownership is an important component.
In fact, 57% also claimed that they already began considering buying their own home while looking for their most recent rental. In comparison to other generations, Gen Z home renters are more likely to submit more rental applications, yet spend less time (around one month) researching places to move. They are typecast as tech-savvy, prefer living alone rather than with others, and use their social networks when looking for rentals.
Inventory Shortage Slowing, Creating Opportunities for Young, First-Time Home Owners
As we have seen in many 2018 forecasts, the inventory shortage is slowly beginning to decline which is good news for first-time home owners, Generation Z and Millennials alike. With inventory shortages beginning to slow, this means that home prices will begin to drop and then even out as well. Not only is this beneficial for younger, first-time home buyers, but also many mortgages are being created with the less-than-ideal-credit holder in mind. In the years to come, it seems a sure bet that Generation Z and Millennial buyers will continue to shape the housing market and drive the demand for more inventory.
Generation Z will Face Rental Competition
Until the day they can purchase their first home, Gen Z will see a bit of competition in the rental market, just as their predecessors the Millennials have. In recent years, many home owners of differing generations have gone back to renting due to soaring mortgage rates and lack of inventory.
Just as their predecessors, the Millennials, do, Gen Z loves social media and connecting with them in this way can greatly impact your future interactions with them in real estate! In fact, a social media study confirmed that 88% use Facebook daily. Still not sure what it takes to have an effective social media presence? Let us help you!