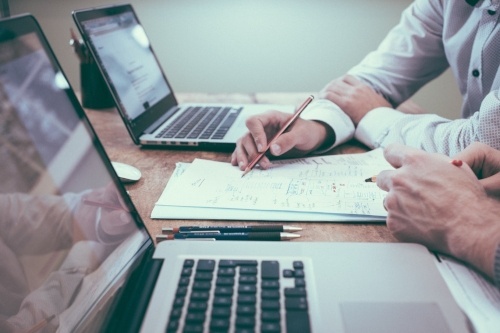 Is there a marketing channel that can boost site visits, increase lead conversions, and ultimately lead to more sales? Of course there is! Your blog is your way to get people excited about your brand and build it up. There are of course some key aspects to focus on. Making sure that you hit these several areas will ensure you get people coming back to your blogs for more.
1. Let's explore some key blog aspects for realtors to focus on:
Great content - It sounds simple but it's not. Knowing what your audience is looking for will help you narrow in and generate quality leads. Here are a few other concepts to include; actionable advice, additional resources, and when appropriate, good humor.
Constant updates - What good is content if it's not

relevant or topical

? Constantly updating your material and refining your writing style will really play well to your readers. Once you get your audience engaged, they'll be more likely to fill out your forms.
Know your audience - I'm willing to bet that you write for several different types of readers. Whether they're buyers, sellers, or other agents, knowing what your readers are looking for will help you know how to write for the future. The best way to accomplish this is to look at your historical posts to see which have performed better.
Focus on their needs - Everybody is focused on their needs first. If you have a really

great idea

for a blog topic, you should absolutely write about it! Just make sure to tie it back to who you're writing it for and what they came to your blog to begin with.
Make it pretty - Everyone likes a good design and an easy to navigate page. Think about it, if you were presented a wall of text with nothing breaking up the sections, would you be able to make it all the way through?

Me neither

. As a tip, people like list blogs (if you've made it this far, it looks like you do too!)
2. 5 Real Estate blogging tips to help you generate more leads
Real estate agents are always looking for new ways to attract leads. One of the easiest ways to do so is by blogging. Blogging allows you to establish yourself as an industry authority and helps you stand out in a crowd.
Content -

The most important thing you can do as a blogger is to write about content you are interested in. If you are writing about content you care about, it will end up being a better blog for your readers because they too will be able to sense your excitement within the blog. If you are an avid DIY craftsman, share your experiences. Maybe you are a food connoisseur and you have some favorite restaurants in town. The purpose of your blog should always be to provide information to your readers that they may not get somewhere else.

Structure -

All of your blogs should have some sort of structure to them. Perhaps your blogs follow a specific format. Stick to it through all of your blogs so you are able to brand yourself as a blogger. Maybe all of your blogs share helpful tips for your clients. Whatever the case may be, consistency is going to be your key to success.

Personality -

Please do not write like you are a robot! Not only will your blog end up being boring and full of choppy sentences, but your blog will also fail to interest people. Your goal is to entice people with your writing style so that they want to continue reading your blog, and maybe even read some other posts you've written.

Length - Don't write too much. You are now a business professional so there is no need to keep track of your word count. If you feel obligated to make your blog a certain length, you may end up rambling or repeating yourself - neither of which are going to help you. Keep it short and sweet if necessary.
Title - Be creative! Y

our title is going to be the first thing to catch your reader's attention so make that first impression count.
There are plenty of real estate agents that have a blog, but the key is to use real estate blogging to help yourself stand out from the crowd. Are you up for the challenge?
Is there a marketing channel that can boost site visits, increase lead conversions, and ultimately lead to more sales? Of course there is! Your blog is your way to get people excited about your brand and build it up. There are of course some key aspects to focus on. Making sure that you hit these several areas will ensure you get people coming back to your blogs for more.
Do you want to get your real estate blog content read by prospects, current clients, and your colleagues? Well, that's where a kick-butt blog title comes in. Creating a catchy blog title is no easy task. Not only do your titles need to foreshadow what your content is about, but they also need to sell your content in a catchy way. As a real estate agent, you sell yourself and your services everyday which means you should be able to sell a blog title. Are you up for the challenge?
Here are 4 tricks to creating a killer real estate blog title:
Consider the topic - When you are creating a blog title it is important to always keep the topic of your content in mind. While you want your title to be catchy, you don't want your title to be misleading. There are few situations worse than clicking on a blog because you think it is about one topic, but then realizing halfway through that the title has nothing to do with what you wanted to read about. Finding a good combination of catchy and accurate can be tricky, but it is key to having a successful real estate blog title.
Choose keywords - In order to increase your SEO, every blog should have keywords. Not only do you want your keywords to appear multiple times in your blog, but it is in your best interest to also include those keywords in your title. Choosing the right keyword is crucial so that your content can be found by search engines. Make sure your keywords are concise enough that they are considered unique and yet is commonly searched by your target audience.
Make it engaging - I don't know about you, but I often select which blog I read based on the title. If the title doesn't catch my attention and suck me in, I won't click on it. If you want to maximize the reach of your real estate content, you need to find a way to make what some people may consider a "boring topic" engaging. Maybe ask your readers a question. Try an exclamatory sentence. There is no right answer to this question. Being engaging requires creativity

so get those creative juices flowing so that you can engage your readers.

Short, sweet, and to the point - Similar to a run on sentence, long blog t

itles are hard to read. Keep your blog titles as short and sweet as you can. You literally have seconds to catch the attention of your readers so make those first few words count!
Applying these 4 tricks to your blog titles will not only help your real estate content get the exposure that it deserves, but it will also make your competitors wish that they had thought of such a great title. Take the extra time and make the extra effort to push your real estate blog titles to the next level. You won't regret it!
4. How To Avoid Real Estate Blog Topic Fails
Coming up with real estate blog ideas can often be more work than writing the actual blog. It is because of this challenge that a lot of real estate agents, and business people in other industries alike, struggle to see results from their hard work. Here's a clue - it's not just about the title of your blog… it's about the content too! If you aren't producing content that your website or social media visitors care about, then you are really just wasting your time blogging.
Here are 5 real estate blog topic ideas:
Frequently asked questions - Buying or selling a home is an incredibly overwhelming experience for a lot of people. Additionally, there is a lot to know when it comes to the process of buying or

selling a home

. I guarantee that if you have been asked a question by a client, or even a potential client, there are plenty of other people that have the same question. Turning these questions into a blog series can help you not only better assist your clients or potential clients, but it can also save you time in the long run because you won't have to repeat yourself all the time. Of course there are going to be those who don't read your blog, but a lot of people will. As a real estate agent you are the source of information and a beacon of light through a challenging process. The more specific your questions and answers are, the better so try to break down each subject as much as possible.

Interview a past client -

People like to read about other people's good experiences working with an individual. Interviewing a client can be a great blog post if you are trying to put sometime together in a hurry. This can also be another blog series that you can feature every week. Ask your clients questions like how did they find you? What was their overall experience like? What was the most challenging part of the buying/selling process? Of course you are going to want to reflect yourself and your business in the best light possible, but that doesn't mean that you should hide the challenges of the overall process. Not everything in life is going to be peaches and gumdrops. Life can be messy, and it is important to portray that when necessary.

Local market information - One of the easiest posts to write is going to contain

market information

. If you don't already have a blog series that updates your readers with market information, you should. Providing market information will not only help demonstrate that you are an expert in your market, but it will also lets people know that you are interested in providing your readers with the most up to date information available. After all… you are an expert, right? :) Is it a good time for people to buy a home? Sell a home? What is the average sale price in your farming area? How many days are homes on the market for? All of these questions would be extremely beneficial to provide on your market reports. Get creative! The more information you can provide, the better.
Home advice - Do you want to blog about some lighter content? Try providing some home advice for those who are getting ready to buy. What is the first thing that they should do? How can they prepare? Maybe you have some readers that are getting ready to sell. How they they get ready for the process ahead? Another fun idea would be DIY home improvement tips. Did you see a pallet turned into a table on Pinterest that you can't wait to make for your home? Let your readers know about it and share your experience making it. There are hundreds of

DIY ideas

for home improvement that are just waiting for you to try out. Do you have some killer open house staging tips for your readers that are selling their home? Share your knowledge! This series of your blog is a great way to have fun and be playful with your readers.
Local news -

What's going on in your area? Is there a new housing development that is on the rise? Maybe there is construction on a major road in your area that is causing traffic to be worse than usual. Perhaps there is a charity event in your area that you are going to attend and you want other people to know about it too. Providing this information demonstrate that you are keeping up with local news and it shows that you want other people to know these things as well. The area that you farm in greatly impacts your success as a real estate agent.
No matter what you are blogging about, it is important to keep in mind who your

ideal client

would be so that you can gear your posts towards their interests.

Coming up with blog content doesn't have to be a dreaded task. Your blog has the potential to greatly impact your business, so make your efforts count.



---
So now you're able to write rock star realtor blogs. What comes next? How do you capture people that are interested in doing business with you? If you'd like to see how Z57 can help you capture more of your market, speak with a Z57 team member today!