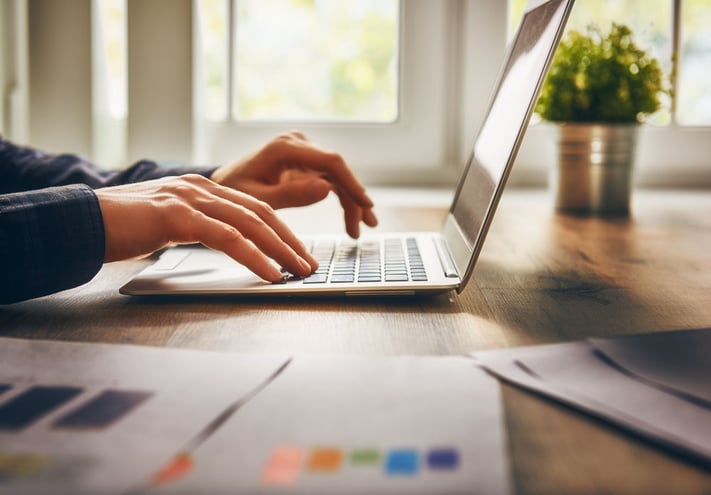 As an agent, your email signature is your trademark. As a small business owner, agents have more flexibility with signature choices. A lot can be told from an agent's email signature. Leads will be analyzing your signature to get a feel of your personal branding and style. Whether you are a new or veteran agent, use our list of do's and don'ts to see if your email address is up to par.
Don'ts - Realtors® Should Never Include these Things in Their Email Signature
It Depends - Realtors® May Include the Following in their Email Signature
Do's - Realtors® Should Always Include these Things in Their Email Signature
Don'ts - Realtors® Should Never Include these Things in Their Email Signature
Start lead nurturing like a pro! Download the Email Marketing Guide for Real Estate >>>
1. Difficult to read text or font color
It can be frustrating to receive an email in faint or brightly colored fonts. Stick to black and Sans Serif fonts. Sans Serif fonts are fonts without any flourishes to the end strokes, while Serif fonts have small decorative flourish at the end strokes of letters. Sans Serif is easier to read on print materials, while Serif fonts are easier to read on screens.

Image Courtesy of MaconPrinting
2. "Sent from My iPhone"
While we do live in an on-the-go world, work matters should remain professional. When your email contains a "sent from my iPhone" message, you are relaying to leads that you 1) didn't spend place much time or thought on your reply and 2) you we're too busy to place much effort into communicating with them.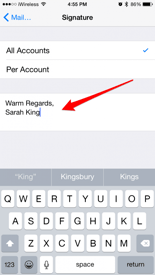 (Image Courtesy of iPhone Life)
3. Spelling & Grammatical Errors
A recent study by Grammerly found that our writing skills are also an indicator of our professional skills at work. Apps such as CorrectMe for iOS and Spell Checker for Android make it easy to proof your email and text messages before sending.
It Depends - Realtors

® May Include the Following in their Email Signature
1. Physical address
Office addresses have a drawback in that they take up two lines of your signature. However, if including your physical address in your signature makes it easier for leads to find you, then do include it.
2. Flare
Depending on your clientele, you can also add in your own personal touch. Most agents email signatures are generic, despite their diverse personalities. Don't be afraid to show some personality with catchy slogans or links to articles of interest.
3. Social Media Icons
Social media icons, while useful in theory, are often impractical. Many email servers read icons as attachments and then make the email larger. Other times HTML may download the icons as plain links, which looks messy. However, some agents may find social media icons as another boost to their brand exposure.
4. Fax Numbers
Real Estate agents rely on fax machines still as it's a paper oriented business. It may be appropriate that your signature include your fax number as well, to make it easier for leads to reference.
Do's - Realtors® Should Always Include these Things in Their Email Signature
1. Phone Number(s)
Include your primary phone number, not just your general office phone number that directs to a phone tree or your office's receptionist. Also, be sure to test out your office's extension number so leads are not lost in the process.
2. Logo
Humans are visual creatures. Including your logo is essential to getting leads familiar with your brand image.
3. Job Title
Including your job title will make it easier for leads and internal contacts to remember your position.
4. Call-to-Actions
If you're asking past clients to leave a referral, direct them to one of your website pages or a home search site.
5. Designation and DRE License Number (i.e. Realtor(r), broker, CABRE XSSSS)
6. Your Picture
Lead's will be more likely to remember you if you include your picture in your email signature.
7. A Mobile Signature
As an agent, you're constantly out of the office. Be sure you have a mobile signature in place.
9. A Link to Your Website
According to the National Association of Realtors, over half of home buyers in 2016 found their home through the internet. The average home buyer or seller visits between 8 to 10 websites before actually contacting an agent. It's essential for agents to have an online presence if they'd like to generate leads in today's real estate market. Z57 sets up customizable home search sites for agents. Speak with one of our real estate marketing experts to learn how you can launch a new site:
---
Want to increase open rates and ultimately, be an email pro?
Download this complimentary Email Marketing Guide for Real Estate!