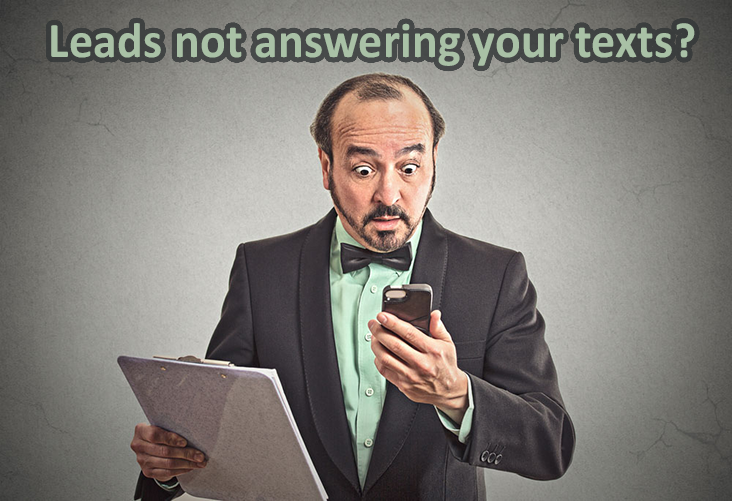 In this article, we will offer 5 explanations as to why your real estate leads aren't answering your text messages:
Perhaps nothing is worse than sending a text message and getting no response in return. Well, actually there is one thing can make it worse - when you receive no response and the "read" receipts are on, giving you instant confirmation that they saw your message and simply ignored it. As a real estate agent, this probably happens to you more often than you care to admit. Want to know why no one is answering your texts? You sure you can handle the truth?
Okay, here it goes...
Here's why real estate leads aren't answering your text messages
1. They're TEXT messages
Not to completely knock texting...but video messaging is quickly becoming one of the most reliable channels for reaching leads. Why? By nature, we are visual people! Sure we can ignore a text message easily enough but when we see there is a video, it's a bit more intriguing. Try mixing up your forms of communication. A text is fine, but if you aren't getting a response, try a video message!
2. You Aren't Following Up
No matter what form of communication you use initially (phone call, text, etc.) you need to follow up if you want results. You can break up your main objectives into several texts and a voicemail.
3. You Don't Sound Like an Actual Person
Regardless of who you are texting, if you don't sound like a possible peer you are probably going to be ignored. Too many times agents get a bit too "marketing language" when texting their leads. Make sure that you sound like...well, you! It's okay to have a personality, a sense of humor, and a friendly tone. You can convey your personality and sense of humor, while remaining professional.
4. Your Texts Are Too Long
Along with sounding like a real person, keep it short. No one will read your text if it's paragraphs long. It takes too long to digest and your message will be lost in the mess. Stick to your point and leave it there. Remember, breaking up your messages is a good way to follow up as well.
5. You Aren't Asking a Question
Typically, questions will get an answer. It's as simple as that. Make sure that part of your short text message includes a question like "what's the best time for us to meet up?"
---
Ready for more marketing tidbits like these? Give us a call today for your free marketing consultation. Learn how you can grow your business.