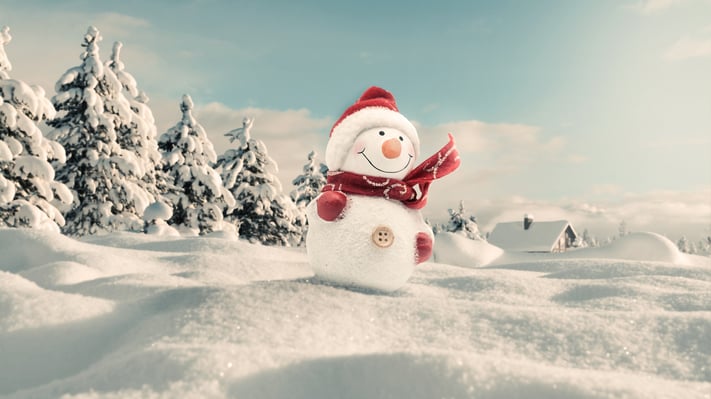 In this article I will share ways real estate agents can spend their holidays alone.
For most, the holiday season is the most cheerful time of year - full of family get-togethers, parties, and presents. Alternatively, it's also a difficult time for those who spend their holiday alone. They might be alone because they don't have any family left, because their family is too far away, or because their employer only gave them the holiday off this year because it falls on a weird Wednesday. Regardless of the reason, thousands of Americans will spend their holidays by alone - feeling forgotten and lonely. If you're a real estate agent and you're flying solo for the holidays, this article is for you.
1. Mental Check Yourself
The first step for a solo agent holiday is to reflect and do a mental check on yourself. How do you feel? How stronger are your negative feelings compared to your positive feelings? If the negative feelings are too overwhelming, please seek help. You can contact 1-800-932-4616 for emotional listing support 24 hours a day and toll free.
2. Get Your Muscles Loose and Dopamine Flowing
If you feel good enough to take on the day, start it off by sleeping in! There's nothing like peacefully sleeping in, knowing your only priorities are to exist, eat, drink, go bathroom, and sleep. In fact, sleeping in is very liberating - if the day allows it, which it should, try to fit a nap into your holiday too.
If you're like me and my cardiac system, it's nearly impossible to sleep in. If that's the case for you, get the day started with some stretching, exercise, or yoga. You can go for a light jog or walk. Do as many exercises as you can like push-ups, sit-ups, pull-ups, squats, berpies, etc. – even if you can only do a few. If yoga is your thing, check out Yoga with Adriene's YouTube channel – there are many beginner to advanced videos ranging anywhere from fifteen minutes to fifty minutes. Obviously, go to your gym if you have one and it's open.
3. Breakfast of Holiday Champions
You might be hungry after moving around and burning calories, so make your favorite breakfast. Personally, my favorite breakfast is simply Portuguese sausage, eggs, and rice. Most grocery stores are open in the morning on the holiday but it's best to pick up your ingredients the day before.
4. The Rest of the Holiday Day
By now, you've successfully killed about an hour to an hour and a half of your day. You now have the rest of the day to do whatever you want that makes you happy - and that is legal. I've listed different activities that you can do depending on how you want the rest of your day to go.
Chill and Productive: What's your favorite background noise? Is it music, Netflix, podcasts, or something else? Turn it on and create your to-do list. What do you have to clean? What have you been procrastinating on around your home? Maybe you need to fix a squeaky door or patch a hole you've cleverly disguised with a poster. Whatever needs to be done around your home, do it! Now is the time.
Start Planning for Next Year: Have you figured out your goals for 2020? If you don't like being alone during the holidays, create a plan so it doesn't happen next year. If you haven't started planning your business goals in 2020, use this guide to help you get started. Write down your goals and starting thinking of ways you can accomplish them.
All the Funtivities: You can go for a hike or start a video subscription free trial for Disney +, Hulu, Netflix, Amazon Prime and binge watch all their movies and shows. You can even invite other friends who are alone and have a movie marathon. Do you have a hobby? Practice it or buy something for your hobby before the holiday so you can work on it or play with it on the holiday. Do you like trains? Buy some trains beforehand so you can work on them on the holiday. Do you like video games? Buy a new game. Do you like crafting? Buy your raw materials.
Volunteer, The Other Other Reindeer: You can spread holiday cheer to those less fortunate than you or by giving back to your community. As a real estate agent, this will help with your branding. Consumers are more trusting of people who volunteer and give back to their community. Who knows, you could generate a lead out of one of the other volunteers.
Co-Worker Holiday Miracle: If you'll be stranded because your broker made you work on Tuesday and Thursday, your workers are probably in the same sleigh as you. Hang out with them! You can plan a potluck and a (another) gift exchange, a movie marathon, or another activity.
Just because you're alone for the holidays, doesn't mean you can't have fun, be productive, chill, or give back to your community. Don't forget to start your day with a mental check, get some exercise, eat a full healthy breakfast, and do whatever makes you happy. Who knows, you could generate a lead along the way.
---
Want to Learn More About Our Social Profiles?

Request a FREE DEMO to see how Z57 can help you generate new listing leads.