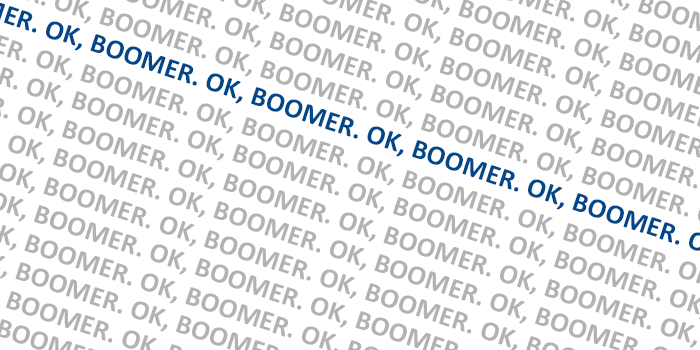 In this article, I will explain the history of the saying, "OK, Boomer" and offer ways for older generations to work cohesively with Millennial real estate clients.
You may have heard a new saying going around the internet that targets Baby Boomers. Some people like it and find it cute. Others think it's offense to categorize all Boomers this way. Whether you're a fan of the saying, "OK, Boomer" and have already ordered your merchandise, or you're opposed to the saying - you must embrace it. A bad agent flees from challenges. A top agent decodes the puzzle and turns a negative into a positive. They devise strategies that overcome the challenge - in this case, the tarnished perception each generation has toward each other.
The Brief History of "OK, Boomer"
Older generations often criticize Millennials for being soft, calling them names like, "Snowflake." As a response, Millennials fired back with the passive-aggressive rebuttal, "OK, Boomer." The saying insinuates that - from the Millennial's perspective - the Boomer is stuck in their old ways and it's not worth their time or energy to educate them enough to change their views. "OK, Boomer" means, "You may not know what you're about but you're not going to change, so why bother?"
For example, the older generations blame Millennials for the current housing crisis (not the Great Recession that took place December 2007 to June 2009), even though Baby Boomers are the ones staying in homes longer than expected and are too big for their lifestyle – this causes low inventory. Frustrated, Millennials took to the internet and created a simple message through the most Millennial way possible – they made a meme.
Additionally, as younger generations (X, Y, and Z) urgently mobilize to fight Global Warming's impact on the Earth - Boomers tend to be the ones to oppose these views, adding friction to their movement. When Millennials see Venice, Italy under water due to rising sea levels, record breaking heat waves in the United States, wildfires destroying cities, extreme droughts, and record breaking hurricanes, but see Boomers insensitivity towards solving these problems - they become frustrated. Why? Because Boomers (not all Boomers) created this world that we live in and they aren't going to be around when these effects become even more fatal. They need to let go of control. When a Boomer says, "Global Warming is a hoax," I assure you it will be followed up with, "OK, Boomer."
Note: The less trendy name for Millennials, is Echo Boomer because they are the children of the Baby Boomers. So if a problem exists with Echo Boomers, it derives from Boomers because they created the problems the world faces today - that's how Millennials see it.
Penetrating the Millennial Market
The truth is, both sides need to recognize, understand, and respect the way each generation was raised, their current conditions, and concerns about the future. Having that said, if you're a Boomer, I want to help you penetrate the Millennial market. I want you to flip the current script. I want you to take advantage of the largest demographic of home buyers in the United States. I want Millennials to say that you're more than just an, "OK Boomer" instead of telling you, "OK, Boomer."
To be more than just an "OK, Boomer," you need to start with empathy – put yourself in their shoes.
5 Ways Baby Boomers Can Appeal to the Millennial Demographic
1. Be Empathetic Towards Their Situation
Buying a home is one of the most overwhelming experiences that a consumer can go through. Be patient with Millennials and let them know that you enjoy working with first-time home buyers, and mean it! Millennials do not want to work with an agent that knows less than them. Having that said, it's possible that a simple question from a Millennial could have a deeper meaning. It come be to confirm info they already have or know or to verify your expertise. Millennials appreciate when agents take the time to walk them through each step of the process and let me know what is going to happen next so that they can be prepared.
When meeting your Millennial prospect, try not to jump to conclusions, assume, or judge them. Come with an open mind that's ready to solve problems regardless of their origin or how they came about. Listen to what they say and repeat it back to them so they know you understand them.
2. Be Responsive to Communication
Millennial have constant access to text messages, email, and the internet through their mobile devices. As a first-time home buyer, they may have a lot of questions about not only individual listings, but about the overall home buying process as well. That being said, the more responsive you are to their questions, the more at ease they feel. This also includes utilizing different channels of communication such as phone, text, email, and social media chats to communicate with them. This doesn't just apply to Millennials - this applies to all demographics. Being responsive to questions or comments signals that you want to do everything you can to help put them at ease and accomplish their goals.
3. Be Trustworthy and Transparent
The best thing that you can do to help any buyer is be trustworthy. Many people consider Millennials to be "easy targets" to take advantage of because they are not as familiar with the industry - so it can be challenging to gain a Millennial's trust. As a first-time home buyer, Millennials are looking for an agent who can help them accomplish part of the American Dream. Being trustworthy means that you are doing what you say you are going to do and making sure that I am getting the best deal that I can get. It means admitting you don't know something instead of spewing fake news.
4. Be a Guide and Counselor
One characteristic that defines the Millennial demographic is their upbringing during the internet boom. Pairing the internet revelation with ubiquitous mobile devices, information became available instantly and anywhere. Therefore, Millennials are the leaders in researching information available on the internet. Because of this, the information they require from an agent is harder to obtain or make sense of - like housing regulations. Since information such as listings can be found easily, the role of an agent has evolved into more of a guide or counselor than an agent that does everything.
Additionally, your guidance will not always resonate with your Millennial clients. Millennials tend to want to do things on their own and ask for help when needed. Try to understand their perspective if this happens. Usually, they're overwhelmed or had an expectation that they're sticking to. You can only discover the real issue by asking questions. Give them your advice but let them make the ultimate decision. Give them space, but let them know you're always there to answer their questions. Sometimes their poor decision making - if not dire - provides a lesson that will increase their trust in you, but only if you were right all along and are respectful about it.
If you noticed, there isn't really much of a difference between Millennials and Boomers, or any other demographic. In fact, if you look at the wants and needs of each demographic, they're almost the exact same. At the end of the day, the world would be a better place if we all treat each other like our grandmas (The Silent Generation) instead of opposing forces.
Just because you are a real estate agent doesn't mean that you have to take on every client that approaches you, or that you approach. If you know that you are not going to be able to provide your prospective client with the service that he/she is looking for, then be up front about that and refer them to a colleague. There is nothing worse than dealing with a home buyer that you can't stand working with because at the end of that day, that opens the door to getting a bad reputation. Remember, try to do what's best for the buyer or seller and good things will happen.
---
Want to Learn More About Our Social Profiles?

Request a FREE DEMO to see how Z57 can help you generate new listing leads.