In today's post we have guest blogger, Josh Elkin, giving us a comprehensive strategy on rising up the ranks of the google search results in a short amount of time.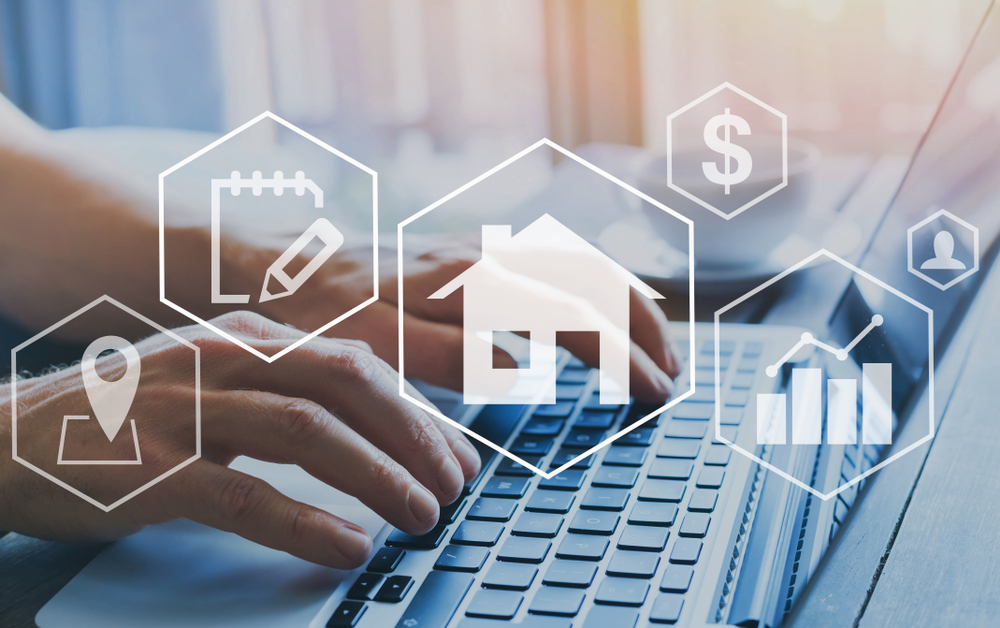 If you're building a real estate business and want to be number one, you should also look at how your website ranks when potential customers make their searches on Google. To make sure you get as many leads as you can, you need to be in the top 5 results because those sites capture 68% of all traffic on average.
To get there, you'll need three critical components: a fast-loading, mobile-friendly site; a navigational layout that Google can quickly scan; and a robust backlink profile.
You'll knock out the first if you build your website correctly. The third piece is the tricky one. Think of a backlink profile like your online reputation, where it finds which sites linked back to you and assigns you a benchmark called domain authority. If sites with high domain authority link to you, your domain authority will increase as well. Unfortunately, the inverse is true, too: low-quality sites that link to you will hurt your score.
Increasing your domain authority makes it much easier for your customer to find your site on Google Search. Eventually it'll rise to the top of the pile and you'll get a lot more web traffic as a result – and therefore more business leads.
Days 1-21: Know Where You Stand
The first step to topping Google's search results is understanding what your domain health looks like.
Do you have a ton of links to your site or zero? What's the quality of sites linking back to you – noteworthy business directories or buggy, pointless spam sites? Are the links to your site embedded over relevant keywords or text?
This measuring process is known as a backlink audit and usually requires tools like Google Analytics, SEMRush, or Ahrefs, but it can be done by hand. All of these tools crawl the internet, flagging the links that direct traffic to your website. Some of the more advanced tools will even provide helpful information on those referring domains' projected effects on your domain authority.
Once you've identified the deadweight sites, you'll need to contact them and request they remove the links to your site. Otherwise, you'll need to put together a disavow report with those links included and send it to Google, which will hopefully adjust the search algorithms accordingly and stop punishing your website.
Also, be sure to check the links you want to keep and make sure they still correctly point visitors to your site, especially if you've changed domains recently or adjusted your navigation layout (your Contact page used to reside at .../contact and it's now at .../contact-us).
If you do find any incorrect links, reach out to the referring domains and kindly ask them to update the links with the new versions. Otherwise, the 404 errors visitors get will drag you down in the search results.
Day 22-75: Acquire Those Backlinks
After cutting the deadweight loose and eliminating those toxic links, the next step is to start acquiring useful backlinks.
Google's algorithms will reward you not only for links on sites with strong domain authority, but also links on pages that are relevant to your business in some fashion. This includes factors like locale, your real estate specialty (residential, commercial, luxury, housing starts), and the anchor text, which is the actual text visitors click to get to your website.
First, research and build a list of sites you think may embed valuable links to your site, chiefly looking at professional & general directories, news & industry media, and associations. You can use tools like Ahrefs, SEMRush, or Moz's Open Site Explorer to measure the domain health of the sites your list and rank them from best to worst.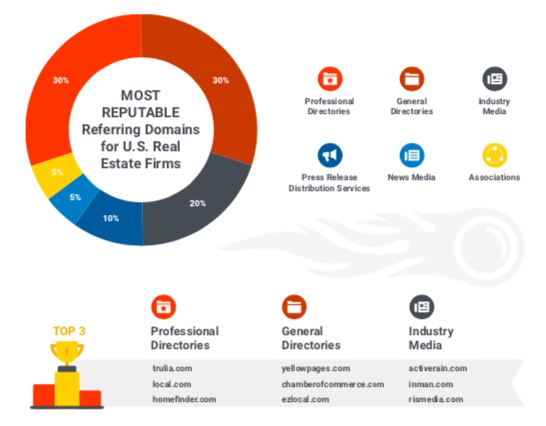 Source: SEMRush
Your best bet is to start by getting backlinks on very popular sites like Homefinder, Trulia, Active Rain, the Chamber of Commerce, and the Yellow Pages. These will very likely be easy wins with sites that have very high domain authority and traffic levels, which will do wonders for your site's SEO.
Another approach is to share news items related to your brokerage, like when you list hot properties around town, change offices spaces, or engage with the community. You can share the news using both media pitches and press releases. News sites are visited and get backlinks very frequently, which gives them strong domain health, and online press releases function like permanent webpages that host the links you put in and they live on sites with pretty high domain authority.
The major disadvantages to relying on this approach are press release sites frequently charge for each release and for backlinks and you won't always have newsworthy updates to share, so just take advantage when you can rather than forcing the matter with pricey releases or disinterested journalists.
Day 76-90: Develop Amazing Content
Another big step you can take to build a strong backlink profile is to produce stellar content that others will want to refer to on their own sites. This content can designed to be evergreen for its usefulness or so compelling that it gets widely shared – in other words, try to make it viral.
Some ideas for creating this content: a step-by-step for first-time homebuyers, a thorough rundown of renters' rights, or tips and tricks for raising property value. If you're able, try to turn your website into a destination for your local community whenever they need information on real estate. That consistent amount of traffic will not only boost your domain authority directly, but you'll really benefit when others link back to that content.
On top of that, keep a close watch on your competitors' websites to learn their tactics and check their domain authority regularly to see how it's working. If it is, don't be ashamed to emulate it; if it isn't so hot for them, get creative and you'll probably start outranking them very soon.
Building a strong backlink profile requires ongoing effort – this can't be done in a quick spurt. You should keep managing your web presence, getting more backlinks, creating more content, and weeding out the harmful backlinks.
It may seem annoying and not worth the effort at first, but over time you'll find more customers approaching you organically as you rise in the search rankings, basically free advertising. After that, the rest is up to your sales team.
For more tips and deeper insights, there are some great walkthroughs on how to build up a backlink profile, like this one from SEMRush.
---
---
Is your Facebook Business Page optimized? Sign up for a
FREE marketing consultation and find out: