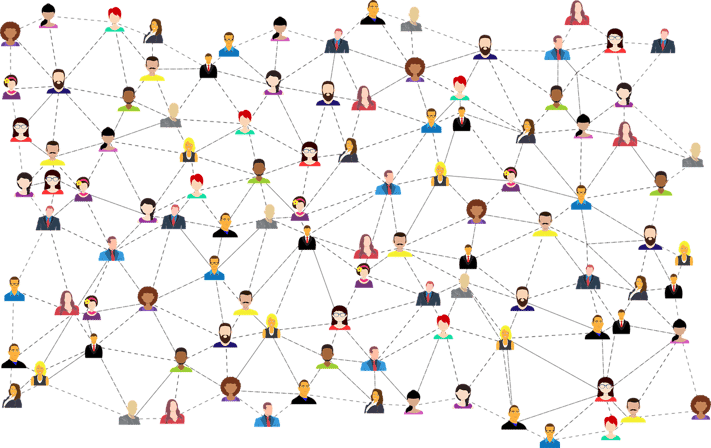 In this article, I will share the 5 most important types of real estate relationships and ways to enhance those relationships.
Whether it be a pen or a house, a good salesperson can sell anything. Why? Because sales isn't as much about the product or service as it is about building relationships. Most consumers don't need the newest iPhone every year, but their relationship with Apple's brand motivates them to make annual upgrades. The relationship between this type of consumer and Apple is strong because it is a powerful tool that helps the user: build social authority through a high-quality camera, increase intrinsic satisfaction due to its luxury branding, and groups them into a community of similar individuals.
The same can said for real estate agents. Your effectiveness with a potential referral or lead relies on your relationship. You're more likely to keep a referral if the referrer is close to you and if you've been in constant contact with them. To help you be a better agent, generate more leads, and grow your network, below are 5 crucial relationships that you can enhance.
1. Connect With Yourself
Your most important relationship is the one with yourself. All of your relationships derive from your internal one. For example, an agent that struggles with self-identity may struggle with branding, a broker that lacks emotional intelligence may not empathize with subordinates, or simply being intolerant because you're hungry. If there's a disconnect with yourself, it will reflect in your relationship with others.
There are plenty of ways to connect with yourself like meditating, journaling, or just checking in with yourself. Meditation will help you calm your mind, evaluate your body, and uplift your spirit. Journaling will make you reflect on your thoughts and past experiences. Checking in on yourself when you start to feel emotional will help you identify and manage your feelings. As your internal connection enhances, you'll discover knew things about yourself that will make you a better person. The effect? Your other relationships will become better too.
2. Build Stronger Relationships with Coworkers and Other Agents
Developing relationships with your coworkers will make you better at being an agent, give you support, and increase your network. You'll become a better agent because you'll share past experiences, stories, and lessons from each other, exchange and brainstorm better ideas than ones you would've created on your own, and have people to share your frustrations and successes. Odds are, your coworker might not be an agent forever. When they quit the real estate life, they can become a quality source for referrals. You can also take on the jobs they can't due to varies reasons. Relationships with other agents are important because they're in the same position as you and have or will experience similar situations as yourself. You can learn from each other's mistakes by sharing your stories. Plus it makes work more bearable.
To enhance your relationships with coworkers and other agents, you can follow them on social media, go out after work, share ideas real estate and about common interests.
3. Meet More People and Become Friends with Them on Facebook
Meeting new people out in the real world feels like dating. Just like dating, there are several ways to meet new people and build your network. Take advantage of invitations to parties, conferences, celebrations, and get-togethers, clubs, and other events. You can even go to the same place, like a bar or park, every week on the same day and hang out. People will get to know you as you interact with them consistently and you can ask them to be friends with you on Facebook. You can then build the relationship online and add more touches to develop the relationship.
Personally, I think bar tenders and servers are a great source for networking because they talk to a lot of customers and they're responsive to referral incentives. Plus it's easier to build relationships with them because they usually have a set work schedule that you can fit into your schedule so you can interact with them and build a relationship.
4. Stay Top of Mind with Your Sphere of Influence
People in your sphere of influence require different amounts of touches in order to stay top of mind. Some might need to be texted while others need to be called or need face-to-face interaction. The most effective way to stay connected with your sphere of influence, day-to-day and across all levels of relationships is through social media. You can stay up to date with each other and message them when necessary. You can tag each other in common interest topics or send them interesting news. Staying connected with social media is also less intrusive than calling someone or texting them randomly – so it's also more effective and less annoying.
Of course, you should still leverage conventional nurturing strategies like sending holiday cards and sending celebration texts for anniversaries or accomplishments.
5. Nurture Key Business Partners
For real estate agents, key business partners are professional like lenders, home inspectors, or lawyers. Since they're business partners, the appropriate meeting setting is lunch – on a quarterly basis. Ask your key business partners out to lunch so you can get updates about their work. For lenders, you can ask questions about interest rates, financial news, and insider tips. For lawyers, you can ask about new housing regulations. Hopefully, they know someone who could use your help, or you know someone that could use their help. This type of information will help you be more knowledgeable about the factors that influence your real estate business.
In addition to lunch, you should also follow them on social media and send them holiday cards.
Now that you know which relationships to focus on and how to enhance them, use these ideas to strengthen your current and future relationships. Remember, each person requires different levels of interactions to maintain top of mind, so personalize your communication frequencies and communication channels. You should also follow them on social media and message them when appropriate or comment on their posts. If you do these, you will generate more referral leads from your sphere of influence.
---
Want to stay top of mind with leads and convert them into clients?

Request a FREE DEMO to see how Z57 can help you generate new listing leads.