According to an article from MailChimp, the benchmark for email open rates in the real estate industry is 19.67% - are you hitting this number? Increasing your email open rate is a complex problem with a simple solution. It's not difficult and you don't need a formula or a magic trick to do it. It's as simple as emailing the right message, to the right person, at the right time. All you need to do is organize your database, segment your contacts with similarities, and personalize your messages to accomplish this.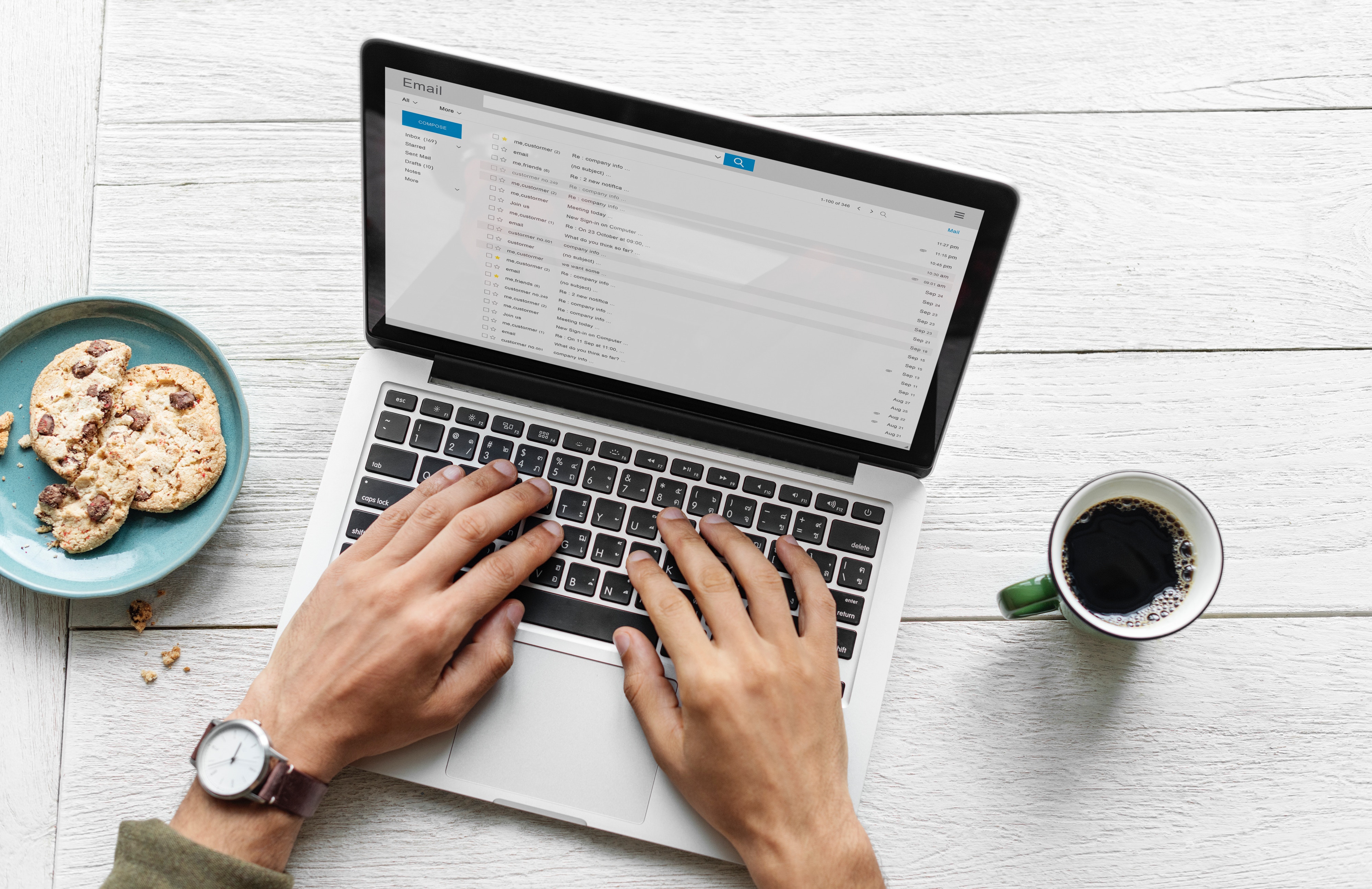 In this article, we will show you how to organize and manage your contact database, recommend segmentation categories, show you how to personalize messages, and review an example of an effectively segmented database.
1. Manage and Organize your Database
The first step to increase your email open rate is to organize your contact database. To organize your database, make sure you have the correct information for each contact.
Explicit information is data that was purposely shared with you – such as name, email, phone number, job title, zip code, etc.
Implicit information is data that is gathered through your tools – such as page visits, listings viewed, and email open rates.
Combine both types of information to help you segment and contextualize your messages for more effective personalization – to increase your open rate. How? You'll considers the context of your contact, such as the amount of time they've been searching for a home, the last time they purchased a home, their activity that you've tracked on your website, or their regular work hours. Since you'll take the contact's context into consideration, you'll send the right email, to the right person, at the right time!
2. Segment your Contacts by Similarities
Once you've confirmed your contacts have the correct information, segment your database into consumer purchasing stages. Then create sub-segments such as buyers or sellers, zip code, and family size to personalize your messages even more. Tailor your message to appeal to each segment - the more relevant the message is to the recipient, the higher the open rate.
To help you get started, organize your contacts into 4 different categories: Followers, Leads, Clients, and Past Clients. Followers are people who show interest in your real estate business but aren't looking to use your service anytime soon.
3. Personalize your Messages
Each of your segments requires different messages because they have different needs. You wouldn't send an email for a new listing to your client that's in ESCROW or email a request for a testimonial from a lead, right? By segmenting your contacts, you will send the right emails, to the right people, at the right time - increasing your open rate.
Example of a Segmented Database
Linda is a new real estate agent in San Diego County and she has 10 contacts:
Step 1: Linda makes sure all her contacts' explicit information is correct – name, email address, and phone number.
Step 2: She segments them into the 4 categories above – 6 Followers, 3 leads, 0 clients, and 1 past client.
Step 3: She also groups them into sub-segments based on her relationship with them: 3 family members, 2 past coworkers, 1 friend, 3 leads, and 1 past client.
Step 4: Of her 3 leads, 2 of them live in La Jolla while the other one lives in Carlsbad in San Diego County.
Step 5: She creates another sub-segment within La Jolla because one of her leads is a buyer, while the other is a seller.
Unorganized Database with Lower Open Rate VS. Segmented Database with Higher Open Rate: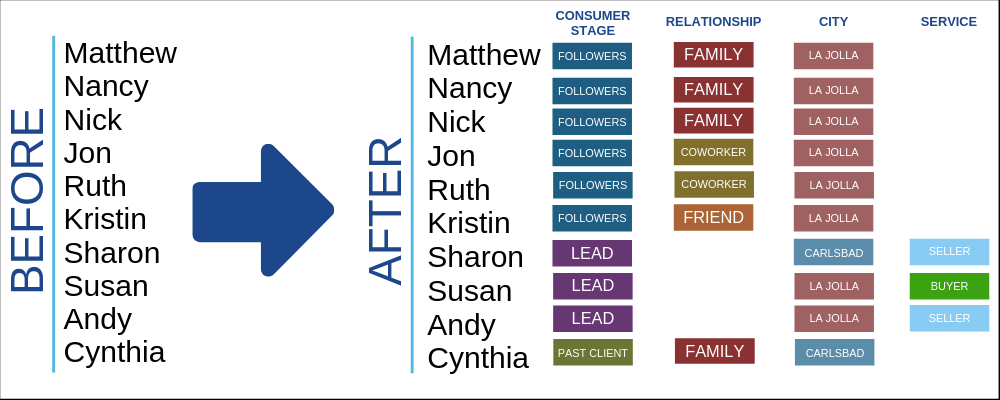 Now that Linda's database is segmented, she can contextualize her subject lines and personalize the messages to tailor to each segment. Instead of emailing everyone in her database she can easily:
Email buyer information, such as listings or open houses in La Jolla, to her buyer lead in La Jolla.

By only emailing La Jolla listings to the relevant

segments: Leads, La Jolla, Buyers - she is omitting recipients that would find the information irrelevant. Instead of her open rating being 1/10 it will be 1/1.

Email seller information such as her comparative market analysis tool to the Leads and Sellers segments.

By emailing a

comparative market analysis tool

to her seller leads instead of everyone in her database, she is omitting everyone that is irrelevant to the message. She will increase her open rate from 2/10 to 2/2.

Send an email about upcoming social events and community gatherings in the La Jolla to the La Jolla segment.

By emailing local event information to her La Jolla segment, she will omit Carlsbad because it's too far of a drive. Since the message is relevant to the recipients, her open rate will increase from 8/10 to 8/8 opens.
See? It's that simple! To increase your email open rate, you need to organize your leads and make sure they have the correct contact information. Then, segment your contacts based on their consumer purchasing stage. Next, create sub-segments based on similarities such as zip code and buyer or seller. Finally, you tailor your messages for relevancy to that segment. When done correctly, you will increase your email open rates by sending the right email, to the right person, at the right time!