The sun is shining, the birds are singing, and it's the perfect day for your open house. You place open house signs strategically around the neighborhood, emailed to your contact list, and shared a post on Facebook and Instagram. The clock strikes 10 AM and it's time for your open house to start! You walk to the door, get in your power stance, and wait for happy buyers to arrive.
While checking your phone, you notice 45 minutes have gone by. Your open house is silent and even the crickets seem uninterested at this point. After an hour, you realize this isn't worth your time, so you begin to pack up. Distraught about the lack of success, you reflect about the mistakes you might've made while collecting your open house signs. You begin to wonder what creative open house marketing ideas you could've used to ensure a successful open house. The good news is, there's always next week to try a new tactic to increase your open house attendees rate.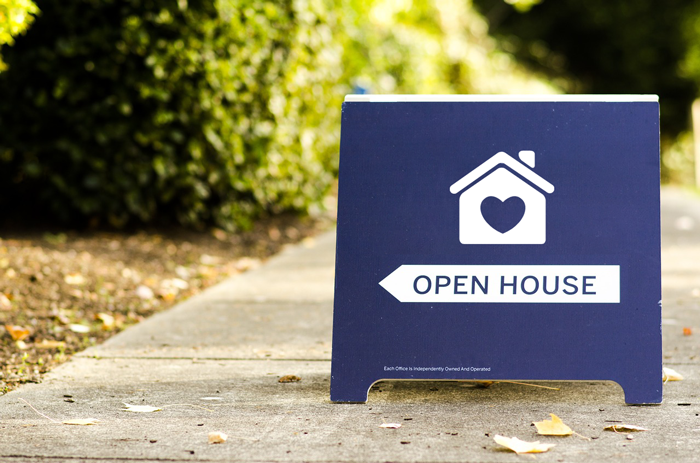 In this article, I will show you how to promote an open house on Facebook. You'll learn how to use Facebook Events to increase open house attendees with Facebook for free, the benefits of Facebook Events, and how to set up one for your next open house.
1. Benefits of Promoting an Open House Using Facebook Events
Facebook Events are quality social media posts that are perfect for successful open houses because they have 3 benefits. They:
Display detailed information about your open house
Send reminder notifications to people that RSVP'd
Organically reach the friends of people who RSVP'd and might attend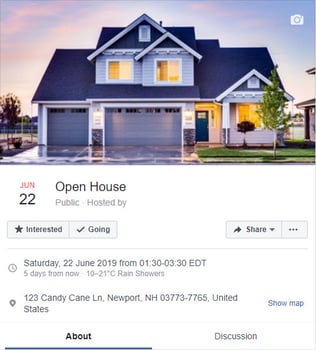 Open House Facebook Event Example
Another benefit of using Facebook Events to promote your open houses is the discussion section. Depending on your event settings, people can leave comments, ask questions, or direct message you about the open house. Once your open house event is created, you can check the RSVP'd statistics: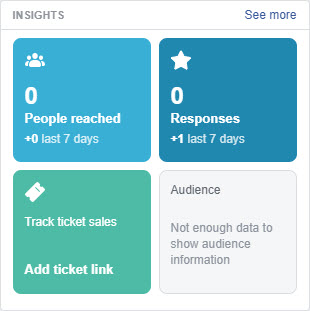 Facebook Event Statistics
After the event, you can follow up with the open house attendees and thank them for stopping by via Facebook.
2. How to Set Up a Successful Open House Facebook Event
Navigate to your Facebook Business Page
Click on the Event button with the Calendar Icon (above the area where you type a post)


Import an attractive picture of the listing
Add the Event Name, Location, Description, Category (Home), Frequency, Start Time and End Time
In the Options Section, allow anyone to post on your event and allow questions via Messaging
Select Publish when you're done
Finally, invite friends and share the post to your personal page
Ready for a successful open house? Try using Facebook Events to promote your next open house and follow these open house lead generation best practices. Facebook Events will not only increase awareness for your open house, but they will remind people who RSVP'd too. Together, these features will boost your open house attendance rate. Go ahead and give them a try!
Want to learn how to promote your open houses on Instagram? Check out the, Instagram Stickers That Enhance Engagement on Your Real Estate Stories article to see how to use Instagram Stories to promote your open house and increase engagement!
---
Need more help with social media?
Try a free trial of our service!