Instagram Stories was launched in August 2016 as Facebook's answer to Snapchat. An Instagram Story is a temporary post that deletes itself after 24-hours. What's the benefit to you as a busy real estate agent? The quality of your photos and videos does not matter as much as it does in your primary feed, so these stories are fast, simple, and highly effective for connecting with your audience.
In the world of social media marketing, Instagram Stories offer a strategic way to connect with your followers, and have new people find you.
Functionally, Instagram Stories and Snapchat are nearly identical to each other. There are a few features unique to Instagram that can be leveraged to expand the reach of your content. Why should you care about Instagram Stories in the first place?
Think of your Instagram Stories as a microfeed. Treat it as you would your main feed, be purposeful and consistent with the theme of your stories. Different agents will have different themes to their Instagram accounts. Some will post inspirational quotes, some will post local photos, and some will post photos of homes. The best feeds stick to one theme, as people who follow you will want to see more similar posts, instead of a disjointed gallery of what you ate, where you are, and what you are doing.
A few of the benefits of using Instagram Stories include:
Display at the top of the feed on the "Home" tab
Displaying in the "Explore" tab
Furthering leads through the home buying process
Here Are 6 Ways to Get the Most Out of Instagram Stories:
1. Have a Purpose: Entertain, Inform, Promote, Inspire
Prior to uploading your series of images and photos for your stories, decide what your purpose for the stories are: Entertain, Inform, Promote, or Inspire?
Don't worry, because you are not tied to a single purpose for all your stories from now until the end of time. The content deletes itself after 24 hours so you can pursue a different purpose the next day to show another side of your personality.
Good Examples:
Entertain: Fun at the office! Fun in the field! Selfies with your clients, puppies you meet along the way, the mundane everyday grind with colorful descriptions.
Inform: Tutorials! Commonly Asked Questions! A day in the life.
Promote: You want to convert visitors to leads, give them a "Call to Action". Also provide a reason to perform said action. Lure them with giveaways or value. (Such as being able to easily search for homes on their phone through your website)
Inspire: Inspiring has a similar purpose as Promote, but you want to build rapport instead of converting followers. If you are at a beautiful area of town, inspire followers to visit! If you are doing something for the community, inspire followers to do the same!
2. Use Hashtag / Geotag Stickers
To have your story appear in a hashtag or geolocation feed, you will need to use a "sticker" when decorating your content that tags the location. Stickers are available after taking a photo/video or selecting your content from your Camera Roll. Simply select the "sticker" icon at the upper-right and, if you tap on any hashtag, the top 9 posts will appear. If there are any associated stories, they will appear above that.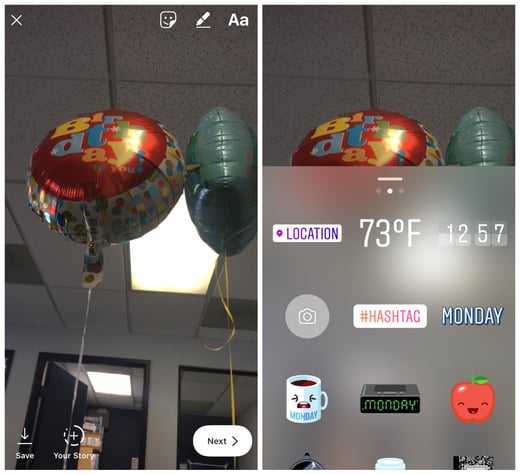 3. Read your Analytics
Instagram will tell you how many users looked at your story, and who those users are. Use this to your advantage! This will help you piece together engaging and reproducible content. When you are looking at your analytics, think to yourself:
Was this a good day to post?
Was this a good time to post?
If my views dropped after X number of photos/video, should I make it more concise?
Did the content of the first photo/video cause people to not want to watch the next?
Did this story perform well enough for me to recreate?
4. Go Live!
Live Video is the next big trend in internet marketing and storytelling. Treat each live broadcast as a mini-webisode or video podcast. Live videos will send notifications to your followers that you are going live. It is important that you have a purpose to go live before you actually go live. Put yourself in the shoes of an average Instagram user. If you received a notification that a friend was going live, but found out it was just a video of them saying hi to the camera while eating a slice of pizza...you would be less likely to tune in the next time they go live, right?
Additionally, you can opt to share your video for the next 24 hours. Doing this will display your broadcast at the top of the Home feed. This also gives priority over other stories and remains in the top spot until the broadcast deletes itself 24 hours later.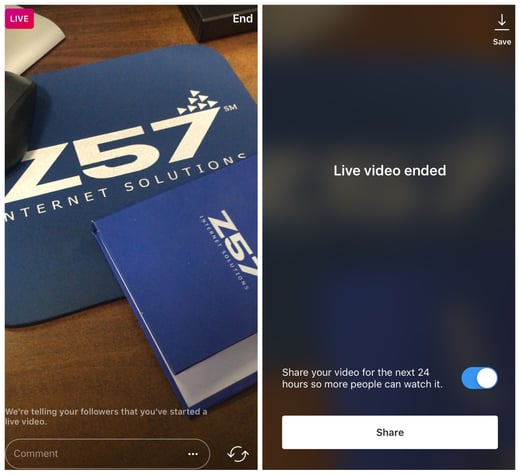 5. Encourage Direct Messages
Social Media direct messages are a new beast to tame in the world of communication mediums, because they fall outside the traditional means of email and phone calls. Think of your social media posts as drip marketing e-mails, and your direct messages as personal e-mails. When a real estate lead is still "just looking", you will want to let drip marketing e-mails/social media posts do the nurturing. When they are ready to talk, they will send you a personal email or direct message that you can respond to personally.
How to get people to direct message you:
"This or That" questions
Ask for advice (on your outfit, on technology, on what picture to post next)
Ask a question
Publish Good Content
If you read Z57's previous article about The Basics of Instagram for Real Estate Agents, you will know that one important piece of knowledge to remember is to put out good content. With Instagram Stories, it does not need to be polished, it just needs to be interesting.
Example: The giant spider in your open house would potentially result in this series of posts to your Stories:
Close-up photo of the spider
Selfie video of you talking to your followers
A photo of the spider with your hand holding a rolled-up newspaper in the frame
Digitally handwritten question: Should I squash it? Or let it live?
A video of you putting a cup on the spider
A video of you releasing it outside
This series of posts to your Stories is enthralling, engaging, and interactive. If you do not have engaging content for Instagram Stories or Instagram Live, your followers will make a mental note to not pay attention next time you post. Give them a reason to want to see your updates!
RELATED ARTICLES:
---
If social media overwhelms you, click below to learn how we can do it for you.