One of my favorite scenes in one of my all-time favorite movies is from Office Space, when the main character, Joanna, gets in trouble for her lack of flare. If Joanna was a real estate agent and used Instagram stories, the conversation may have gone a little more like this…
Stan: "We need to talk about your Instagram stories"

Joanna: "Really? I…I post 1 story today"

Stan: "Well…Ok, 1 story is minimum, and you can't post about your neighbor's cat. Ok? Now, you know, it's up to you whether or not you want to just do the bare minimum or uh…well…like Brian for example, posts 8 stories a day with stickers and GIFs, and a terrific smile."

Joanna: "So you want me to post more stories?"
If you're like most real estate agents, you might be doing the bare minimum on your Instagram Stories, just like how Joanna was with her flare. There are so many fun and attractive tools that you can add to them to enhance the viewers experience and increase engagement on Instagram. Instagram stickers can be found by tapping on the "smiley face post-it" icon when editing your story.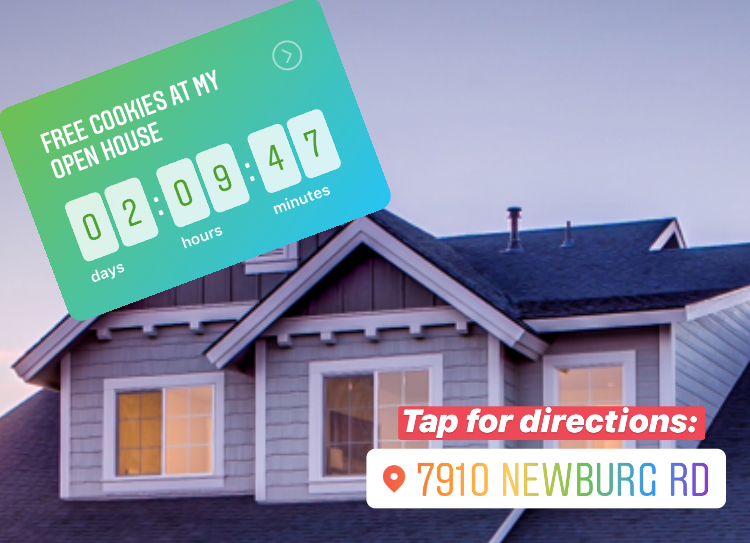 In this article, I will list the relevant stickers that you can add to your Instagram stories to increase engagement with potential real estate leads. Real estate agents should use the donation, quiz, countdown, question, poll, emoji slider, location, and hashtag stickers to add flare to posts, gain insight, and have fun with your audience.
Below are 8 real estate post ideas for Instagram stories:
1. Donation Stickers for Fundraising
Are you're a philanthropic real estate agent that donates a portion of their commission to charity? If so, the donation Instagram sticker will increase awareness and raise funds for your charity. When people see the donation sticker in your Instagram story, they can tap the donation sticker to donate to your charity. You can also see donor stats by swiping up on the live post.
Example: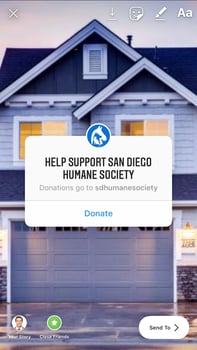 Instagram Sticker: Donations
2. Quiz Stickers to Test People
How much do your followers know about real estate? You can find out by posting using a quiz sticker in your next post. The quiz Instagram sticker lets you write your own multiple-choice question and answers. People tap their answers and see if they got it right instantly. You can track the live results of the quiz as well as the final results.
Example: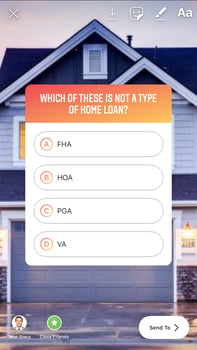 Instagram Sticker: Quiz
3. Countdown Stickers for Events
How many days are left until ESCROW closes? Using Instagram's countdown sticker on your Instagram story gives users a fun way to count down to a moment. You can customize your countdown's name, date, time, and color. People can tap the reminder symbol in the top corner of the countdown and set a notification reminder for when the countdown reaches 0.
Example: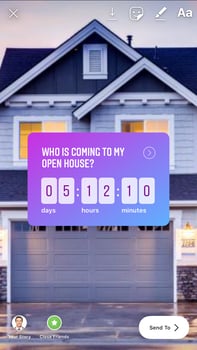 Instagram Sticker: Countdown
4. Question Stickers to Learn More
Using question stickers in your Instagram stories is a perfect way to learn more about your audience. You can tap on the questions sticker and write your real estate question. People can tap on the sticker to reply to your question. You can view the answers and statistics from your question by viewing your story and swiping up – you can even share the answers from this page!
Pro-tip: The question sticker should be used for open-ended questions. Questions that can be answered with yes or no are best presented as a poll sticker.
Example: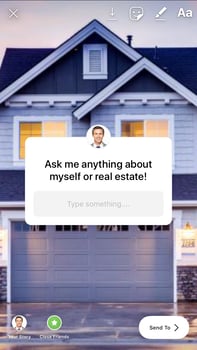 Instagram Sticker: Question
5. Poll Stickers to Gain Insight
Want to know if one listing is better than the other? Instagram's poll sticker is perfect for gathering information on 2 choices. The poll sticker lets you post 2 choices and people tap the one they prefer when they view it in your story. People that answer your poll get to see the live results after they've picked. You can view the results from the poll by viewing your story and swiping up.
Check out these 31 Real Estate Poll Ideas for Real Estate >>>
Example: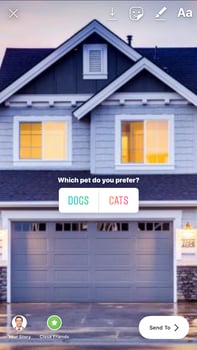 Instagram Sticker: Poll
6. Emoji Slider Stickers to See Likability
The emoji slider sticker lets people choose how much they like your post. People on Instagram can slide an emoji left or right - left being neutral and right being in love. Once people choose, you can view the results by going to your story and swiping up.
Example: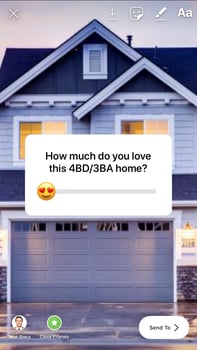 Instagram Sticker: Emoji Slider
7. Location Stickers Give Directions
Hosting an open house soon? The location Instagram stickers let you search for a location and post it to your story as a sticker. When someone taps it, they will navigate to the page where they can find directions to location. Use the countdown and location sticker together if you're hosting an open house this weekend. The countdown will let people know when it will occur and let them set up a reminder, while the location sticker will give them directions on how to get there.
NOTE: Use your neighborhood if the address doesn't appear in the location search or register the location using these instructions: How to Create an Instagram Location
Example: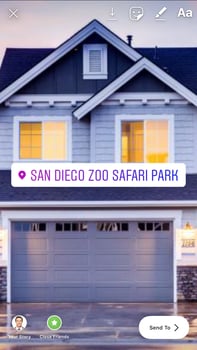 Instagram Sticker: Location
8. Hashtag Stickers to Increase Reach
Want to increase the reach on your Instagram story post? Include a hashtag sticker to ensure that your story gets placed in that hashtag's feed. When someone taps on the hashtag, they'll see the page for the hashtag you used. Use a unique or common hashtag depending on the goal and content you will post. #RobertSellsListings is considered a unique hashtag, while #RealEsate is common hashtag.
Example: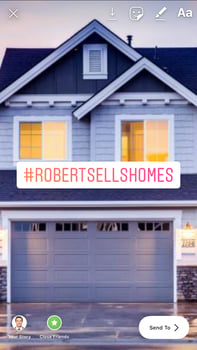 Instagram Sticker: Hashtag
Bookmark and come back to this page when you are experiencing difficulties generating Instagram sticker post ideas. Instagram stickers are a fun, convenient, and easy tool to enhance engagement on Instagram. You can ask a question and people can give you feedback when you add a sticker to your post. As people engage with the sticker in your story, you will gather live results that you can consider leveraging to make decisions about your business. The more people engage with your story, the more reach it generate. As an added bonus, save these types of stories as highlights your profile so people can view them for longer than 24 hours!
---