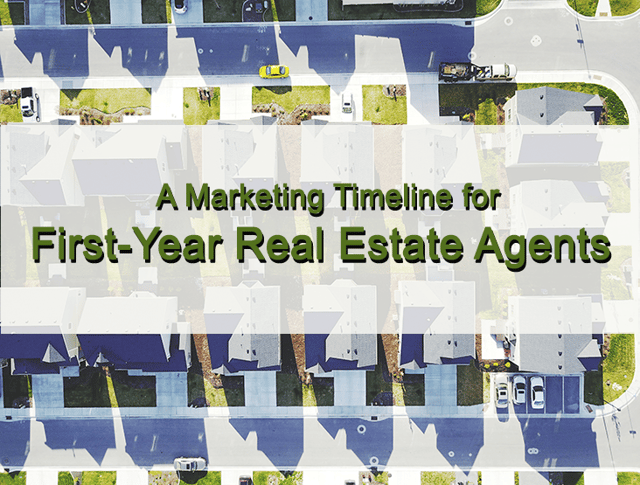 It's not uncommon for the holidays to inspire a change in career. As we say goodbye to 2017 and hello to 2018, many new agents are entering the real estate market. If you're one of them, your first year in real estate will undoubtedly be a bit tricky to navigate, but not to worry! Getting advice from more senior agents, and a bit of trial and error, will help steer you sails.
To make your journey a little bit smoother, we created this marketing timeline to help you navigate your first year in real estate:
Month 1
Network with mentors – Don't be afraid to learn from those who have been in your position. Chances are that you already know agents who likely inspired you to start your career. Don't be afraid to reach out to them for mentorship.

Have headshots taken for your marketing materials – Professional headshots are important for all your marketing materials. These will be used to help brand your business.

Design and order your business cards – In addition to your headshots, business cards are important. Networking is the name of the game so have them on you always.

Develop your Facebook business page – In today's social networking society, having a Facebook presence is imperative.

Need help getting started? We've got your covered! Try our social auto poster tool FREE for 30 days!

Start following real estate agent groups on Facebook – You likely have the same questions and concerns as other agents. Join several of the community group for agents on Facebook and learn from your fellow peers.

Scout for a real estate marketing company –Working with an established real estate marketing agency can help get you start off on the right foot.

Develop a system for documenting all expenses – As a real estate agent, you will need to keep receipts and close track of all your expenses so that you are set when tax season rolls around.
Month 2
Get your website up and running – Now that you have chosen a marketing company, your website should be in the works, and ideally up and running so that you can start generating new leads and building your online presence.


Start attending neighborhood events – Check your community calendar and start attending events in your desired neighborhood. In addition to building your online presence, it never hurts to put some actual face time in!


Continue to build your social media presence – Once you meet people at networking events, be sure to connect with them on Facebook and nurture those relationships. Even if they aren't in the market to buy or sell themselves, you will soon become the name at the top of their mind when friends and family ask for a recommendation.
Month 3 – 7
Start building your website content – Now that your website is live, it's time to start building your "online store." Essentially this means your website should be a "one stop shop," for your leads. They can get listings, real estate advice, and educate themselves all in one place. Be sure to add a lead capture form so that you can stay in contact.


Continue branding yourself as the neighborhood – Networking is key, especially in the beginning of your career. Attend other open houses, neighborhood events, try doorknocking, pop-by gifts and door hangers.
Month 8 – 12
Boost your listings with Facebook ads – Paid ads can be great for getting your listings in front of the right audience. Also play around with some personal branding ads as well to direct leads to your website.

This is one of the many feature's available with Z57's PropertyPulse tool! You can manage and run your Facebook ads in one unified marketing hub!


Check in with your mentors – Check in with your mentors and ask for advice, suggestions, and honest feedback on your marketing and networking initiatives.


Set goals for your next year – Before you know it, your first year as a real estate agent has passed you by!
P

hew! Pat yourself on the back for all the arduous work you've been doing and start planning your goals for making your next year in the real estate industry even better