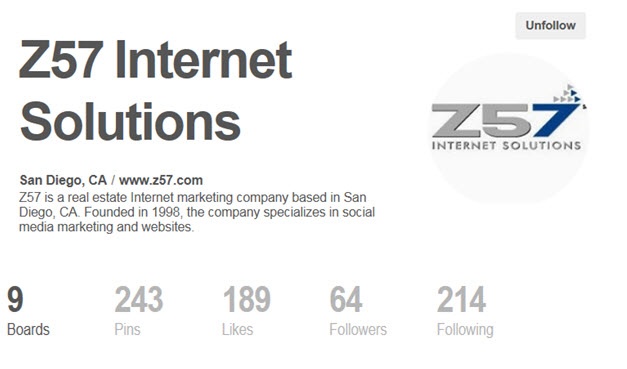 What makes Pinterest such a valuable tool for real estate agents? It's simple - Pinterest is all about visualization… which is what sells a home. Having a successful Pinterest account isn't just about pinning as many images as you can. The key to success on Pinterest is making sure that you are able to be relevant and engaging with your audience. Here are some tips to get your Pinterest account started.

Your Pinterest for Real Estate Agents Guide:

Create a business account
Signing up for a Pinterest Business Profile is easy. Simply provide your email address, password, business name, website URL, and your business type (real estate).
Confirm your website
In the settings section, click confirm website in the website field. Following the instructions on the next page, you can confirm with an HTML file or meta tag. Confirming your website ensures that your logo will appear on the Pins that other people have saved from your site! Cool, huh?
Description
Like most other social media platforms, Pinterest encourages you to provide a description of who you are, or in this case, since you are making a business profile, what your business does. Get creative! You want to stand out among the other real estate agents on Pinterest.
Keep these 4 items in mind when pinning to your Pinterest boards to maximize your success:
Content
As a real estate agent it is important to post a variety. You should be the expert in everything real estate. If you're not an expert then use other people's Pins to help you become an expert. When you are writing your descriptions, create something catchy. Utilize keywords and hashtags in your descriptions to help your content be found. The more time that you spend on your Pinterest, the larger your following will become.
Organization / Theme
Organize your Pinterest boards by topic. There are a multitude of topics that you can create boards for so that your followers can find information more easily. Some examples are:
Team photos
Interior design Trends
DIY
Backyards
Dream houses
Organization ideas
You can create a Pinterest board for just about anything so get creative!
Pro Tip - your followers can put a face to the name, and start to get to know you and your team. This is a great way to start to build trust.
Links
Create Pins that link your followers back to your website. You can create a Pin for your new blogs, or even new listings. Whatever the case may be, make sure that your links are working so that you aren't driving your followers to dead pages.
Get Active
Interact with your followers. Re-Pin other people's content, comment on other Pinner's posts, and say thank you when other people share your content. Pinterest is just like any other social media site which means that building relationships is key to being successful. The more time you spend getting involved and engaging with other people, the larger your following will be.
It's easy to become consumed with posting your listings on Pinterest, but it is important to keep your Pinterest engaging with multiple topics for your followers to interact with. When used correctly, your real estate Pinterest account can be a deadly tool in your social media arsenal… but in a good way. Stay ahead in the industry while having fun! Happy pinning :)
---
Is your social media strategy lacking? Let Z57 help you!