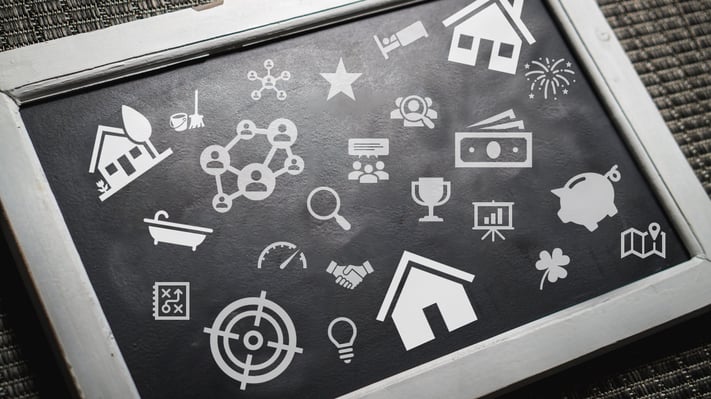 In this article, I will share a brand framework and how real estate state agents can complete one. Once they've completed a brand framework, they'll understand their brand, target market, value proposition, and more.
A brand framework consists of seven stages and helps organize your thoughts into a meaningful sequence. More importantly, it is a tool that assists you in understanding the fundamentals of your real estate business and brand identity. If you haven't already, consider who your target audience is, the problems you want to solve for them, and the unique benefits you offer.
Note: The information considered in this article will be used in the next article, where we will insert it into 3 different types of branding tools.
Stage 1: For – Your target audience
Your target audience or personas are the group of your ideal consumers you want as clients. A target audience consists of the combination of demographic characteristics which include age, race, gender, ethnicity, income, education, etc and psychographics characteristics like psychological tendencies, interests, hobbies, lifestyle, etc. Do you like examples? I do, let's use one.
I'm an agent in a developing suburban city. There are several new families and the city has been expanding. My target audience's demographics are male, ages 30–40, $120K median house income, and college educated as my demographics. Their psychographics might be recently married husbands and new fathers, or outdoorsy adventure dads, green thumb gardeners, pet lovers, and veterans. Find the combination that best fits you.
My target audience is:
"New and young first-time home buyer fathers, who are looking to purchase a new home and make life-long memories in a developing neighborhood."
Stage 2: Our – What does your real estate service offer?
Yes, you buy and sell homes, but what does your service offer? Is it top of the line service, expert local knowledge, or superlative negotiating skills? This is where you'll establish your offering - almost like your value proposition.
Let's build off the previous example:
"Knowledgeable, friendly and reliable real estate services for young families on the pursuit for their dream home – without all the nightmares."
Stage 3: So That – Why do you offer your real estate service?
Easily put, what position will you take towards your audience. If one of your target audiences include veterans, your offer could be a military discount, experience with past veterans, or the connection that you've both served. You probably do this because you service the people who served you.
In our example, I'm targeting young families and I'm positioning my real estate services to be stress free and reliable, because new families tend to be overwhelmed with all the responsibilities of starting a new family.
My So That sentence is:
"New and young families experience a stress-free beginning to their story."
Stage 4: Because Only – Why should they choose you over a different agent?
What unique benefits do you provide? Do you provide excellent service? Do you have expert knowledge only a local native would know? In my example, I provide empathy and a good personal story which makes consumers trust my handling of their transaction and to minimize tension during a stressful transition - especially for new families.
My Because Only sentence is:
"Understands the volatile surprises and empathizes with the inordinate stress of finding a new home for your new and growing family."
---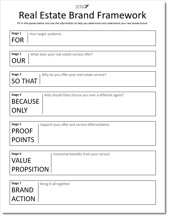 Use the Real Estate Brand Framework tool to:
Define and understand your brand
Assess your target audience and how you'll position your services
Evaluate your services, unique offerings, and purpose
---
Stage 5: Proof Points – Support your offer and service differentiation
Most agents will say that they provide the best service, have the most local knowledge, or can get a buyer the best deal – but how do they prove that? This is where you will show off your designations, milestones, and accomplishments. Hopefully, you've been a good agent and have testimonials as evidence. If you don't, it's not a big deal. There are still ways to verify your track record.

My Proof Points are:
"Rising real estate star that helped 7 happy new families find their new home last year. With a degree in family psychology and business, I'll keep your family Zen during your stress-free transition."
Stage 6: Value Proposition – Emotional benefits from your service
Simply, a value proposition is like your slogan but specifically appeals to your target audience. In my example, that includes young families and the emotional benefit of hiring me is a stress-free transition

My Value Proposition sentence is:
"Stress-free real estate services for overwhelmed new and young families."
Stage 7: Brand Action – Bring it all together
Which direction will you take your brand? Your brand strategy will focus on how your real estate service will directly benefit your target audience but in a simple and fun way. Your brand strategy sentence can also be your slogan or motto.
My brand strategy is:
"Your family's stress-free story begins with me and your new home."
You can position your self and your real estate services better once you've identified your target audience. Take the time to understand your services too. How do your services solve a consumer's unique needs? Why should they choose you instead of a different agent? Answering these questions are essential to determine your brand, and how you affect your clients and how you're perceived in your local market. A good brand can build connections with potential leads and consumers which establish familiarity, trust, credibility, and more. These perceived qualities from your brand will help you generate leads and grow your business as it grows in your community.
---
Ready to start growing your social media presence?

Request a FREE DEMO to see how Z57 can help you grow your business.