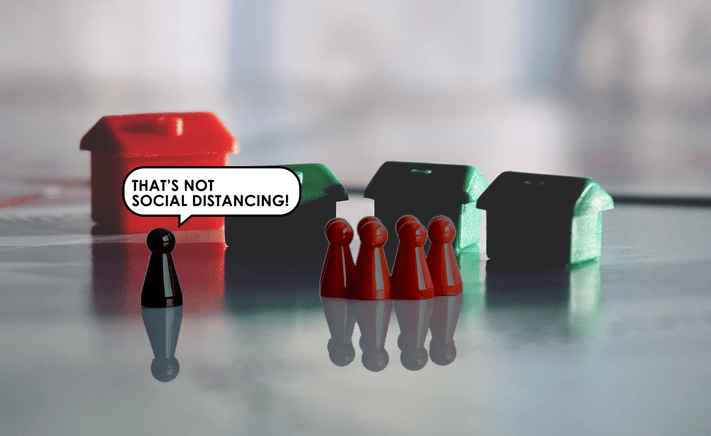 The United States has become the epicenter of the Coronavirus pandemic. With over 150,000 confirmed cases, 2,810 related deaths – we account for 20% of confirmed cases and 7% of total deaths around the globe. According to a Dr. Fauci, Director of the National Institute of Allergy and Infectious Diseases, during an interview, things are going to get worse unless we practice good hygiene and "lower the curve" through "social distancing" – two new phrases that have become widely popular in recent weeks.
---
More than 3.3M Americans filed unemployment claims during the week of March 16th, bring the total unemployment rate to 5.5%.
The DOW almost hit 30K before the Coronavirus pandemic halted the stock market. After its downward spiral, it is currently teetering around the 21K mark as consumers and businesses anticipate the effects of the stimulus package passed by the House and Senate on March 18th, 2020. Also included in the package, according to Forbes, are many homeowner protections that help with federally backed mortgage loans while many states are prolonging foreclosures and evictions for 30 days.
The uncertainty surrounding one's health and income – seem to be the main concerns facing consumers - including yourself and your neighbors. During these uncertain times, communities must come together, support one another, and care for each other - there is almost someone worse off than you that could use help. Your neighborhood needs a leader to coordinate between each household and make sure everyone is taken care of - while keep social distancing.
Anyone can be a leader and you can make a difference.
This might surprise you, but the evolved alpha - male or female - is not the strongest. No, the alpha is the one that has the right friends and support of their community. They are leaders and they earn support by supporting their members, caring for them, and by keeping them happy. They aren't bullies. They are beloved by their group members, they care for their sick and needy, share resources, prevent altercations, and keep members calm and united. In other words, they look out for interests and well being of the group. Naturally, communities of people need a leader – especially in times like these. Be the leader your neighborhood needs and deserves.
You'll need a platform to communicate with and connect your neighbors, so your first step is to create a Facebook group for your neighborhood. This will be your primary means of communication. Members can share news stories, advice, tips, ask questions, and request assist if needed. For example, you can share this useful video about how to make hand sanitizer at home with rubbing 90%+ alcohol, aloe, and essential oils – it's basic chemistry and can be a fun science project for the kids. You should also are a information about local drive through testing sites and grocery stores that provide special hours for senior citizens. One important task you'll have to do is ensure each article shared in your group is credible and doesn't mislead readers.
Our 1st COVID-19 swab was 3/7 in SEA. Since then we've tested in 11 locations across 6 states & are moving quickly to bring more testing to you, including outdoor testing in 8 more in cities in the coming weeks, in LA, SD, BOS, PDX, ATL CHI, DC, and BOS. https://t.co/yuLMPk7mlr pic.twitter.com/zGyipjow04

— One Medical (@onemedical) March 29, 2020
Another use for your neighborhood group is to provide support by sharing resources with neighbors in need. As you may have experienced, toilet paper is difficult to come by. If your elderly neighbor needs things like toilet paper, cleaning products, or food like peanut butter, encourage them to ask for it in the neighborhood group or to text you. Then, you can keep an eye out for some when you run errands, or you can share some of your stock with them.
Like I mentioned above, the average American worker is hurting, as a record-breaking 3.3 million American's filed for unemployment. Some of these American's are forced to decide between food or paying their mortgage. There isn't much you can do to help but give them accurate information about the federal and state mandates regarding the postponement of mortgages, foreclosures, and evictions or other relevant information. The federal and state mandates will differ, so you'll have to do some research to find the one that applies to your local market. Another way you can service your neighbors is by prepping meals, ordering delivery, or dropping off canned/dry meals for the families whole have lost their jobs. Neighbors that work in the medical field are working extra hard with long hours, so may need assistance as well. I'm sure a nice warm meal would definitely be greatly appreciated and not easily forgotten.
Inviting neighbors to join your neighborhood group
Create a flyer that explains the circumstances and the reason for the group
Add a link, a QR code, and your information
Print out flyers and walk around your neighborhood add them to their doors
Request for them to email or text you information such as the level of community support they might need, if the pandemic has affected their job status, and other information. Also let them know that all the information shared will be kept confidential
Post the video about making hand sanitizer at home and this interactive COVID-19 tracker so people can stay updated on local stats.
You can also create a post asking anyone if they need toilet paper if you have some to spare.
Note: For neighbors without Facebook, request their email or phone number if they would like to stay in the loop.
Note 2: Be smart. Don't do anything that will jeopardize your health. Leave packages on doorsteps, reduce the amount of things you touch while out in the neighborhood, try not to come in contact with people, and keep your social distancing.
You may not realize it, but your neighborhood needs a leader to unite the neighborhood and look out for those who need help. By taking advantage of these uncertain times, you can provide a great service to your neighbors, decrease their anxieties, and make them feel safe. Asserting yourself into this leadership role will also help you get to know your neighbors, strengthen your brand, and help others.
---
Social distancing doesn't mean you don't have to be social - Try a free trial of our Social Auto Poster today: