This time of year, the streets of the French Quarter change from a bleak concrete street to a flowing purple, yellow, and green river of anxious festival goers. The golden sun peaks over the skyline, illuminating the buildings with a golden filter as if King Midas were attending the celebration himself. Today is Fat Tuesday, which means today is the last day of Mardi Gras.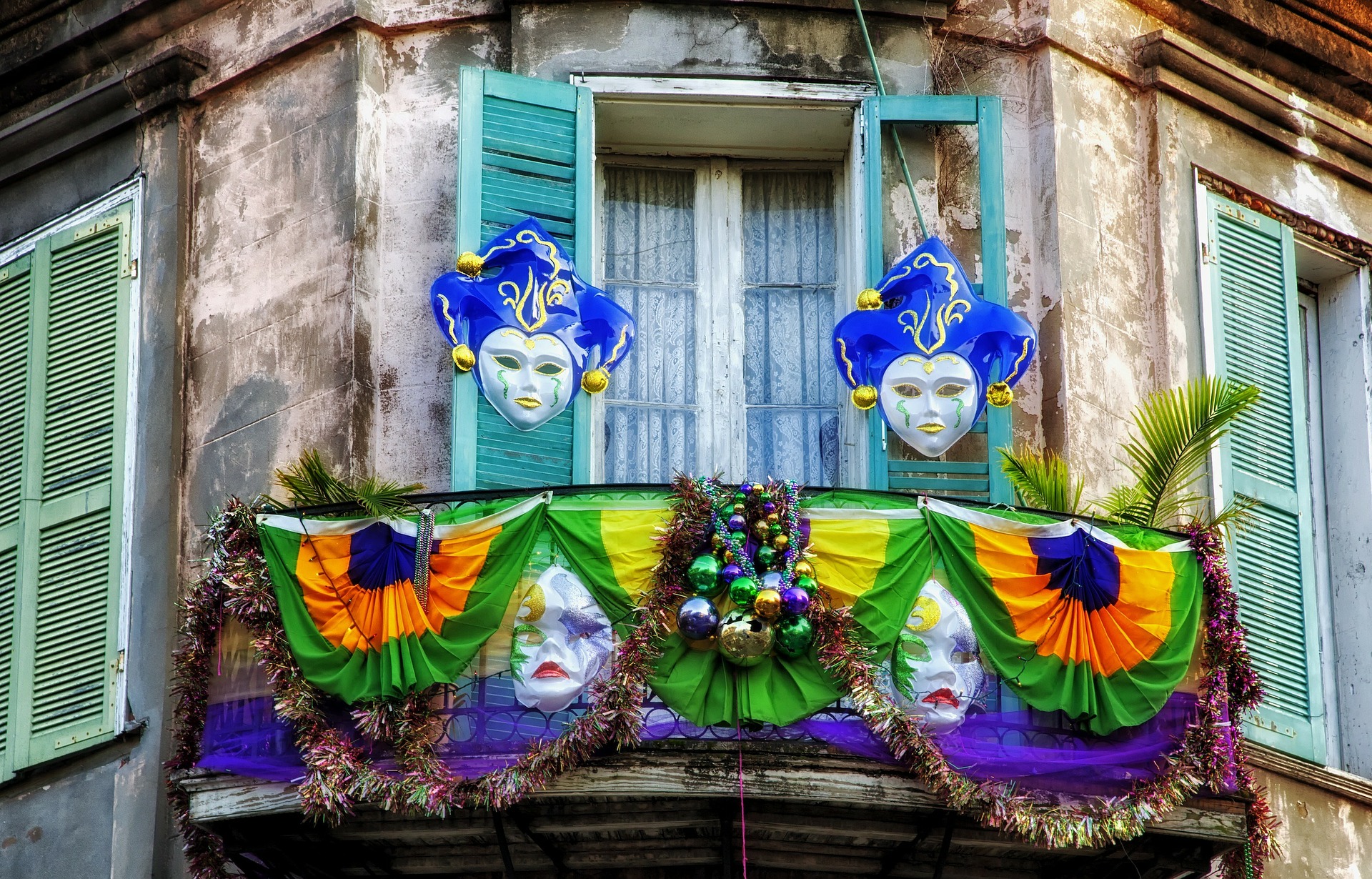 Have you ever dreamed of what it would be like to live in the French Quarter? To not only be a participant, but a host? In this article, we will go over the top listings in the French Quarter to see what it takes to be a host that contributes to New Orleans's most renowned event - Mardi Gras!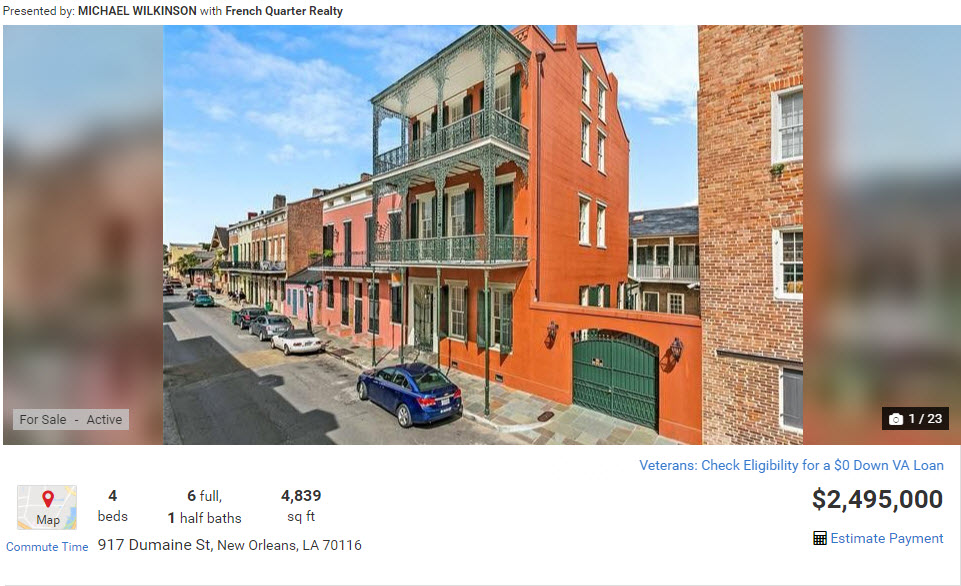 (Source: Realtor.com)
The 917 Dumaine Street listing is a perfect example of, "Don't judge a book by its cover." Containing 4 bedrooms and 6.5 bathrooms, this modernized single-family home was built in 2017. With 2 fireplaces, wood floors, an incredible kitchen with marble countertops - it's absolutely gorgeous inside. If you're looking for a listing in the French Quarters with a view and a lot of party potential, this is the one.
(Source: Realtor.com)
The 1012 Royal Street listing has 5 bedrooms and 4 bathrooms on 3,960 square feet of property. It has 2 full kitchens, making it a chef's dream come true. The serene backyard comes with a water fountain and provides the perfect escape to recharge your batteries from all the Mardi Gras festivities.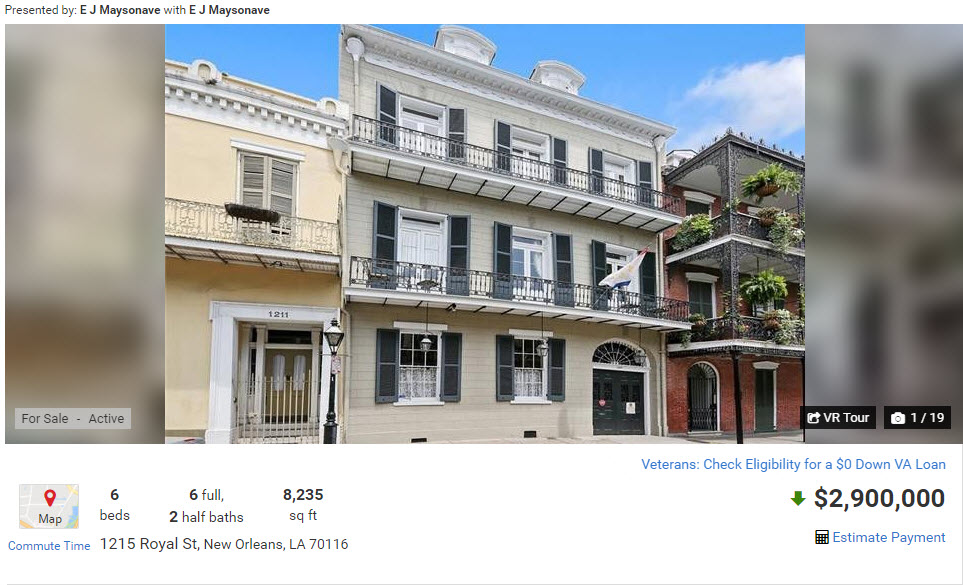 (Source: Realtor.com)
This 3 story, 6 bedroom, 6 bathroom (plus 2 halves) townhouse is something out of a dream. The 1215 Royal Street property is unique because it has a ton of balcony space - not just in the front, but in the backyard too!

(Source: Realtor.com)
922 Esplanade Avenue has a huge, relaxing courtyard. With 5 elegant bedrooms and 4 amazing bathrooms, this single-family home has everything you'll ever need and features you never even thought of. There's a piano on the ground floor that sits on beautiful hardwood floors, creating the perfect acoustic environment.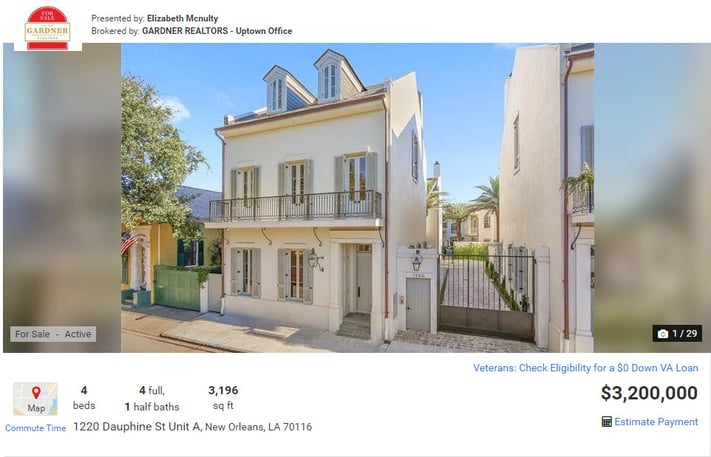 (Source: Realtor.com)
1220 Dauphine Street is the fourth most expensive active listing in the French Quarter. The traditional-style single-family home was built in 2018 with a clean and simple floor plan. The facade is as attractive as the interior, allowing natural sunlight to illuminate the majority of the house. Stocked with 4 full bedrooms, and 4.5 bathrooms on 3,196 square foot lot, this listing is perfect for hosting an intimate Mardi Gras party.
(Source: Realtor.com)
Close to the Mississippi River, the House of Blues, and Woldenberg Park, 315 Decatur Street is the third most expensive active listing in the French Quarter. Containing 9 bedroom and 9 bathrooms on an 8,880 square foot lot, this multi-family property is completely renovated with fresh hardwood floors in every room and marble countertops in the kitchen and bathrooms. There's no need to rush - this home has been on the market for 515 days.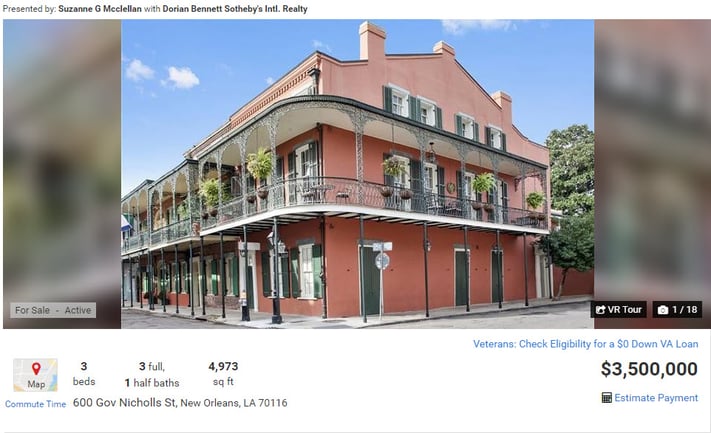 (Source: Realtor.com)
Fit for a royal musician, the 600 Gov Nicholls Street listing has 3 bedrooms, 3.5 bathrooms, and comes with its own music room. Luxurious and homey, the 3 bedroom, 3.5 bathroom single-family home will blow your guests away. Besides the hand-painted wallpaper, the best part about this listing is the elevator! You can throw an awesome Mardi Gras after party here or host a pregame brunch before going out.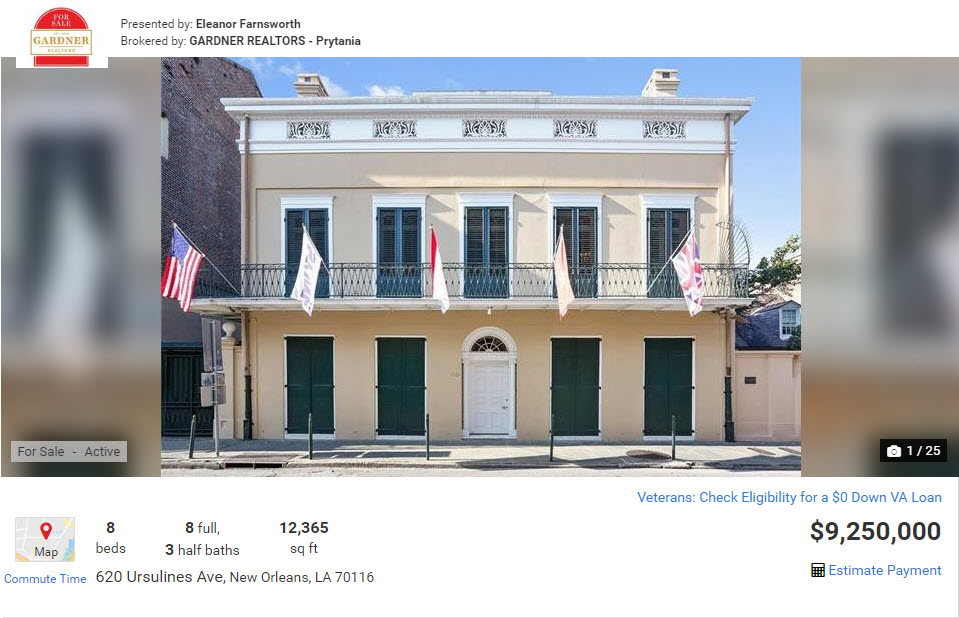 (Source: Realtor.com)
The 620 Ursulines Ave listing is the premier listing in the entire French Quarter. It contains 8 bedrooms, 9.5 bathrooms, a billiards room, a pool, 2 wine rooms, a 2-story attached guest house with a sauna, a 3 car garage, a huge courtyard, and more. The property is like something out of a movie - it's so magnificent, you might not even go to Mardi Gras! Priced at $9,250,000, this is the most expensive, most luxurious, active listing in the French Quarter of New Orleans.