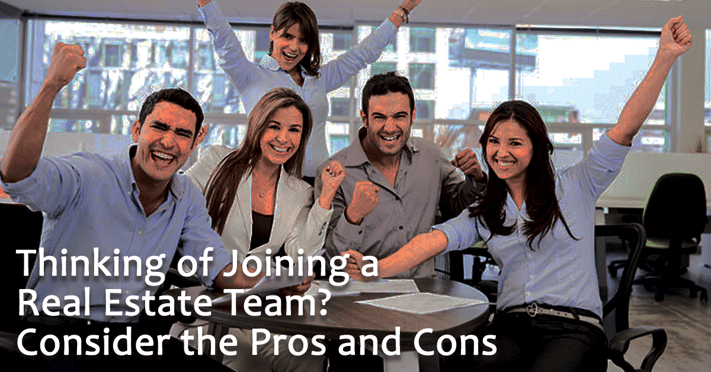 When you first start off in the real estate world, you have many different paths you can take. One of the most important decisions you'll make is whether to go solo or join a team. Your decision is unique to you, everyone has their own wish list when it comes to mapping out their career.
Here are just a few pros and cons to consider when thinking of joining a real estate team.
Pros of Joining a Real Estate Team
1. Great way to start new career
As a new agent, you have a lot to learn. Much of what you learn will come from what you see and working with a team also means less risk for you. Much of your lead generation will already be done for you when you join the team since you'll have an existing database to work with. This does mean that you will typically give some of your commission to the team leader who's responsible for gathering the leads but in general, more leads equals more money for you so most agents find that this is worthwhile.
2. Receive training and support
Having veteran agents to work with makes a huge difference when you begin your career. Many unexpected questions and scenarios will come up when you start as an agent, but fortunately a veteran agent can help you navigate.
3. Time off is easier
Agents who strike out on their own often find it harder to take a break. Being part of a real estate team allows you to enjoy a bit more flexibility. If you are out of the office, someone will be there to take a message or help a client for you.
4. Business expenses are lower
Shared expenses mean less money out of pocket for you. Many of your fees can be split with the team as well as your office space. It's amazing how many fees agents are hit with throughout the year, sharing these expenses can help your bottom line.
Cons of Joining a Real Estate Team
1. You aren't in control of your branding
For the creative and marketing minded agent, teams can often be a bit restrictive. You won't have individual control of you own branding and will only be able to market yourself under the team name and logo.
2. Commission is less
Unlike a solo agent, you will have to share your commission with multiple members of the team.
3. You must mesh with team culture
Just like any office, you are going to need to make sure that the team is the right fit for you. Fitting in with the team culture is extremely important for continued success.
4. A weak member can hurt the entire team
The mistakes made by an individual greatly impact the team. They say "you are only as strong as your weakest link," and with a real estate team, this old adage holds true.
Regardless of your decision, you need to be your own self-motivated agent. We've created a free business plan to help you record your goals and calculate a plan to reach them. Download your copy for free today!