The soaring popularity of social media sites like Facebook has led many businesses to use Facebook ads to generate leads. Facebook has empowered people to reconnect with former classmates, friends and family members—sharing photos, news and events in a way that was not possible a few short years ago. Businesses also have the opportunity to connect with a large community of prospects on Facebook. Real estate web development companies are encouraging clients to develop a Facebook presence and in some cases, promote their business page by using Facebook ads to generate leads.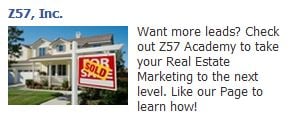 Why Facebook?
Imagine what it would be like to advertise your agency at every social gathering, water cooler and neighborhood yard sale in your community. That is exactly the service that Facebook offers to businesses. The average Facebook user spends more than 55 minutes a day on the site and is connected to 80 community pages and groups. The most important statistic to remember is that Facebook generates 770 billion page views per month, which is why using Facebook ads to generate leads makes sound business sense.
How Does It Work?
Facebook Ads operate very similarly to Google AdWords and other pay-per-click advertising platforms. Advertisers bid to have ads displayed to a certain target market on Facebook and the site displays the advertisements that perform the best as these ads generate higher revenues for Facebook. The better your ads perform, the more likely they are to receive optimal page placement and consistently reach your desired audience. Z57 can assist in determining which type of Facebook ad best suits the needs of your business.
Costs
Facebook charges advertisers based on cost per click (CPC) and cost per 1000 impressions (CPM) rates for each Facebook ads that generate leads. The site also allows agents to enter targeting demographic during the ad creation process and offers a "suggested bid" as to what Facebook estimates your bid should be to receive optimal placement and performance. You can dictate your total budget by customizing your bid and setting a daily or lifetime budget for your ad campaign.
Ads and Demographics
Facebook advertisements can be used to demonstrate knowledge about your local community or marketing trends. They can also simply be used to provide information about your business to prospects in your geographic area. Since Facebook allows advertisers to target specific demographics, only the most qualified prospects will see the ads – giving your ad a higher chance of producing great results.


---
Contact Z57 today to learn more about using social media marketing to build your brand and grow your business.