New real estate agents can sometimes be shocked at how much of an investment needs to be made on your marketing efforts. Keeping your doors open can be expensive. There are a few nuances to be aware of when it comes to your online marketing.
Remember the days before the internet when the fax machine was the quintessential piece of technology that could set a real estate agent apart from others? Was the fax machine the reason you closed deals and got leads? No, it was only a tool to help you get to that point. Your website is a tool that can enhance your success, but it is not the reason for it.
Here are reasons why you need more than just a website: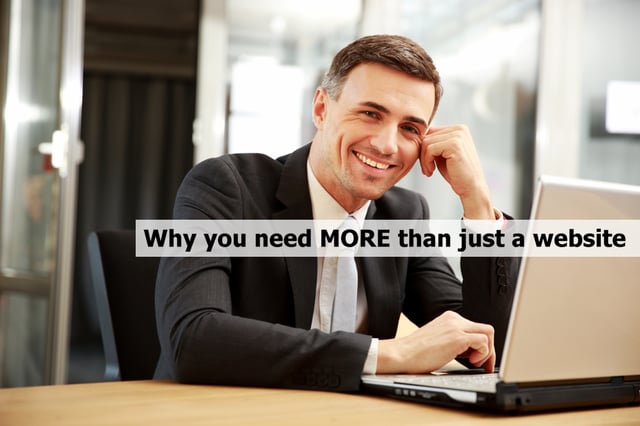 Everybody has a website
When you think about it, who doesn't have a website these days? Your website is an easy way for home buyers to find you, but it is also an easy way for them to find everybody else. Type in "Denver Homes for Sale" in a search engine and the amount of competition a real estate prospect can find can be overwhelming.
What makes your site stand out?

Let's say a real estate lead does a google search and then opens multiple tabs of agent websites, Zillow, Trulia, Redfin, etc. If one of those tabs was your website, why would they visit your site instead of just go to Zillow?
Or how about a lead goes to your brokerage's site. There is a list of agents they can browse through, why would they go to you instead of another agent in your office? These are things to think about when creating an online marketing strategy.
Marketing should be integrated
All marketing you do should be integrated into your website. It can look like a regular website, but the back end can provide amazing value and customer service for your leads to set you apart from the competition. Imagine automated Facebook posts that share new listings in your area or news articles that bring a Facebook user back to your website. Or email campaigns that send relevant emails designed to entice people to go back to your website to do a home search.
The landscape is always changing
If you have decided to save a little money and go the Do-It-Yourself route, you must also make sure you keep up with the changes in platforms. Technology is always improving, and social media algorithms are always updating. You can study these changes daily, or find a person or organization that specializes in this. If FSBOs would be more successful by using an agent, you would be more successful by using a marketing expert.
The future is Facebook
Using a website as a "online business card" is no longer effective, and this is the same for Facebook pages too. Don't sign up for a social media profile as a placeholder. For it to be effective, it must be utilized!
Let us take care of the online marketing aspect of your business for you, we have been in business for 20 years and know a thing or two about the internet.
---
Click below to sign up for a free trial!