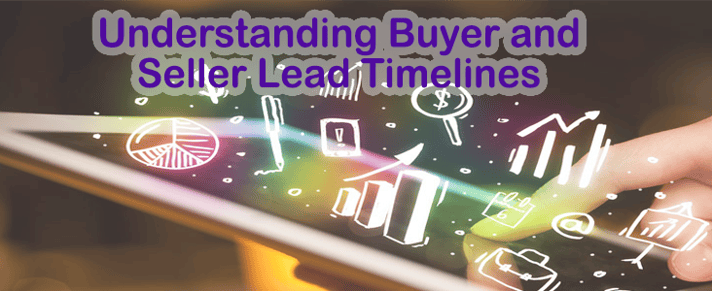 Time and again we fall into that instant gratification trap. It's only human nature. Of course, as an agent, you ideally want real estate leads who are ready to buy or sell coming out of the gate. The reality, however, is that you don't need that to happen! There are several distinct phases of the journey from lead to sale and the better you understand the process, the more you will appreciate your leads along the way.
This timeline gives you a fantastic opportunity to nurture and solidify your relationships with these leads through social media, email campaigns and providing relevant content on your website. Online leads should never be undervalued, just because they may not convert in a matter of weeks doesn't mean they aren't worthwhile.
Take a look at the average seller and buyer timelines...what you find out might surprise you!
Seller Timeline
Phase 1 - Pre-research - 13.1 months – In this phase the seller is just starting to consider their options. They are starting to seek out content here and there online.

Phase 2 -Active research - 2.7 months – Phase 2 sees the seller looking for more relevant content online, perhaps housing comps or new areas they are interested in moving to.

Phase 3 - Selling - 5 months – Finally the phase you have been waiting for! After providing your lead with everything they could possibly need in the first 2 phases, but now the home is on the market and you are finally getting potential buyers in the door.
Total Seller Timeline – 21 months
Buyer Timeline
Phase 1 - Pre-Research - 16 months – The idea of relocating is fresh and the buyer is just starting to put their feelers out. Perhaps the last child is moving out of their home or they are expanding their family.

Phase 2 - Active Research - 6.6 months – The active research phase for the buyer is longer than the seller. That's because they are going to want to make sure they have found their dream home before committing.

Phase 3 - Buying - 4.1 months – Now your lead is ready to start looking at homes.
Total Buyer Timeline – 27 months
Do these numbers surprise you? What these extended timelines offer you is the chance to really connect socially and build a stronger agent/client relationship. Believe it or not, this is a good thing!
Tips for lead nurturing through these phases
1. Turn your Website into a Content Library

Consider the fact that 70% of consumers go with the first agent who provides them with relevant content online. Provide content that is relevant to the buyer or seller in each step of the process. This means having comp pricing, neighborhood reports and MLS listings on your social channels and websites. This is one of the main features of PropertyPulse. Traffic is driven to your site thought the software and then these "window shoppers" land on your amazing resources and now you're the agent for them!
If you would like more info on how PropertyPulse can grow your business and get you more leads, schedule your free consultation today!
2. Build a Relationship Online
Facebook has been a game changer for lead nurturing. Now you can see what your leads are thinking, doing and how they are interacting with others publicly. Maybe they have a question specific to real estate that you can answer or maybe it's just a general post looking for comments on a topic. Whatever the case, this is a valuable chance to get your name out there and begin building trust.
3. Start an Email Campaign
In addition to maintaining your online presence, email campaigns can be highly effective. Now, in addition to creating useful content, you are placing it directly in the inbox of your leads. By keeping the buyer and seller timelines in mind, you can segment your leads and provide them with specific content meant to help them move forward to the next phase.
The biggest takeaway is that there's no need to push a lead into the next phase before they are ready. Buying or selling a home is a huge step and the more opportunity you have to build trust, the better your odds are of closing a deal down the line.
Want to learn how to get 50 new leads each month? Join us August 8th, 10AM PDT as VP Jack Markham discusses the 5 elements of top performing real estate websites.