So you decided to become a real estate agent because you wanted to go into business for yourself? It appeared to be easy money, right? Then when you finally dived in, you realized that it actually takes a lot of work to be successful?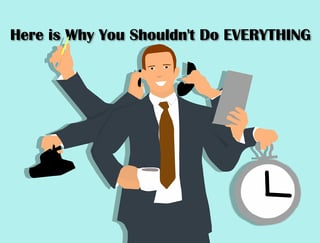 With the hustle and bustle of giving listing presenetations to potential seller clients and answering questions from home buyers that don't always pan out into a deal, you must still maintain marketing, brand reinforcement via creating content and printables, book keeping, client follow up, and much more for your real estate business. Yes, that was a really long run-on sentence. It quite frankly did not need to be written, just like you don't need to do everything.
There are the 3 main reasons you shouldn't do EVERYTHING:
1. You Only Have So much Time
What is great about the concept of time is everybody gets 24 hours every day, and can use those hours as they please. Do you really want to have to write out multiple emails each day to cater to each individual client? You still need to file your taxes, write a Facebook post daily, and shop for a closing gift. When real estate agents compartmentalize tasks, work that results in "slow business" gets pushed to the side. This would explain why many agents are looking for new leads, instead of nurturing their network for referral business.
2. It Takes Away From Your Other Responsibilities
Who knew that you had to wear so many hats in your real estate business? You have to be a marketing expert. You have to be a web designer. You have to be a salesperson. You have to be customer service for your clients. You have to be the spokesperson for your brand online. And outside of real estate you still have other responsibilities. Some of you have to be a parent. Some of you have second jobs or businesses.
3. You are a Real Estate EXPERT
Your expertise is helping people buy and sell real estate in your local area. There is no need for you to do anything else. Of course that entails staying on top of communication and getting your name out there, however there are people and organizations out there that specialize in services you need. Bigger businesses will have different departments to transform into a well oiled machine. You can do the same as a smaller business and outsource some of your tasks. You studied to be a real estate expert, some people studied to be experts in other fields. Utilize those assets for your business!
Here at Z57 we are experts at internet marketing. We have created automation tools to assist you in search engine optimization, email marketing, and social media marketing. Let us do some of the work for you!
---
No commitment! You can try us out by clicking on the link below: