A fun and easy tactic to help you become a neighborhood expert is to map out your contact list on Google Maps. It's sort of like viewing your properties in the game Monopoly and creating a strategy based on the layout of the board. By creating a visual map, you see your territory from a different angle, where your evangelists are located, and where your contacts are in reference to important locations like schools, parks, freeway entrances, bodies of water, and more.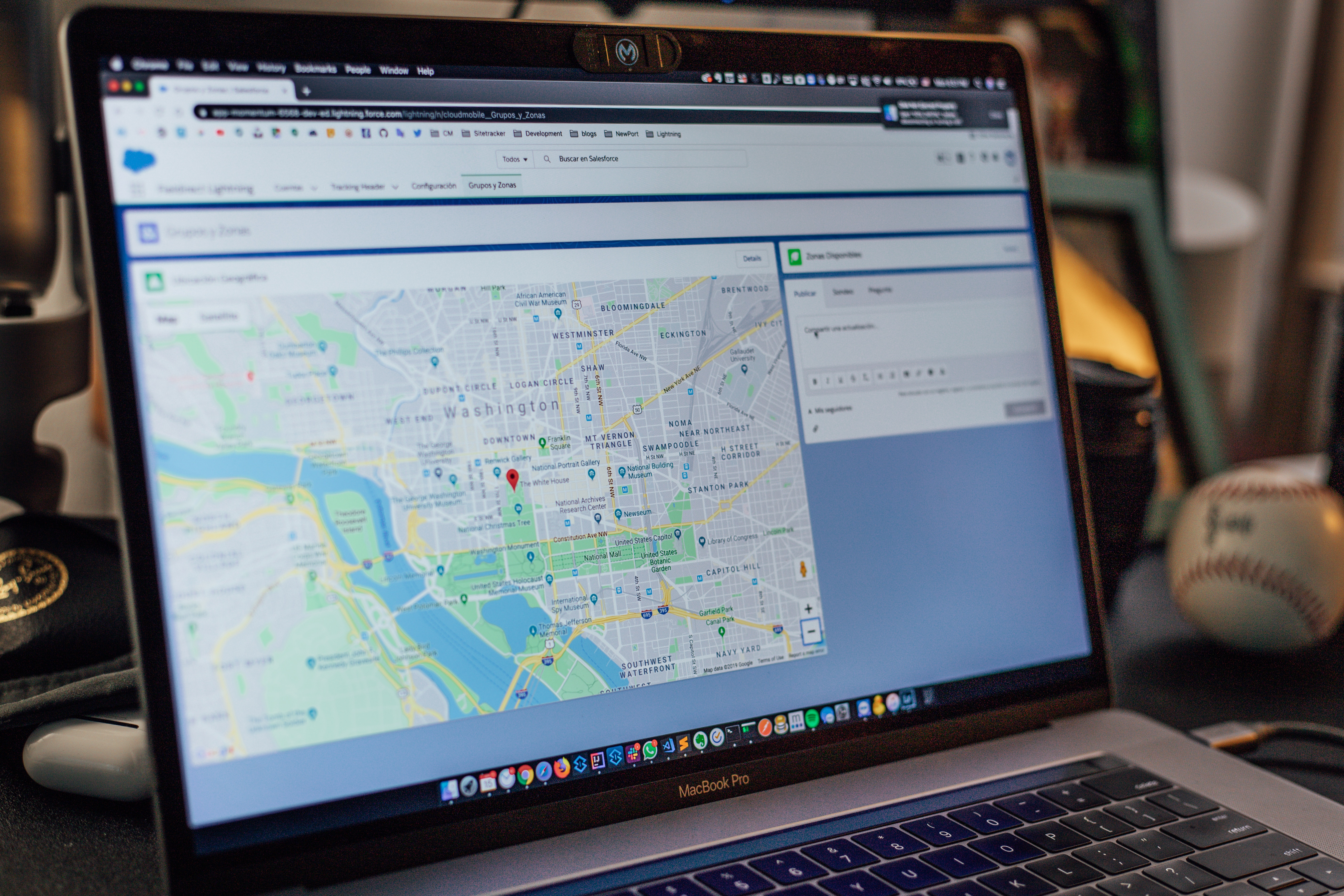 Before I show you how to map out your contact list, I will show you an example, the benefits, and how to leverage your contact list map.
Below is an example of a contact list map: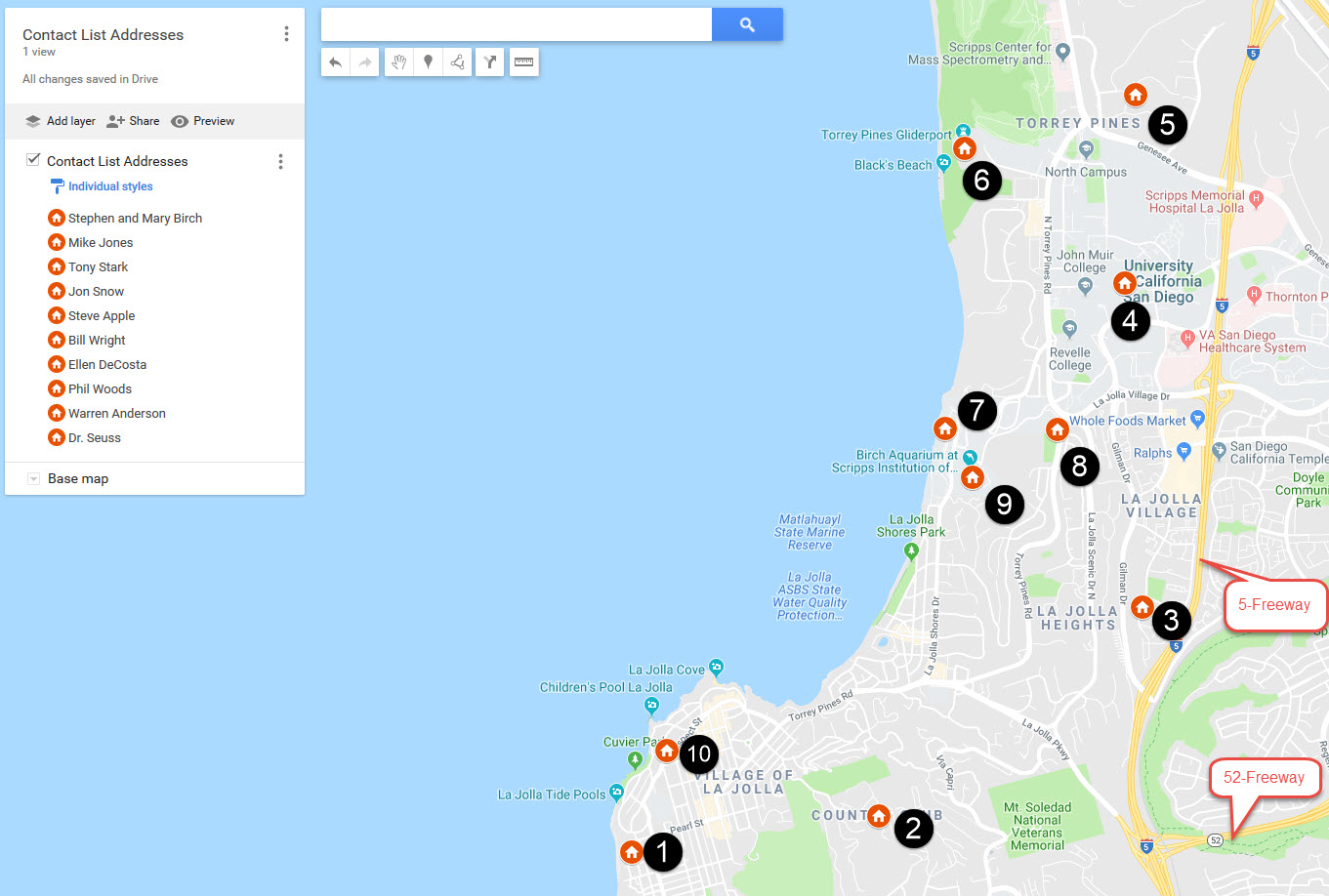 This a map of La Jolla, California. As you can see, the orange circles with house icons designates the address of one of my contacts. Below are the benefits of mapping your contact list:
1. Determine your territory
Based on the map, I can see that my contacts are spread throughout the city of La Jolla. Together, they create a region that's left of the 5-Freeway and above the 52-Freeway – this is my primary territory.
2. Associate neighborhoods with points of interest
One of the first questions you'll ask a buyer is, "Which neighborhood are you looking to buy?" A buyer's reasoning for choosing a neighborhood can tell you a lot about their personality. If my buyer wants to live in La Jolla, I can assume they like the beach. Since I have a map of my territory, let's use contact #2 as an example, I can recommend popular beach locations like the La Jolla Tide Pools, Jolla Cove, or Black's Beach. I can also see that it is close to two freeways, making my morning commute easier. contact #2's location isn't too far from the hospital, which is a huge benefit too.
I'm having a conversation with a potential buyer at an open house and they're looking to move to La Jolla Heights – near contact #3. After probing a little more, I discover they're not exactly sure how the neighborhood is or its culture – they just want to live near the beach and the freeway. Since contact #3 is a past client from a few years ago that I keep in touch with, I can refer the potential buyer to them for more information about the neighborhood. This is also a great opportunity for your contact to hype you up and sell YOU.
Even though you're the neighborhood expert and you "know everything", hearing positive reinforcement from an additional source will entice the buyer because of their confirmation bias. It also shows that you have eyes and ears all around your territory – meaning you can get the buyer in touch with your network and services.
4. How to create a map of your contacts
Create a spreadsheet with columns for Name, Address, City, State, Zip Code and save it.

Navigate to Google Maps
Select YOUR PLACES from the sidebar menu
Select MAPS

Select CREATE MAP at the bottom of the sidebar

Select IMPORT from the box
Select your spreadsheet on your device from the CHOOSE A FILE TO IMPORT window – click NEXT
Select the columns associate with the contact's address: Address, City, State, Zip Code – click CONTINUE
Then Select the columns associate with the contact's name: Name – click CONTINUE
Your map is complete!
Congrats! You have a map of your territory now! Use it to refer your potential buyers to past clients and evangelists that will help them with their research. You can also access the map from any device - for example, if you're conversing with a potential buyer during an open house, you can show them your map to give them a visual of your territory. You can strengthen your neighborhood expert reputation by showing them you have friends that they can contact for more information and businesses you can refer to help them with their home.
---
Do you have the tools to be a top producer in real estate?
See how Z57 can enhance your online lead generation by requesting a FREE DEMO: